Hiller's 28 saves leads Flames past Sharks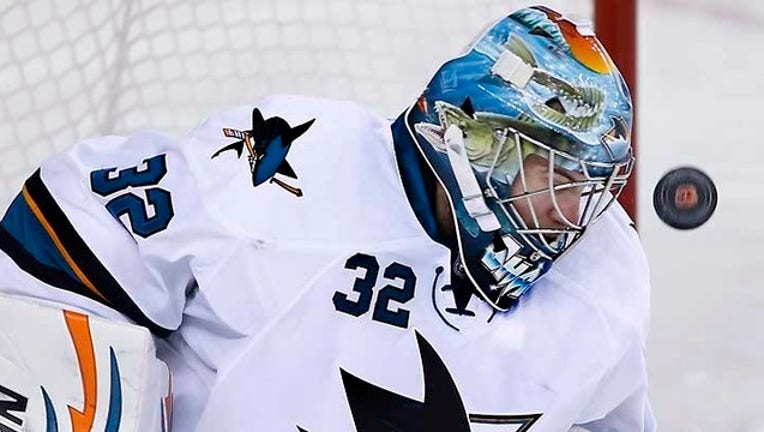 article
CALGARY, Alberta (AP) -- Kris Russell's first goal of the season helped get the Calgary Flames on their way to another big win on their homestand.
Russell's goal near the midpoint of the second period was the first of three consecutive goals in the period and the Flames went on to a 3-1 victory over the San Jose Sharks on Wednesday night.
"Obviously, I would have liked it to come a little quicker," said the 27-year-old Russell, who had 18 assists in 49 games coming in.
He took a pass from Paul Byron and sent a shot that squeezed through the pads of goalie Alex Stalock at 9:28 of the second.
Averaging over 23 minutes a night in ice time playing alongside Dennis Wideman on the Flames' second defense pairing, Russell -- named an alternate captain last summer -- has been a pivotal part of Calgary's success.
"I'm so glad for Kris because he does so many things that are very valuable to this organization that don't necessarily show on the score sheet," Calgary coach Bob Hartley said.
Jiri Hudler and Mason Raymond also scored to help Calgary improve to 4-1-0 on a six-game homestand which concludes Friday against Pittsburgh.
John Scott scored for San Jose, which lost in regulation for the first time in its last five games (3-1-1).
Scott said defensive mistakes cost them in the second period.
"We just didn't pick up guys. We were there but I think we got a little hungry on the puck and didn't look around and see guys around us and it cost us," he said. "You give them a couple inches and they're going to bury you."
Calgary moved from the second wild card spot in the Western Conference up to second place in the Pacific Division.
"We're playing well," Hartley said. "Our veterans are certainly leading by example. The young players are bringing lots of intensity and energy and both combined together, we have a solid, hard-working team."
The Flames also matched their season high of nine games above .500, which they were also at on Dec. 4, prior to going on an eight-game winless skid.
"The character in this room shows when you go through something like that and you continue to keep trying to get better and keep improving and don't let that affect your season," Russell said.
Calgary made it 2-0 at 11:55 of the second on the power play. Johnny Gaudreau patiently carried the puck behind the San Jose net then centered it to Hudler for his 15th goal.
With less than 2 minutes left in the second, Raymond was set up perfectly by Joe Colborne and sent a one-timer past Stalock.
The Sharks' lone goal came when Scott banged in his second of the season 2:48 into the third.
San Jose had the territorial edge in the third but could not get any closer.
Hiller has given up only eight goals over the past five games and improved to 17-14-2 on the season.
Stalock finished with 20 saves.