Houston flooding strands fans after Warriors game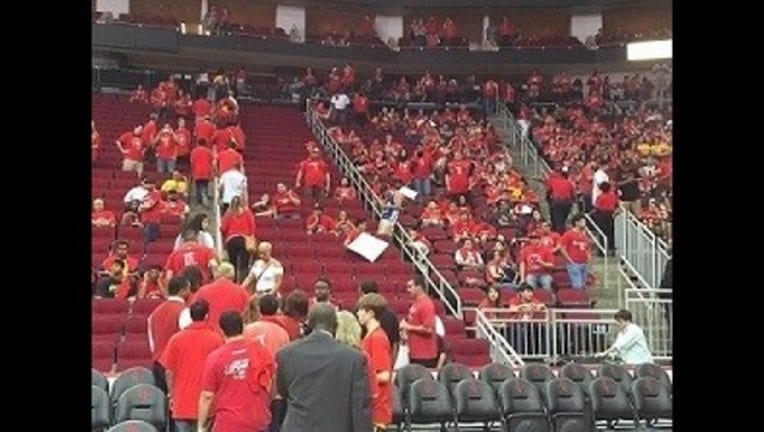 article
HOUSTON (KTVU) – The heavy rain & flooding that swept through Texas Monday night stranded hundreds of NBA fans at Houston's Toyota Center after game 4 of the Warriors/Rockets playoff series.
With just a few minutes left to go in the game, the arena staff put this warning up on the video boards: "Attention Rockets fans: due to severe weather outside, for your safety we recommend remaining in your seats until the weather passes."
When the game ended, several hundred fans heeded the warning and stayed behind to wait out the poor weather.
The Toyota Center staff tweeted that they provided food, coffee, and places to charge the phones of fans that were still at the arena and that all fans left by 5:30am Central time.
KTVU's Joe Fonzi reported that even Rockets center Dwight Howard stayed at the arena for several hours after hearing from a friend that had tried to leave and got stranded on the flooded highways around downtown Houston.
Several fans tweeted that they had to be moved to a different part of the arena, as the staff worked to change the arena from a basketball set-up to a concert venue for Tuesday night's Neil Diamond concert.
The Warriors were able to leave the arena and get back to their team hotel safely.
They are scheduled to fly back to the Bay Area later on Tuesday.