Hundreds protest in Oakland over beating death of Tyre Nichols
OAKLAND, Calif. - Hundreds marched through the streets of Oakland on Sunday chanting, demanding justice, and protesting the beating and death of Tyre Nichols at the hands of Memphis Police officers. 
"I am upset. Pissed off. Why do you need to tell me to be peaceful?" said activist Toni McNeil. 
The Anti-Police-Terror Project organized this march and rally in Oscar Grant Plaza after body-camera videos released Friday showed five Memphis police officers punching, kicking, and pepper spraying Nichols following a traffic stop. 
Organizers said they were standing in solidarity from the Bay Area to Tennessee. 
"Enough is enough," said APTP Executive Director Cat Brooks.
Brooks said policing in America is not working, and wants cops to stop doing traffic stops.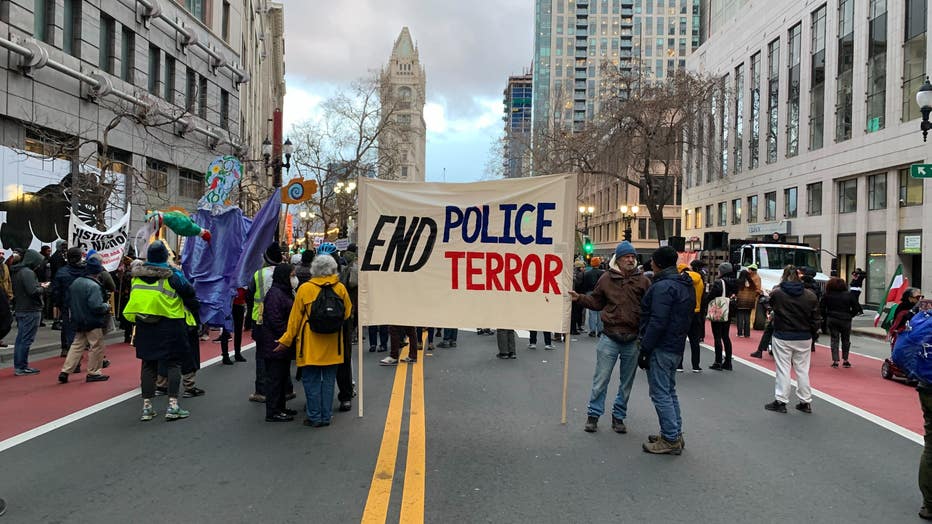 Tyre Nichols protest Oakland
"A bunch of Bay Area police departments put out these statements saying, 'that's not us. That's not us.' It absolutely is you. It absolutely is you. Joshua Pawlik, Richard Perkins, Yvette Henderson. I could go on and on and on," he said.
RELATED: San Francisco protestors and law enforcement call for justice in Memphis police beating of Tyre Nichols
Speakers included family members of local residents who were killed by police, including Oscar Grant's uncle Cephus "Bobby" Johnson. 
"We have a responsibility to not just show up but to stay active until we solve this real issue of police criminality and this culture that is so heinous," he said. 
The mother of Miles Hall spoke to the crowd. Her son was killed by Walnut Creek police while he was experiencing a mental health crisis in 2019.  
SEE ALSO: Body cam footage of Tyre Nichols' beating prompts demonstrations in Memphis, New York, DC
"Just like Tyre, he wanted to go home. My son just wanted to go home," said Taun Hall. "Guess what? He wasn't allowed. Twenty-three years old, he was killed and murdered right behind our house."
The crowd marched down Broadway, playing music and holding signs. Many downtown businesses boarded up ahead of time. Police put up barricades and stood guard in front of the OPD headquarters. 
At one point, a group of protesters knocked down one of those roadblocks. A small group dressed in black was also seen spray-painting the sides of buildings.