New report assesses property risk for millions due to destructive winds from hurricanes over next 30 years
Millions of homes and businesses along the East Coast from the Northeast to the Southeast and the Gulf Coast are likely to see an increased risk of experiencing damaging winds from tropical systems due to climate change, according to a new report from the First Street Foundation.
The report, released on Monday, combined data, science and engineering expertise to create a tropical cyclone wind model that assesses the wind risk across the country that local governments and organizations can use to address associated risks.
EXPANDED TROPICAL CYCLONE OUTLOOKS, NEW NAMES IN STORE FOR THE 2023 HURRICANE SEASON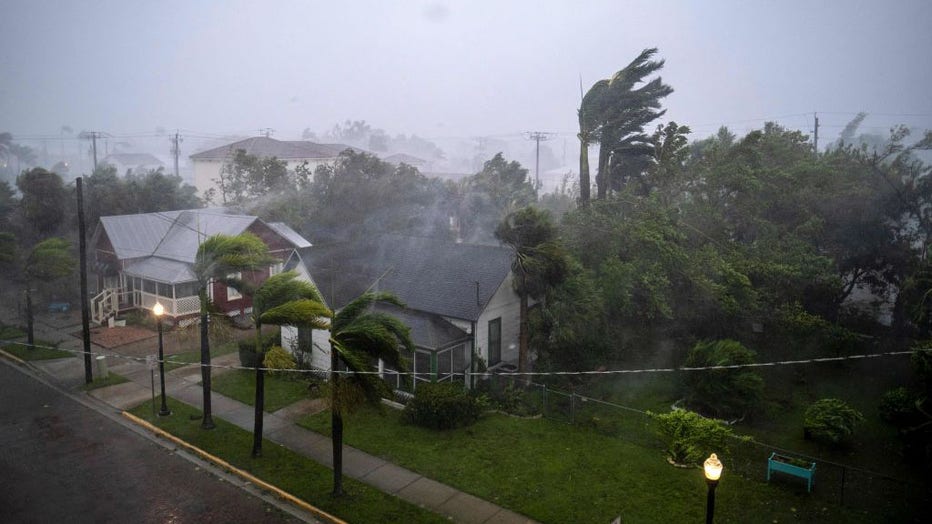 Gusts from Hurricane Ian hit in Punta Gorda, Florida on September 28, 2022. - eavy rain pounded the coast. (Photo by Ricardo Arduengo/AFP via Getty Images)
By using high-resolution topography, computer-modeled hurricane tracks and property data, the First Street Foundation was able to determine that there's an extensive risk of property damage from future tropical storms and hurricanes along the Southeast and Gulf coasts, with a significant risk growing in the mid-Atlantic and Northeast.
"Overall, in the next 30 years, the expected Average Annual Loss (AAL) resulting from this risk increases from $18.5 billion to $19.9 billion, and 13.4 million properties are likely to face tropical cyclone winds that do not currently face such risk," the report said.
Among the most alarming risks, according to the report, is the economic risk to the state of Florida, where current levels of annual losses are already more than four times the economic risk of the rest of the Gulf Coast and also account for about 73% of all expected damages across the U.S.
HOW ARE HURRICANES RATED? THE SAFFIR-SIMPSON HURRICANE WIND SCALE EXPLAINED
Wind from hurricanes can cause catastrophic destruction
Water is the No. 1 killer and safety hazard during a hurricane or tropical storm that hits the U.S., comprising nearly 90% of all tropical cyclone deaths, primarily by drowning in storm surge, rainfall flooding or high surf, according to a study.
Wind, however, while not as deadly as water, can lead to catastrophic destruction depending on the hurricane's intensity. Such was the case in September when powerful Hurricane Ian slammed into Florida's southwestern coast as a Category 4 hurricane with winds of 150 mph.
HOW MANY CATEGORY 5 HURRICANES HAVE MADE LANDFALL IN THE U.S.?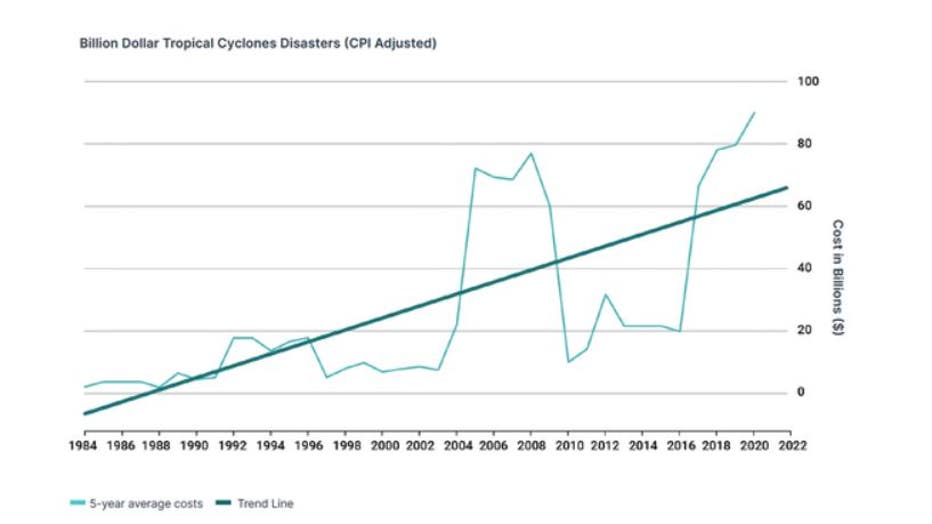 A chart showing billion-dollar tropical cyclone disasters (CPI adjusted 2022 USD) services, such as water and gas supplies. (Front Street Foundation)
The First Street Foundation's report said tropical cyclones have caused at least $1.194 trillion (Consumer Price Index adjusted) in losses in the U.S. between 1980 and 2022, with an average of about $21 billion in damages per event.
"The annual economic costs have increased each of the last four decades," the report said. "Of the approximately $41-70 billion in losses due to Hurricane Ian in 2022, it is estimated that half of those damages ($23-65 billion) was due to wind damage."
The First Street Foundation said that while the total number of tropical cyclones isn't expected to increase due to a changing climate, the frequency of major hurricanes (Category 3-5) relative to the total number of hurricanes is likely to increase over time.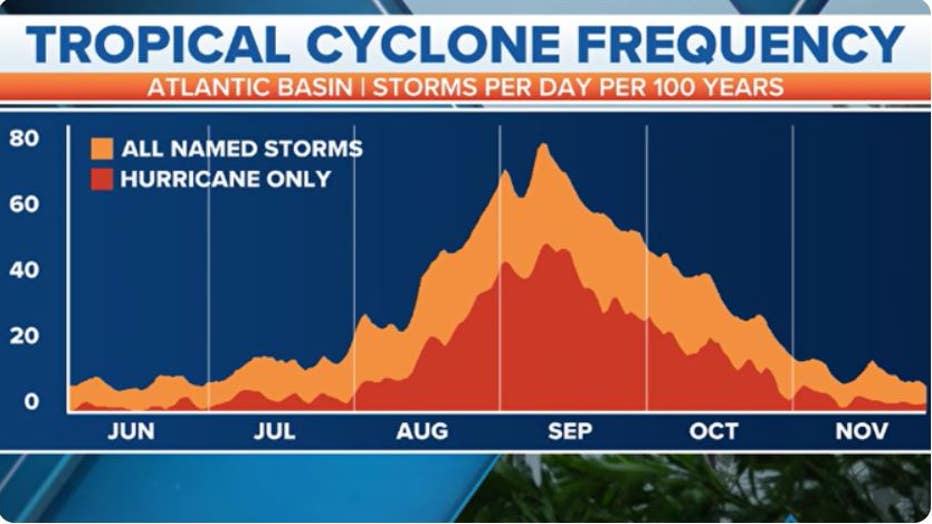 Tropical cyclone frequency chart from June 1 - Nov. 30. (FOX Weather)
This means that the intensity of hurricanes that develop in the future will continue to rise.
"In the North Atlantic, the proportion of major hurricanes (Category 3, 4 and 5) has increased by four times since the 1980's, from about 10% of all tropical cyclone events to over 40% of all events today," the report said. "Driving this increase in intensity are rising air temperatures that increase the temperatures and heat content of the upper ocean waters, which provide the energy that fuels these storms."
Water temperatures must be at least 80 degrees for tropical storms and hurricanes to develop. As climate change continues and ocean temperatures rise, 80-degree ocean temperatures will stretch farther north, thus allowing for more intense tropical cyclones to travel into areas that don't typically see major hurricanes, like the northeastern U.S.
HOW THE FADING LA NINA PATTERN WILL IMPACT HURRICANE SEASON ACTIVITY IN 2023
Expected regional changes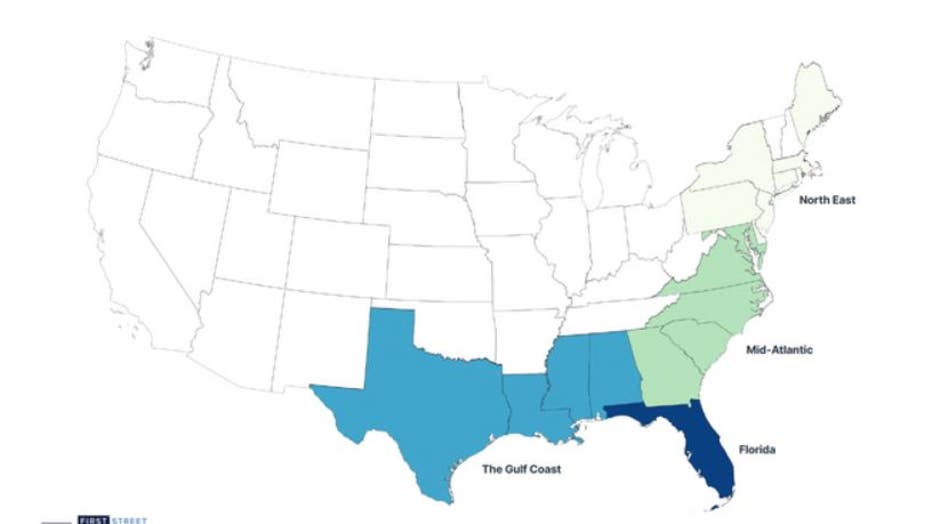 Estimated regional changes in tropical cyclone wind risk between 2023 and 2053 from the application of the First Street Foundation Wind Model. Tropical cyclones are both growing stronger and moving northward due to a changing climate. (First Street F
Northeast
The impact on buildings in the Northeast is expected to increase by about 87% over the next 30 years, according to the First Street Foundation report. This is because stronger hurricanes will likely reach farther north. Buildings across the region that have not been built to a code considering high wind speeds, and therefore, more damage and destruction is likely.
Mid-Atlantic
Data shows the mid-Atlantic will see the highest increase in maximum wind speeds from tropical cyclones, with some areas increasing the maximum wind speeds by 37 mph, according to the report. With that increase in exposure, the First Street Foundation expects annual damages to increase by 50.3%.
Florida
With Florida accounting for $7 out of every $10 in losses from wind damage in the U.S., the Sunshine State is likely to see the numbers continue to rise from $13.4 billion every year to $14.3 billion over the next three decades.
Gulf Coast
The Gulf Coast has the highest expected maximum wind speeds with the potential of seeing future wind gusts of about 248 mph – wind speeds not included in the current Saffir-Simpson Hurricane Wind Scale.