Iconic sea otter Olive dies in shark attack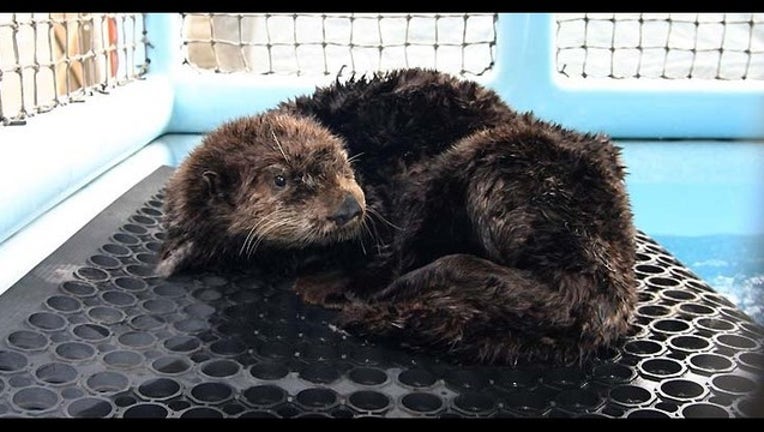 article
SACRAMENTO, Calif. (KTVU and wires) – A sea otter, who gained fame after she was rescued from a California beach after becoming covered with oil, has died in a shark attack, state wildlife officials said Thursday.
Olive -- who was believed to be 7-years-old at the time of her death -- first made headlines in Feb 2009 when she stranded alive on Sunset State Beach covered in thick, tarry oil.
Estimated to be about a year old at the time, she was nursed back to health and her activities became the subject of the "Olive the Oiled Otter" Facebook page which had more 5,000 people followers.
Wildlife officials fitted her with VHF transmitter and colored flipper tags so she could be monitored after she returned to the wild.
Officials monitored Olive intermittently after her release in April 2009 through December 2011.
Starting in January 2012, scientists monitored her more on a weekly basis to document her health and reproductive success. She was successfully captured for a health exam in July 2012 that revealed her blood values and other health parameters were within normal limits for a healthy, wild sea otter.
She was pregnant at the time of the exam and gave birth to her first known pup in late August or early September 2012. Olive weaned that pup, and since then gave birth to, and successfully weaned two additional pups
Scientists last spotted Olive alive on Feb. 15 and then a private citizen reported discovering her dead on the beach March 22.
"Her carcass was in an advanced state of decomposition, but we found wounds consistent with a shark bite," said Colleen Young, CDFW wildlife biologist, who collected Olive's carcass for examination. "We also found a large, serrated tooth fragment from a white shark in one of the wounds, which confirmed our suspicions that she was bit by a shark."
Although Olive's death saddens many of the researchers and public who have followed her over the years, her life provided a tremendous opportunity to learn a great deal about otters.
"We owe Olive a lot because she gave us a lot," said David Jessup, the retired CDFW wildlife veterinarian who oversaw Olive's initial washing and rehabilitation.
"She showed us that oiled sea otters can go on to live normal healthy lives, have healthy pups, be good mothers and then die of natural causes."