Inmate testifies jail guards beat him, pushed his face in feces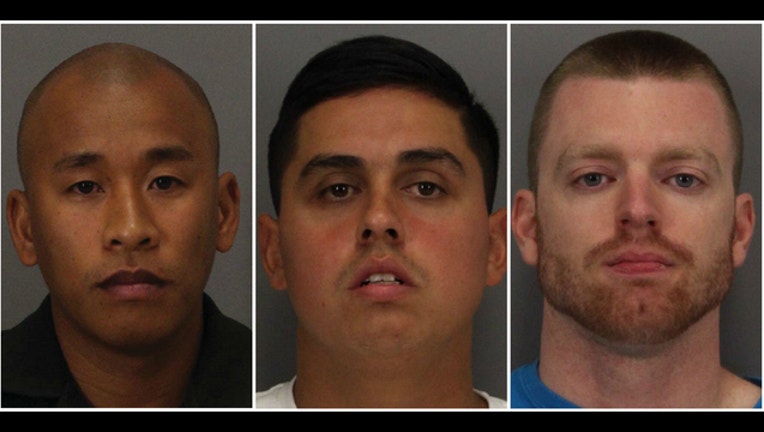 article
SAN JOSE (BCN)-- A schizophrenic inmate who says he was beaten in his cell by three Santa Clara County correctional deputies in 2015 testified against them in a San Jose courtroom today.
After the alleged assault on Juan Villa, 48, witnesses have testified that deputies Jereh Lubrin, 30, Rafael Rodriguez, 28, and Matthew Farris, 28, entered another mentally ill inmate's cell and beat him to death.
The three deputies have pleaded not guilty to murder charges in the death of 31-year-old Michael Tyree and the assault under color of authority of Villa on Aug. 26, 2015.
Villa's sister sat next to him on the witness stand as he said that he has been medicated for mental illness, including schizophrenia and manic episodes, since 1995.
Villa, a sex offender, was convicted in 2005 for felony assault with a weapon.
In court today Villa said he assaulted his stepfather with a crowbar while he was off his medication and acknowledged his anger issues as well as his history of delusions.
Defense attorneys for the deputies focused some of their questions today on Villa's severe mental illness, anger issues and violent behavior in order to undermine his credibility as a witness.
But other inmate witnesses have testified that they saw or heard the deputies beating Villa in his cell before they moved on to Tyree's.
"I got assaulted," on Aug. 26, 2015, Villa said. "I got hit in the mouth. I got hit in the head. I got in a headlock."
Villa claimed the three deputies threw him against the wall and punched him in the chest and back. He said the deputies then threw him onto his bed before Lubrin climbed on top with his knees into Villa's back,
punching him in the back of the head.
The month before the beating, Villa said he used his hands to smear his own feces on the walls and floor of a cell. When Lubrin discovered the mess, he allegedly pushed Villa's face in it.
On July 27, 2015, Lubrin sent a text message to Farris that read, "Villa Juan!!! smashed sh-- on his face, ha ha ha. you missed out. but I feel bad after we smashed on the other guy. he was in the Marines in the 80s."
That text was not brought up in court today.
In her cross-examination, Lubrin's defense attorney Judith Odbert asked Villa whether he might have scratched his face with feces on his hand, suggesting he smeared feces on his own face.
Odbert also questioned Villa about his claims at the deputies' preliminary hearing last year that he was the messiah or the "lamb of God," and admission that he heard voices.
Villa acknowledged these statements as aspects of his mental illness, but said he was not in his "right mind" at that hearing.
Villa is suing Santa Clara County for the alleged beating of him on Aug. 26, 2015.
The trial is set to resume on Wednesday morning.