Inmates testify in trial of 3 Santa Clara Co. correctional deputies charged with inmate's murder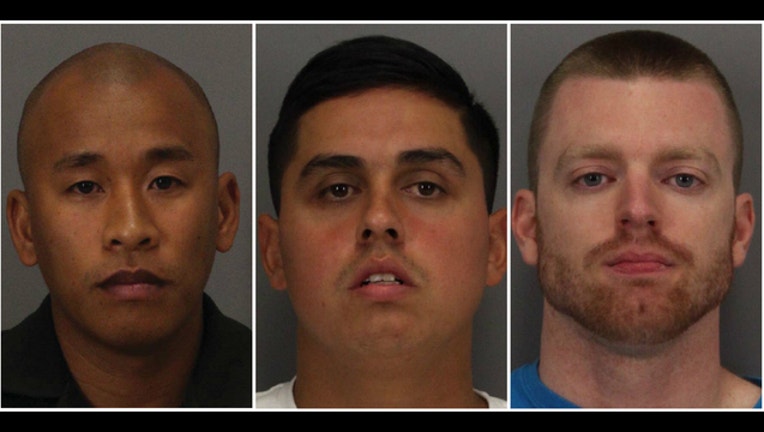 article
SAN JOSE (BCN)-- Shackled and dressed in jail uniforms, two inmates testified in a San Jose courtroom today in the trial of three Santa Clara County correctional deputies charged with the 2015 murder of an inmate and the brutal beating of another.
   
Alfonso Chavoya and Joseph Eagen testified that they heard mentally ill inmates Juan Villa and Michael Tyree screaming in their cells in San Jose's Main Jail while deputies Jereh Lubrin, 30, Rafael Rodriguez, 28, and Matthew Farris, 28, were inside on the night of Aug. 26, 2015.
   
County medical examiner Joseph O'Hara ruled Tyree's death a homicide by blunt force trauma early the next morning after he was reported dead.
   
In court today, prosecutor Matt Braker played two short recordings of a phone call Chavoya made on the afternoon of Aug. 27, 2015.
   
"Some fool got killed by the cops yesterday," Chavoya says on the call. In another clip played for the jury, Chavoya can be heard telling his then-girlfriend that Tyree had been "pleading for his life."
   
"Someone just got murdered in front of us, and it was the cops," Chavoya says in the recording.
   
Eagen's testimony, however, included some inconsistencies throughout the day and in the 19 months since Tyree died.
   
In the hours after Tyree's naked, feces-smeared body was carried out of his cell, Eagen told a detective investigating the death that he had seen a deputy throw Villa on the floor in his cell.
   
Today, Eagen said Villa was thrown onto his bed, and later wavered and said he didn't remember which it was.
   
Eagen also said today that he didn't see which deputy pulled out his nightstick and said to Villa, "You're lucky I don't hit you with this," but then later reneged and said it was Lubrin.
   
Defense attorneys for the deputies have argued that inmate witnesses have been offered help, including delayed deportation, in exchange for testimony.
   
The following month, Eagen told a detective, "I'll testify against them if it will help my case."
   
Eagen confirmed on the stand today that he had received a shortened sentence for attempted murder in exchange for testimony in an unrelated case.
   
Braker has repeatedly refuted the claim that inmate witnesses are receiving any help in exchange for testimony in this trial.
   
Eagen said on the stand that he had never seen Braker before or been offered any reward in exchange for his testimony in this case.
   
A third inmate, Jacob Haro, did not appear in court as he was commanded. His attorney, Jerry Fong, said that Haro was refusing to testify, a decision that may result in a citation, Judge David Cena said.
   
Haro's reasoning was not stated in court, but prosecutors suggested he might fear retribution from other correctional deputies.
   
Witness testimony is set to continue on Tuesday morning.