Investigation under way into what killed beloved swan at San Francisco Palace of Fine Arts
SAN FRANCISCO - A female white swan returned to her home at San Francisco's Palace of Fine Arts on Tuesday, without her longtime time companion, a beloved swan who died last week from possible zinc and lead poisoning.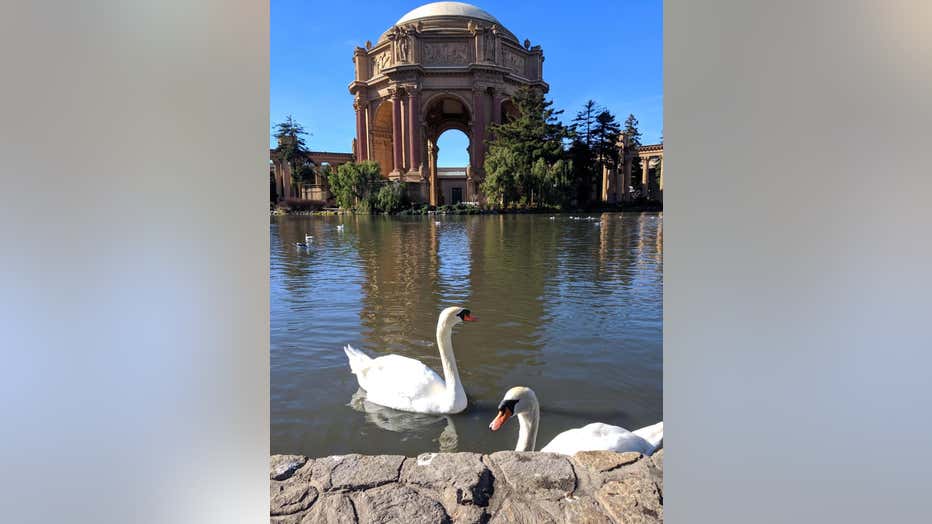 Blue Boy, a swan at San Francisco's Palace of Fine Arts has died. San Francisco Zoo officials said zinc and lead were found in the bird as well as in his swan mate, Blanche. (San Francisco Recreation and Park Department)
For years, Blanche, along with her mate Blue Boy, had been fixtures at the iconic San Francisco landmark, with the pair often seen wading in the Palace pond together.  
The San Francisco Zoo said both birds were being treated by its veterinarians for possible zinc and lead poisoning last week when Blue Boy was found unresponsive. Efforts to revive him were unsuccessful. 
The swan was estimated to be 17 years old.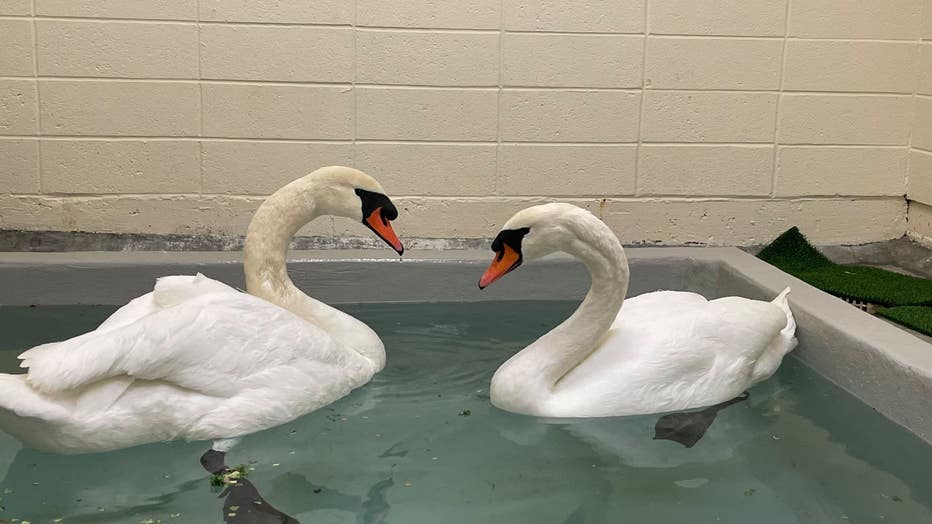 Blue Boy (left) and his swan mate, Blanche, seen here at the San Francisco Zoo, where the birds were being treated for high levels of zinc and lead. Blue Boy died last week after being found unconscious.  (San Francisco Recreation and Park Department)
Officials with the San Francisco Recreation and Park Department on Tuesday told KTVU that veterinarians believed the high zinc levels found in the birds may have been from swallowing pennies, a common source of zinc poisoning in birds.
Officials also said soil samples collected from around the swans' habitat found some areas with higher levels of lead. 
"All urban areas have some level of lead in the soil, much lower than could harm humans," said rec and park department spokeswoman Tamara Aparton. But for the birds, which have been in the area for decades, it's possible the lead built up in their systems, Aparton explained. 
She said it was also possible that the elevated levels of zinc and lead were unrelated to Blue Boy's death. The bird was not symptomatic and got sick very suddenly on Wednesday after being treated. He died the next day. Officials were awaiting the results of a necropsy on the bird and said at this point there was still no official cause of death.  
On Thursday, the San Francisco Recreation and Park Department shared the news of the bird's death on social media, saying, "We are saddened by the passing of Blue Boy, one of our two beloved Palace of Fine Arts swans. Our hearts are with his longtime mate Blanche and all of the Palace visitors who loved him."
SIGN UP FOR THE KTVU NEWSLETTER
On social media, regular visitors to the Palace expressed their sadness over the news. Facebook user Brie Pierquet shared, "This is heartbreaking. I live down the street and love walking over there."
"Heartbroken for Blanche," wrote Molly Kish on Twitter, adding, "RIP #BlueBoy you were a treasure."
Before being returned to the Palace pond, zoo officials had continued to treat and monitor Blanche and said that she was doing well. 
On Tuesday, as she was carried back to the water and released, she was seen waddling slowly, taking in her surroundings as her return home was one without the mate she had been with for the past ten years. 
"I'm sure she is missing him," Aparton said, "as swans mate for life."