Iran protests have violent night; at least 13 dead overall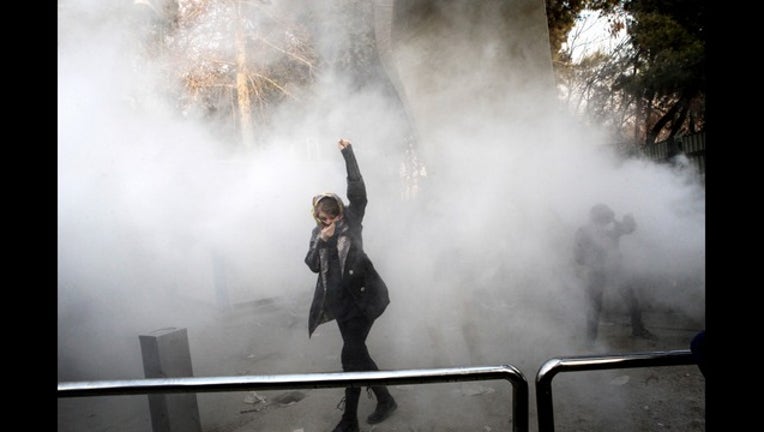 article
By NASSER KARIMI and JON GAMBRELL
Associated Press
TEHRAN, Iran (AP) -- Protests across Iran saw their most violent night as "armed protesters" tried to overrun military bases and police stations before security forces repelled them, killing 10 people, Iranian state television said Monday.
Later in the day, Iran's semi-official Mehr news agency said an assailant using a hunting rifle killed a policeman and wounded three other officers during a demonstration in the central city of Najafabad, about 320 kilometers (200 miles) south of Tehran. 
It was the first report of a police officer dying during five days of unrest and raised the death toll to at least 13.
The demonstrations, the largest to strike Iran since its disputed 2009 presidential election, began Thursday in Mashhad over economic issues and have expanded to several cities, with some protesters chanting against the government and the supreme leader, Ayatollah Ali Khamenei. Hundreds of people have been arrested.
Iranian state television aired footage of a ransacked private bank, broken windows, overturned cars and a firetruck that appeared to have been set ablaze. It said 10 people were killed by security forces during clashes Sunday night killed.
"Some armed protesters tried to take over some police stations and military bases but faced serious resistance from security forces," state TV said.
In a later report, state TV said killed six people were killed in the western town of Tuyserkan, 295 kilometers (185 miles) southwest of Tehran, and three in the town of Shahinshahr, 315 kilometers (195 miles) south of Tehran. It did not say where the 10th person was killed.
Earlier Monday, the semi-official ILNA news agency quoted Hedayatollah Khademi, a representative for the town of Izeh, as saying two people died there Sunday night. He said the cause of death wasn't immediately known, though authorities later described one of the deaths as the result of a personal dispute.
Two protesters also were killed during clashes late Saturday in Doroud, some 325 kilometers (200 miles) southwest of Tehran in Lorestan province, authorities have said. 
On Sunday, Iran blocked access to Instagram and the popular messaging app Telegram used by activists to organize. 
President Hassan Rouhani acknowledged the public's anger over the Islamic Republic's flagging economy, though he and others warned that the government wouldn't hesitate to crack down on those it considers lawbreakers.
That was echoed Monday by judiciary chief Ayatollah Sadegh Larijani, who urged authorities to confront rioters, state TV reported.
"I demand all prosecutors across the country to get involved and the approach should be strong," he said.
Rouhani also stressed Monday that Iran "has seen many similar events and passed them easily."
U.S. President Donald Trump, who has been tweeting in support of the protesters, continued into the New Year, describing Iran as "failing at every level despite the terrible deal made with them by the Obama Administration."
"The great Iranian people have been repressed for many years," he wrote. "They are hungry for food & for freedom. Along with human rights, the wealth of Iran is being looted. TIME FOR CHANGE!"
Israeli Prime Minister Benjamin Netanyahu, calling the protesters "brave" and "heroic," said in a video posted to YouTube on Monday that the protesters sought freedom, justice and "the basic liberties that have been denied to them for decades."
He criticized the Iranian regime's response to the protests and also chided European governments for watching "in silence" as the protests turn violent.
While some have shared Trump's tweets, many in Iran distrust him because he has refused to re-certify the nuclear deal and his travel bans have blocked Iranians from getting U.S. visas.
State TV has reported that some protesters invoked the name of the U.S.-backed shah, who fled into exile just before Iran's 1979 Islamic Revolution and later died.
Iran's economy has improved since its 2015 nuclear deal with world powers, which saw Iran agree to limit its enrichment of uranium in exchange for the end of some international sanctions. Tehran now sells its oil on the global market and has signed deals to purchase tens of billions of dollars' worth of Western aircraft.
That improvement has not reached the average Iranian, however. Unemployment remains high, and official inflation has crept up to 10 percent again. A recent increase in egg and poultry prices by as much as 40 percent, which the government has blamed on a cull over avian flu fears, appears to have been the spark for the economic protests.
While the protests have sparked clashes, Iran's paramilitary Revolutionary Guard and its affiliates have not intervened as they have in other unauthorized demonstrations since the 2009 election.
It wasn't immediately clear if the Guard would change its posture given the reported attacks on police stations and military bases. In Tehran on Monday, streets were calm, though a heavy police presence was noticeable.
 
Brig. Gen. Massoud Jazayeri , the Guard commander and deputy chief of staff for Iran's military, said Monday that Trump's support of the protesters "indicates planning by the U.S. for launching a new sedition in Iran."
 
   ------
 
   Associated Press writer Nasser Karimi reported this story in Tehran and AP writer Jon Gambrell reported from Dubai, United Arab Emirates.