Jerry Van Dyke, 'Coach' star and brother of Dick, dies at 86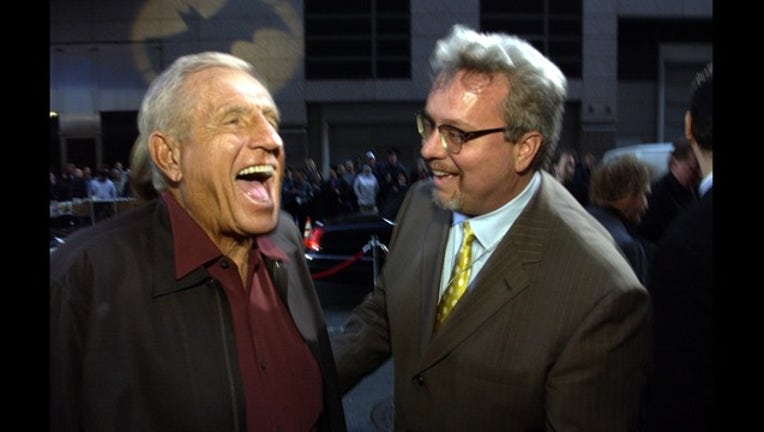 article
NEW YORK (AP) - Jerry Van Dyke, the younger brother of Dick Van Dyke who struggled for decades to achieve his own stardom before clicking as the dim-witted sidekick in television's "Coach," died Friday in Arkansas, according to his manager. He was 86.
John Castonia said Van Dyke died at his ranch in Hot Spring County. His wife, Shirley Ann Jones, was by his side. No cause was immediately known. 
Van Dyke had an affable, goofy appeal, but he spent much of his career toiling in failed sitcoms and in the shadow of his older brother, even playing the star's brother in "The Dick Van Dyke Show." 
Until "Coach" came along in 1989, Van Dyke was best known to critics as the guy who had starred in one of television's more improbable sitcoms, 1965's "My Mother the Car." Its premise: A small-town lawyer talks to his deceased mother (voiced by actress Ann Sothern), who speaks from the radio of an antique automobile. 
Other bombs included 1967's "Accidental Family," in which he was a nightclub comedian, 1970's "The Headmaster," in which he was a gym teacher and 1963's "Picture This," a game show that lasted only three months. He also joined "The Judy Garland Show" in 1963, to provide comic relief, but was fired at the end of the season.
"The show's writers wrote awful, awful, awful stuff," he recalled in a 1994 interview with The Associated Press, "and I was forced to do it. For instance, I had to come out and say to Judy Garland, `What's a nice little old lady like you doing on television?"` He added: "And that was just the first week!"
In "Coach," he finally made it, playing assistant coach Luther Van Dam, comic foil to Craig T. Nelson's coach Hayden Fox. The two headed up a hapless Minnesota college football team, its follies aired from 1989 to 1997, and Van Dyke was nominated four times for an Emmy.
"I never knew what success was like, or having a hit series, or even doing something GOOD," Van Dyke told the AP. "Finally I got a job that I enjoy doing, that's not hard to do -- and I get paid a lot of money." 
Nelson, his co-star on the show, paid homage to his former onscreen partner Saturday: "I am incredibly sad to hear of Jerry's passing. He was such a brilliant comedian and we had a great time working together on `Coach.' It is just devastating news."
Dawn Wells, an actress who starred with Van Dyke on an episode of "Fantasy Island," called him in a statement "one of Hollywood's funniest, kindest and personable comedians. He was a joy to work with. He will be missed."
Over the years, Van Dyke made guest appearances on numerous programs, among them "The Mary Tyler Moore Show," whose star had played his sister-in-law on "The Dick Van Dyke Show."
He also appeared on "The Andy Griffith Show," "Perry Mason" and in such films as "The Courtship of Eddie's Father," "Palm Springs Weekend," "Angel in My Pocket" and "McLintock!" 
His decision to take the "Car" role was one of two disastrous career moves in the mid-1960s. He also passed on a chance to play the title role on "Gilligan's Island" and to replace the departing Don Knotts as the deputy on "The Andy Griffith Show." 
"My Mother the Car" lasted one season. (A New York Times critic cracked, "last night's premiere made a strong case for not fastening your seat belts.") But "Gilligan's Island" turned its star, Bob Denver, into a television icon and is still airing endlessly in reruns. Van Dyke said in 1990 that his brother told him "My Mother the Car" sounded good. (At the time, a show about a talking horse -- "Mister Ed" -- and other fantasy sitcoms were doing well.) 
"I never asked him for advice after that," Jerry Van Dyke said.
He also rued the loss of a role in 1982 when he was up for a supporting gig in a series to star Bob Newhart, which would run for eight celebrated seasons. But Tom Poston got his role as George the handyman on "Newhart." In recent years, Van Dyke made recurring appearances on "The Middle" (where he and brother Dick starred in an episode) and "Yes, Dear." 
Patricia Heaton, who played Van Dyke's daughter on "The Middle," tweeted her respects: "Jerry, you were hilarious and terrifically talented -- what an honor to be able to watch up close as you and your brother create your special magic."
He was born in Danville, Illinois, in 1931, six years after his brother. He said he knew from childhood that he wanted to be a comedian, and grew up listening to the radio shows of Bob Hope, Red Skelton and others. By age 8 he had earned a reputation as class clown.
He had his first brush with acting in a guest role on "The Dick Van Dyke Show" as Rob Petrie's banjo-playing brother. "I came away thinking, `TV is a piece of cake; I want more of this,"` he told the AP.
Van Dyke entered Eastern Illinois University, but his education was interrupted by service in the Air Force during the Korean War. He spent much of that time entertaining colleagues at military shows with jokes and banjo playing.
When he got out of the service, he took that act on the road, with little success. Eventually he followed his brother to Hollywood.
He is survived by his wife, two children from his previous marriage to Carol Johnson -- Jerri and Ronald -- and his brother.