Jimmy Garoppolo gears up for first home start with 49ers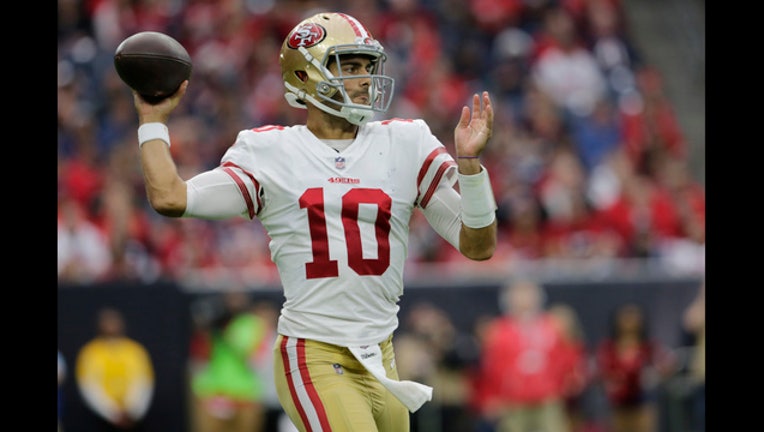 article
By JANIE McCAULEY
SANTA CLARA, Calif. (AP) -- The San Francisco 49ers circled up in their locker room last Sunday moments before taking the field at Houston and Jimmy Garoppolo spoke up to challenge his teammates.
"Play relentless! Be violent!" he demanded.
Eli Harold heard the words and they fueled him. Only later did it dawn on the linebacker it had been his starting quarterback speaking, someone accustomed to taking those punishing -- "violent" -- hits.
"We just need the energy to be up and keep getting the pregame speeches from Jimmy, because they seem to work," Harold said. 
"This is the quarterback saying these things, the guy who can be a subject to getting a lot of hits in the game. I was so hyped. He gave me that edge that I needed to go out there and play."
San Francisco went out and beat the Texans 26-16. Garoppolo threw for 334 yards and a touchdown, while Harold had two tackles and a sack.
Now, the Niners need more from Garoppolo to both keep his team going in a lost season to build toward 2018 and energize a frustrated fan base.
He will make his first home start Sunday at Levi's Stadium against the Titans having already earned the respect of the roster for his natural leadership tendencies, a pedigree groomed during his time as Tom Brady's understudy in New England.
"I think any time you get an opportunity to hang around someone and just watch their process and how they go about their job, especially someone like Tom, where you have the guy who's arguably the best of all time and has had an unbelievable career, I think it's been great for Jimmy to watch how he carries himself and how basically when you're a quarterback you're almost CEO of the company to a certain degree," coach Kyle Shanahan said. 
"I think people look at Tom that way. There's just this certain way to act and handle things and talk to people. Jimmy is very good at that stuff. I'm sure it helped getting to watch someone who's probably the best at it."
He does now have one thing straight when it comes to how the Niners fans identify themselves. Garoppolo got that tip via group text from a few friends the other day reminding him he'd better get the nickname right. People take that stuff seriously.
"It'll be fun. Our home fans, `The Faithful,' I found out, got some heat for that, for saying `49ers Nation,"' said Garoppolo, acquired from the Patriots at the trade deadline in October. "But `The Faithful,' they're an awesome fan base. It'll be fun to get in front of them this Sunday."
Oh, the little things he is still learning since taking over as 49ers quarterback two weeks ago.
"Any time you have that fan base in Houston, we're at an away game, and you hear the Niners chant, it's exciting," center Daniel Kilgore said. "It makes your job well worth it when you're playing away and you get that welcome. It's pretty awesome. It's going to be fun to watch him. It's going to be different because he's not in a hostile environment. What makes it happen for him is the other 10 guys around him. We've got to block for him, the receivers have got to catch for him, the backs got to block. It's not just the Jimmy show."
San Francisco (3-10) sure could use some momentum on its home field, too, following consecutive road wins and only one victory at Levi's Stadium so far -- against the Giants on Nov. 12.
Garoppolo only provided a small glimpse to the home fans in a Nov. 26 loss to the Seahawks, entering with 1:07 to play in place of the injured C.J. Beathard and throwing a 10-yard touchdown pass to Louis Murphy as time expired.
"Against Seattle I had a couple plays," Garoppolo said. "Hopefully the crowd comes out and they're loud helping our defense out and everything and we'll make some plays for them. It'll be a fun environment."
And the 49ers will be looking to Garoppolo again for some powerful words to pump them up ahead of kickoff.
"His energy is infectious," Harold said. "I really respect the guy, and he's doing a lot to help us win."
NOTES: RT Trent Brown (shoulder) and WR Murphy (illness) didn't practice. ... The Niners signed WR Max McCaffrey to a two-year contract off the Packers' practice squad, clearing roster room by placing WR Victor Bolden Jr., on injured reserve.