Jordan Spieth sets Masters record with lowest 36-hole score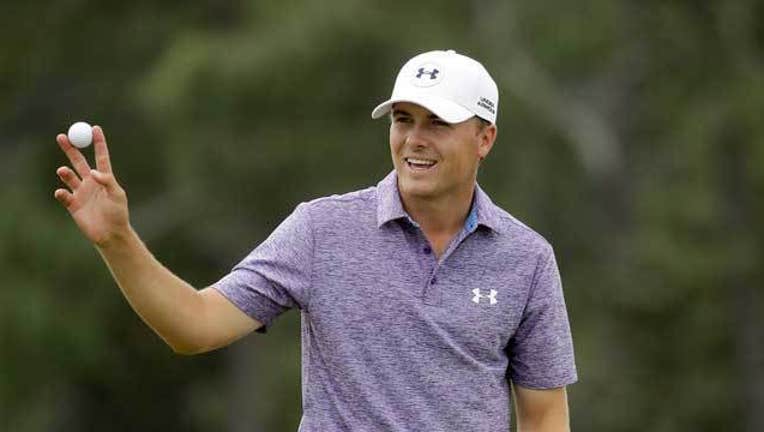 article
AUGUSTA, Ga. (AP) — Jordan Spieth set a 36-hole scoring record at the Masters on Friday. 
The 21-year-old Texan turned in another dazzling round, going to the weekend with a 14-under 130 total. That broke the record of 131, set by Raymond Floyd in 1976.
Spieth shot a 6-under 66 in the second round, essentially blowing away everyone in the field except Charley Hoffman. He was four strokes behind and still on the course, turning in the sort of performance that would normally be good enough for the lead.
Not the way Spieth was playing. He had 15 birdies and only one bogey through the first two days.
"It's special to be in the tournament," he said, "let alone out front."
Spieth said his biggest obstacle the next two days will be scoreboard watching.
He said he just needs "to keep my head down, just need to set a goal for myself. Obviously Charley's playing great, and we may be pretty close up there, and who knows what can happen on the weekend here.
"I'm sure they don't like seeing really low scores so they might speed the greens up tomorrow."
Ernie Els, at 139, was the only other player with a single-digit deficit whenSpieth finished his round. Everyone else was at least 10 shots behind.
Spieth missed a chance for another birdie at the 18th hole, his 7-foot putt sliding past the left side of the cup on the slick Augusta greens. He initially went up to tap it in, standing awkwardly so he wouldn't step in the line of playing partner Henrik Stenson, who still had a short putt of his own.
Then, perhaps realizing how important the little putt was, Spieth backed away, marked his ball and waited for Stenson to finish before knocking his in for the record.
Spieth also tied the major championship record for lowest 36-hole score, matching three others.
"He's special," said Els, who began the day three shots back and fell farther behind with a 72 on a sultry, overcast day. "Nothing stands out, because he does everything well. He's going to be tough to beat."
Spieth shot a 64 on Thursday, the lowest opening round at the Masters in 19 years and just one stroke off the major championship scoring record. He came into Friday with a three-shot edge over Els, Hoffman, Justin Rose and Jason Day.
Day and Rose were both struggling Friday, leaving Hoffman as the only player within striking distance.