Judge: 'Significant cultural problems' remain at OPD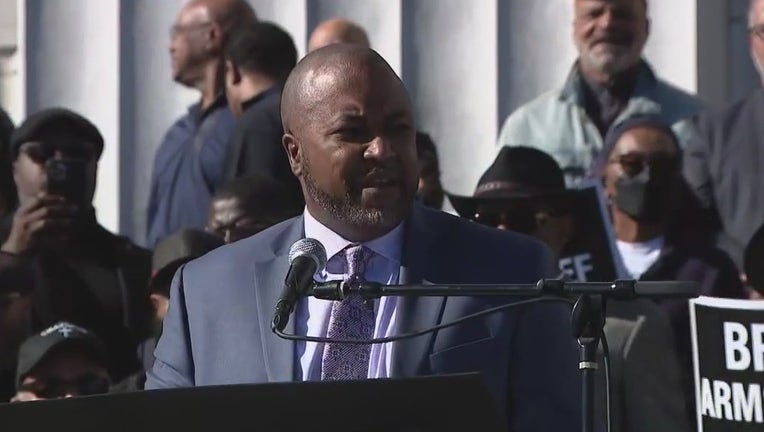 article
OAKLAND, Calif. - Although all eyes were on Tuesday's court hearing to see what a federal judge would have to say about the Oakland police chief who was put on administrative leave last week – LeRonne Armstrong's name never came up. 
And Armstrong was not present at the regular conference between the police department, city leaders and U.S. District Court Judge William Orrick.
But it was clear that what he did – or didn't do – in this case was present on everyone's minds.
"I am profoundly disappointed that Task 5 is out of compliance," Orrick said in reference to the department's Internal Affairs investigations being out of compliance. "Significant cultural problems remain unaddressed." 
Orrick spoke on Zoom to Oakland Mayor Sheng Thao and the city's lawyer, Acting Police Chief Darren Allison, civil rights attorneys Jim Chanin and John Burris, and Rocky Lucia, who represents Oakland's police union. 
Orrick's disappointment came less than a week after the outside law firm of Clarence, Dyer and Cohen produced a 16-page report faulting not only a sergeant who lied about a hit-and-run and then hid evidence that he fired off his gun in a police elevator, but Armstrong and some of his command staff for downplaying what the sergeant did and not disciplining him appropriately.
Thao placed Armstrong on leave the following day on Jan. 19, telling the public that the move was not punitive. 
But in her statement to the judge, Thao struck a different, more forceful, tone. 
The law firm's outside investigation, she said, revealed that there are too many officers who are "friendly" with those they are investigating and "who they are supposed to hold accountable." 
She discussed the dangers of letting police police themselves. 
And she stressed that a top priority of her administration will be to increase the resources and staff of the civilian-led Oakland Police Commission and their investigative powers. 
Already, she said the civilian Inspector General Michelle Phillips has hired five new employees, has a sixth about to be hired and there are plans to hire four more investigators next quarter.
"No system can work if problems are swept under the rug," Thao said. "This particular misconduct is serious because it provides fertile ground for other misconduct to thrive." 
While Armstrong was not at the court hearing, he had made his voice heard earlier in the day.
The NAACP held a rally for him at noon, requesting that he be immediately reinstated to his post. He vowed to fight back against his leave, which he said was "offensive" to him as an African American. 
At a news conference this week, Armstrong also insisted that he had "done nothing wrong" and acted reasonably based on the information given to him. He described the sergeant's hit-and-run of his neighbor's car – and then his dishonesty about it later – as something "minor," not worthy of a big scandal. 
But that's not how either the mayor or the judge saw it.
Orrick credited the federal oversight of the department for the last 20 years as the reason for much of the department's improvements, especially in seeing a dramatic decrease racially motivated stops and arrests.
But Orrick said this latest revelation about the sergeant – and his superiors who downplayed what he did – shows a "serious issue that exposes rot."
Orrick said that despite the progress of the "federal monitorship" – a direct compliment to federal monitor Robert Warshaw – the police department has not achieved the "integrity" or the "spirit" of the consent decree that mandates court-ordered police reforms.
The sergeant was counseled after lying about the March 2021 hit-and-run, and remains on paid administrative leave nine months after he fired off the gun in the elevator in April 2022. 
Armstorng specifically criticized Warshaw in public this week, saying the federal monitor is "financially motivated" to keep OPD out of compliance in order to keep his job. 
However, in court, Orrick noted that Warshaw and his team have done a "Herculean service" over the last 13 years. 
Orrick and Thao were the only two to speak at the hearing, in which the judge ordered the parties to submit how they plan to improve the integrity of Internal Affairs investigations by April 4, ahead of the next hearing on April 11.
What was not discussed was when – or if – Armstrong will be cleared from his administrative leave. 
Thao has said that she is awaiting another investigative report from the law firm that still has not been made public. The timing for this report's release is unclear. 
Thao wanted to close out the hearing, however, with some credit to those officers who do their jobs well. 
"I want to recognize overwhelming majority of officers who do good work," she said. "I imagine their hearts might break a little, as does mine, when other officers fail to live up to their responsibilities. I will not tolerate toxic subcultures. Officers who make good choices must feel safe. That is my North Star." 
Lisa Fernandez is a reporter for KTVU. Email Lisa at lisa.fernandez@fox.com or call her at 510-874-0139. Or follow her on Twitter @ljfernandez