Oakland police chief requests 'immediate reinstatement' after being placed on administrative leave
OAKLAND, Calif. - Sitting next to his newly hired attorney, Oakland Police Chief LeRonne Armstrong on Monday requested his "immediate reinstatement" as the city's top cop after being placed on paid administrative leave by the mayor last week.
"I know I did nothing wrong," Armstrong said at a news conference. 
He adamantly rejected accusations that he mishandled two investigations into misconduct by a sergeant. He said that he acted appropriately "based on the information that was given to me." 
"I deserve to be reinstated as chief of police immediately by the City of Oakland," Armstrong said. "It is a matter of justice, due process, and fairness. It is also an issue of justice and fairness for the people and community of Oakland to have me at helm of the police department to protect public safety and provide leadership and stability to our officers. I want the public to know I followed all policies, protocols, and procedures in the two incidents that are detailed in the recently-released summary report."
In his view, Armstrong said OPD took "appropriate action" against the sergeant involved in a hit-and-run in March 2021 and failed to report it, and then was not forthcoming about ripping the bumper off his neighbor's Mercedes during an Internal Affairs investigation. Armstrong said the department disciplined him. An independent law firm showed that the sergeant received counseling and more training. 
Then, Armstrong then said he began a criminal investigation against that same sergeant who then fired a gun in a police elevator in April 2022. That sergeant is still on leave today –  nine months later. 
Armstrong said that officers are human beings – and human beings make mistakes. But he said he held the officer accountable and he described the hit-and-run as "minor," and "not a big scandal."
Armstrong said that a month after he placed the sergeant on leave to investigate why the sergeant's gun went off in the elevator, federal monitor Robert Warshaw "took the case away from OPD," never giving him a chance to take appropriate action against the officer.
"Therefore, the ability to discipline that officer and engage in due process was never afforded to me or OPD," Armstrong said. "But neither the department—nor myself as chief—ever had the opportunity to take full and appropriate disciplinary action against the officer because the federal monitor Robert Warshaw took the investigation out of my hands so that he could handle it himself."
Armstrong took personal aim at Warshaw – who is barred from speaking publicly about any matter related to the case as he acts similarly to a judge – saying that the federal monitor "acted in his own clear self-interest." 
"Mr. Warshaw acted in the interest of his own pocketbook by manufacturing a false crisis to justify extending his lucrative monitoring contract," Armstrong said. 
Regina Jackson, former chair of the citizen-led Oakland Police Commission, backed Armstrong by saying she also feels that Warshaw has a "financial interest" in keeping OPD out of sustainability.
She wrote a letter in December 2021 to Warshaw and the city asking for a better defined process of reforms to meet and a timetable of how to meet them to once and for all end the consent decree. 
It was Warshaw's idea for the city of Oakland to hire the Clarence, Dyer and Cohen in May 2022, which cost $517,000, to investigate the sergeant's actions. 
That report was released publicly last week. 
The law firm not only faulted the individual action of the sergeant in question, but the investigators pointed fingers at Armstrong, who they said violated department rules because he failed to hold officers accountable and allowed them to escape discipline.
"Most disturbingly," the report authors wrote, "some of the deficits appear to stem from a failure of leadership and a lack of commitment to hold members of the Oakland Police Department accountable for violations of its own rules."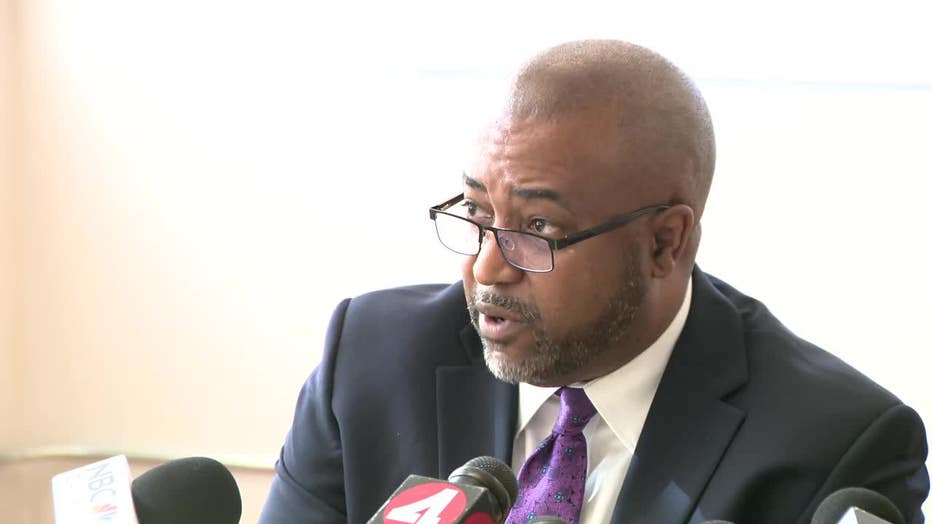 Oakland Police Chief LeRonne Armstrong requests to be reinstated after being placed on leave. Jan. 23, 2023 
Warshaw is a court-appointed federal monitor, who works for U.S. District Court Judge William Orrick as part of a 20-year consent decree that Oakland police must adhere to until the department meets a benchmark of reforms. That federal oversight was poised to end in May, but this latest revelation about the chief has thrown that ending date into question. 
On Monday, in court filings civil rights attorneys Jim Chanin and John Burris asked the court to extend the oversight by at least six months. A hearing on the matter is set for Tuesday. 
The city of Oakland pays roughly $1 million a year for this oversight, which dates back to 2003. Warshaw's salary, along with the salaries of attorneys and others, comprise this amount. 
A KTVU analysis in 2020, however, showed that Oakland's payouts to settle excessive force cases by police have plummeted since federal oversight began.  For example, Oakland paid $57 million between 2000 and 2011. Compare that to 2015 to 2020, when that dollar amount of civil payouts dropped to $3 million.  
In addition to hiring Sam Singer of  of Singer Associates Public Relations, Armstrong also hired attorney Will Edelman of the law firm of Delahunty & Edelman. 
MORE: What's next for Oakland now that police chief has been put on administrative leave
Armstrong's moves come after Mayor Sheng Thao put him on leave Thursday, following the release of the law firm's report.
On Saturday, Thao - who took office at the start of this month – told reporters that placing Armstrong on leave does not mean he has done anything wrong and is not meant to be punitive. 
She said she is waiting to review more documents from the investigation to determine what to do – an investigation, she stressed, that was launched during Mayor Libby Schaaf's administration.
"We are still awaiting more documents," Thao said. "It is our understanding that there are more documents that will be arriving soon, and so, until we have the full picture to review, I cannot stand here and tell you that there has been a decision made."
Thao said that for now she can't say what will happen to the future of Armstrong's career with Oakland Police Department. 
Armstrong said he doesn't blame Thao for any of this; she was only reacting, he said, to the Warshaw-initiated report. 
Warshaw, however, only asked for an indepdent investigation – the law firm revealed the troubling findings and Thao was the only to announce the chief's paid leave. 
The mayor is now facing pressure from a growing group of Armstrong supporters. 
Some of those supporters include Councilman Noel Gallo, former councilmember Loren Taylor ,Brenda Grisham, whose son was murdered outside the family's home in 2010 and co-chair of the Oakland Violence Prevention Coalition and Carl Chan, president of Chinatown's Chamber of Commerce. 
The NAACP plans to hold a rally on Tuesday at noon in support of Armstrong. 
Former Councilmember Lynette Gibson McElhaney also supports Armstrong and is critical of Warshaw.
"This wizard who is nameless, faceless, behind the curtain, always, always playing Lucy with the football," she said of the federal monitor. "He dangles compliance and success."
KTVU's Henry Lee contributed to this report.