Kaepernick may be seeking trade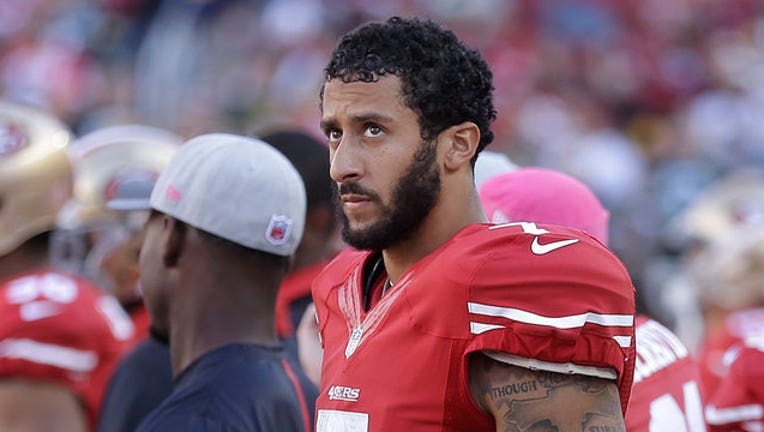 article
SANTA CLARA - 49ers quarterback Colin Kaepernick apparently wants out of San Francisco.
According to nfl.com Kaepernick's agents have requested permission to seek a trade, per an informed source.
The report comes just one day after 49ers general manager Trent Baalke said he expected Kaepernick to be with the 49ers next season.
Asked at the NFL combine if Baalke anticipated a return to the team by Kaepernick, who lost his job during 2015 to Blaine Gabbert, he replied "absolutely."
Kaepernick went 2-6 in eight starts before being benched. His future in San Francisco seemed uncertain, but with the hiring of Chip Kelly as coach, Kaepernick's style would seem a good fit. Kelly prefers mobile quarterbacks who can throw on the run, but Kaepernick will need to improve his accuracy and decision making.
Kaepernick is recovering from medical procedures on his right thumb, his left knee, and on his non-throwing left shoulder to fix a torn labrum. His $11.9 million 2016 contract becomes fully guaranteed for injury April 1 if he's on the roster.
"I think the good thing is we've got two guys that have gone into games and proven they can play," Baalke said. "And Colin's done some awful good things through his career, won some big games for the San Francisco 49ers and (we) expect him to come back. The main focus right now is health, getting him healthy. He's doing a good job with his rehab. Talking to the medical staff, that seems to be going very well, and (we) just look forward to getting him back and getting him working with this coaching staff."
Kelly is not scheduled to speak to the media at the combine.
Baalke has been familiar with Kelly for years, ever since Kelly was coaching at Oregon. Asked about their developing relationship as co-workers, Baalke compared it to a marriage.
"Yeah, it takes a while," he said. "It's like any relationship. It doesn't happen overnight. But all indications are, like I said, I've known coach since he was at Oregon and see him no different than the conversations that I used to have with him when we went in and were recruiting his players at Oregon.
"We see eye to eye on a lot of things. There's always going to be things that you come across in these types of relationships where you've got to work through. But, as of right now, as we're trying to put this thing together with free agency and the draft, we feel pretty good about how we're communicating and what exactly we're looking for."
One thing the Niners will be looking for coming off a 5-11 record is a return to health for running back Carlos Hyde. He ended the season on injured reserve with a stress fracture in his left foot.
A second-round draft pick in 2014 out of Ohio State, Hyde finished with 115 carries for 470 yards and three touchdowns in seven games as the replacement for long-time running back Frank Gore.
"I actually talked to him about three days ago," Baalke said. "Frank Gore and him were working out down in Miami together and I think it's coming. He's not game-ready yet by any stretch, but all indications are that it's healing very nicely and look forward to having him full speed as soon as possible.
"I think coach would tell you he's the ideal fit for what coach wants to do. Very similar to what he did at Ohio State, a big back that runs with power, runs with a little anger. How can you not like that?"