Kansas City Zoo says oldest polar bear in US captivity dies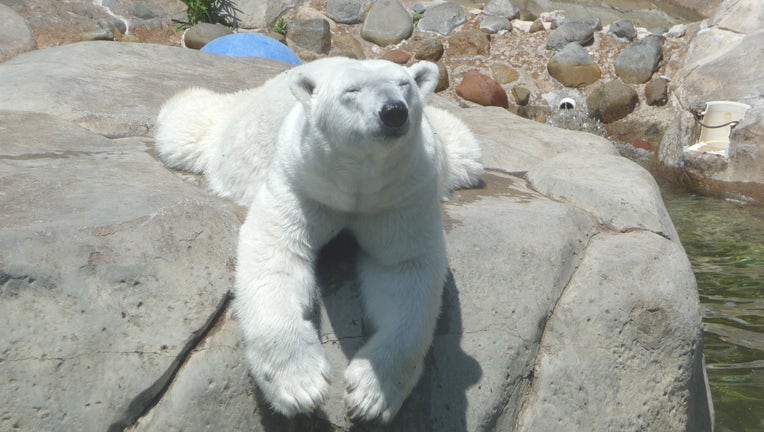 article
KANSAS CITY, Mo. - The oldest polar bear living in U.S. captivity has died, according to the Kansas City Zoo. 
The 33-year-old animal, named "Berlin," lived at the zoo for a decade. Zookeepers believe she may have been the oldest bear captive in North America. 
The zoo said her longevity "is a testament to the extraordinary care she received from her animal care and veterinary health teams."
RELATED: Animal shelter receives dozens of applications to adopt dog 'Zeus' — who may also be part wolf
According to the zoo's Facebook page, Berlin had been experiencing hypertension and renal failure. Treatment for her was exhausted, and the difficult decision to euthanize her was chosen. 
Berlin was born at the Cincinnati Zoo on December 11, 1989, weeks after the Berlin Wall fell, hence her name in honor of the historic event. She resided at Lake Superior Zoo in Duluth, Minnesota. When it flooded, she swam to the perimeter wall of her habitat to wait for the staff to help her. 
She was then moved to Como Zoo in Saint Paul and arrived in Kansas City in December 2012.
RELATED: Heartwarming video: Doggy 'daycare' bus in Alaska goes viral on TikTok
"Berlin was a beloved ambassador for her species and helped contribute to research that has benefited the wild polar bear population," the zoo said. "Her animal care specialists commended her big personality and described her as 'smart and sassy' and say she gave all of her caregivers 'a run for their money!'."
"Berlin will be dearly missed by her Zoo family, including staff, volunteers, and guests," the zoo added. 
Zookeepers said it will make its annual contribution from the Zoo's Conservation Fund to Polar Bears International in memory of Berlin this year. 
This story was reported from Los Angeles.