Kazmir exits with tight triceps, A's lose to Yankees 5-4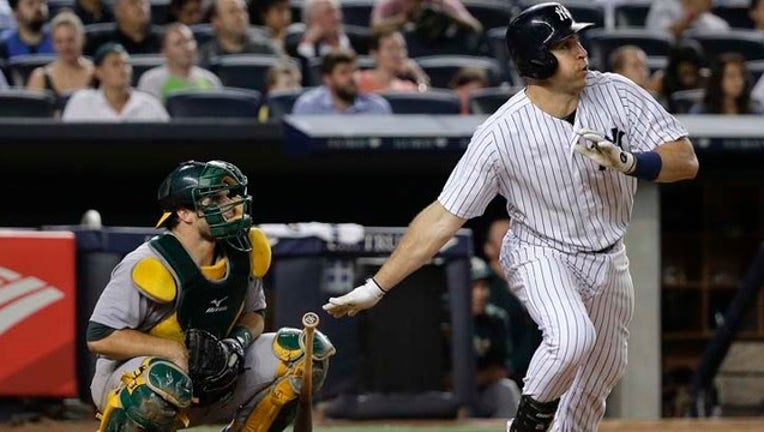 article
NEW YORK (AP) -- Scott Kazmir hopes it was just dehydration that caused the triceps tightness and ended his night against New York after only three innings.
 
   All-Star slugger Mark Teixeira homered twice after the left-hander exited, and the Oakland Athletics' ninth-inning rally fell short in a 5-4 loss to the Yankees on a steamy Wednesday.
 
   "It was muggy out there," Kazmir said. "Just a little bit of tightness, maybe like cramping or something like that. I don't know officially what you'd call it but, you know, it definitely felt very minor and I wanted to go back out there and still pitch."
 
   The A's needed him.
 
   Kazmir left with a 2-1 lead, having yielded an unearned run, but Evan Scribner gave up the edge in four pitches. Teixeira led off the fourth with a long ball and then opened the sixth with another, his 22nd of the season. 
 
   Scribner (2-2) has allowed 11 home runs, most among major league relievers.
 
   "In that position, he's the guy that's got to give us some length there," manager Bob Melvin said of Scribner, who has struggled since May 8. "We're trying to get him right. Right now, the problem is the long ball for him."
 
   Kazmir was 3-1 with a 1.53 ERA in his previous five starts, a big factor in why the A's are 25-18 since May 22. He wanted to continue pitching, but Melvin knows how valuable he is.
 
   "We didn't feel like it was worth taking the chance to send him back out," Melvin said. 
 
   Teixeira noticed a definite change in the A's starter.
 
   "He threw 94 mph past me in the first inning, and you could tell something was wrong after that," Teixeira said. "If he was on tonight we weren't going to score a whole lot of runs against him, so it was a little bit of a break."
 
   Stephen Drew, who entered as a late-game defensive replacement in a 1-for-24 slump, homered off Fernando Abad in the eighth inning to give New York a 5-2 lead. Andrew Miller, just off the disabled list, nearly gave it all back in his first appearance since June 9, allowing a two-run shot in the ninth to Marcus Semien. 
 
   Stephen Vogt reached second on third baseman Gregorio Petit's two-out throwing error. But Petit charged Ben Zobrist's soft grounder and fired a quick throw to first for the final out, with Teixeira making a tough stretch. That gave Miller his 18th save in 18 chances. 
 
   Starting on eight days' rest after having fluid drained from his surgically repaired knee, CC Sabathia (4-8) recovered from two rocky innings to pitch into the sixth. He allowed two runs but struck out only one, the first time he fanned fewer than two since Aug. 7, 2013.
 
   The A's dropped to 5-17 when their opponent starts a left-hander. They are 39-48 overall.
 
   Dellin Betances bounced back with a perfect eighth after giving up a go-ahead homer to Brett Lawrie in the 10th inning of Tuesday night's loss. Betances slid back into the setup role with Miller's return.
 
   Jose Pirela had a tiebreaking sacrifice fly for the Yankees, who improved to 2-4 against Oakland this season.
 
   The A's made good contact against Sabathia in the first two innings, hitting sharp liners and scoring twice in the second on four hits.
 
   Billy Butler doubled to start the second. He was caught in a rundown when he broke for home on Jake Smolinski's grounder to third base. Josh Phegley and Mark Canha followed with one-out RBI singles for a 2-0 lead. 
 
   Girardi got help up in the Yankees' bullpen, but Sabathia recovered and didn't yield another hit until the fifth. He was lifted with one out in the sixth following Smolinski's single. 
 
   Smolinski was called up Tuesday, and it was his first hit for Oakland.
 
   "I think it was just command of both sides of the plate," Sabathia said about what changed for him during the outing. "It feels good."
 
   Sabathia allowed seven hits and two walks in 5 1-3 innings.   
 
   The Yankees got one back in the second against Kazmir on Didi Gregorius' RBI double after an error by Lawrie at third base on Young's leadoff grounder.