Key witness in Oakland gang shooting trial refuses to testify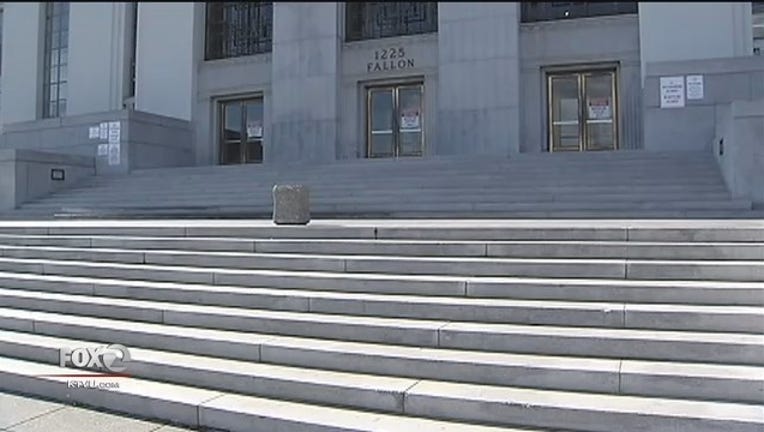 article
OAKLAND, Calif. (KTVU and wires) -- A reputed gang member jeopardized a plea deal Monday by refusing to testify against four reputed colleagues who are charged with murder for the death of one of their associates in a wild shootout at an East Oakland birthday party three years ago.
Aaron Kheav, 23, was expected to be the prosecution's star witness in the trial of Phon Mey, 31, Scott Moeun, 23, Saun Oeurn, 31, and Danny Vo, 21, for the death of 20-year-old Jordan Chhit of Vallejo in a shooting in the 1700 block of 20th Avenue at about 1:50 a.m. on Jan. 29, 2012, in which prosecutor Robert Graff said at least 11 guns were used and 135 shots were fired.
In his opening statement in the lengthy trial back on May 26, Graf alleged that Chhit and the other five men belonged to the Asian Street Walkers (ASW) gang and fired at members of the rival Oak Town Crips (OTC) gang because an ASW member was upset that rivals had shot at him a short time earlier as he was driving to his girlfriend's house.
In addition to the murder charge for Chhit's death, Mey, Moeun, Ouern and Vo are charged with three counts of attempted murder because three other people were wounded in the shooting and also face a charge of shooting at an inhabited dwelling. They face up to 168 years to life in state prison
if they're convicted of all of the charges against them.
Graff said it's not clear who fired the shot that killed Chhit but the four defendants are charged with murder under the provocative act doctrine because prosecutors believe they started the gun battle and their actions led to his death.
Kheav faced identical charges but in early May prosecutors allowed him to plead no contest to the lesser charge of voluntary manslaughter as well as attempted murder in exchange for his testimony against the other men.
His plea agreement calls for him to receive a state prison term of 14 years and 4 months if he testifies truthfully.
But when Kheav was called to the witness stand Monday, he refused to take an oath to promise that he would testify truthfully.
Alameda County Superior Court Judge Trina Thompson, who is presiding over the case, temporarily suspended the trial and sent the jury home early for the day.
Thompson said to the lawyers in the case that Kheav was being "recalcitrant" and "he refused to take the oath because he refused to testify."
However, Thompson is giving Kheav one more chance and ordered him to return to court when the trial resumes on Tuesday morning to see if he has changed his mind and is willing to testify.
Graff said that if Kheav doesn't testify his plea agreement will be nullified and he will be prosecuted separately from the other four defendants. Their trial will continue either way.
In a hearing outside the presence of jurors Monday, the attorneys in the case debated what legal instructions should be given to jurors if Kheav continues to refuse to testify.
Oeurn's lawyer, David Byron, said he's concerned that Kheav's refusal to testify could be "prejudicial" to the four defendants because they might speculate that the four men intimidated Kheav into not testifying.
Byron said jurors could conclude that Kheav's refusal to testify supports a police gang expert's opinion that the Asian Street Walkers have a reputation for witness intimidation.
Thompson said at this point there's no evidence that Kheav's refusal to testify is directly connected to the four defendants.
The judge also said it wouldn't be appropriate for the jury to draw inferences or engage in guesswork if Kheav continues to refuse to testify so she will instruct them accordingly.
In his opening statement, Graff said the shooting occurred after Mey told his reputed associates that members of the OTC gang had shot at him and he knew that some members of the rival gang were attending a birthday party at a house in the 1700 block of 20th Avenue.
Graff said Mey armed himself with an assault rifle. Moeun, Chitt and Kheav were all armed with pistols, and Oeurn drove his reputed associates to the shooting scene in his van.
Graff said one of the people who was at the party fired back at the ASW gang members after they started shooting at the house and one of their bullets pierced him across his chest.
Defense attorneys for Mey, Moeun, Oeurn and Vo asked jurors in their opening statements to find the four men not guilty, saying the
prosecution won't be able to prove that they initiated the shooting and are legally responsible for Chhit's death.
Moeun's lawyer, Tammy Yuen, told jurors that if Kheav testifies, they shouldn't trust him because he initially lied to police by saying he wasn't even at the scene of the shooting and denied being a member of a gang.