KTVU.com talks to 'Rock Warrior' Thor about new documentary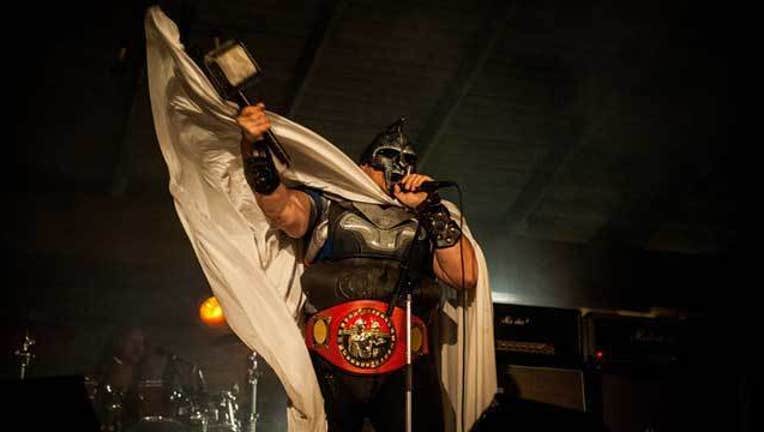 article
Long before Ronnie James Dio was slaying mechanical dragons in packed arenas and Long Island metal mooks Manowar were donning loincloths, Canadian rock gladiator and onetime bodybuilding champ Jon Mikl Thor had already laid the foundation for the over-the-top metal theatrics that would become standard issue for metal bands in the '80s. And unlike some of the self-serious metal warriors who followed in his wake, Thor fully grasped the inherent comedy of such conceptual hard-rock shenanigans.
Wielding a battle hammer in one hand and a microphone in the other when not performing feats of strength like bending steel bars with his teeth or having concrete blocks smashed on his chest, Thor combined hook-laden hard rock, armored fantasy combat and perfectly coiffed Viking hair in what appeared to be the total package. His eponymous band's debut 1977 album Keep the Dogs Away went gold in Canada and paved the way to a string of albums in the '80s that would move the band in a more metallic direction with songs like "Thunder in the Tundra" and "Let the Blood Run Red" that became hits in the U.K.
Struggles with labels and inept band management led to a nervous breakdown for Thor in 1987. The band would break up as the singer pursued a film career, starring in such b-grade movies as Recruits, Zombie Nightmare, and Rock 'n' Roll Nightmare (which he also wrote and produced). It wasn't until the late '90s that Thor would return to music, seeking to achieve the stardom that eluded him decades before with a string of new album releases and tours.

In 2000, Thor met filmmakers Ryan Wise and Al Higbee, who proposed the idea of a documentary about his unusual career. 15 years later, the finished movie -- entitled I Am Thor -- premiered at this year's Slamdance Film at Park City to glowing reviews. Thor comes to the Bay Area when the film is screened as part of this year's DocFest 2015 in San Francisco at the Roxie Theater Thursday, June 11 at 7 p.m. Thor will also perform live onstage at Thee Parkside after the screening, backed by local rock hero Count Dante (aka noted writer Bob Calhoun) and his band the Black Dragon Fighting Society with support from all-female Manowar tribute Womanowar and Space Vacation. Thor recently answered some questions about the making of the film and his plans for the future. 
KTVU.com: How did you connect with the filmmakers to become the subject of their documentary?

Thor: I met up with Ryan Wise and Al Higbee fifteen years ago in Seattle. We had a mutual friend named Carl who introduced us as they were part of a film making alliance at that time in Washington State. I was making my comeback and working on a film called "No More Heroes". Ryan and Al were fresh out of film school. I was doing a gig the next day in Seattle and invited them to the concert. They were blown away by the show and said "Lets make a Documentary." Little did they know what they were in for.
How soon after meeting Al and Ryan did they begin shooting?
Within a month from meeting. They started coming to the shows in different cities and started filming.

Was most of the shooting done when you went on the road or recording? Or were the periods of shooting where they were documenting your life in a more reality-show style 24/7 cycle?

As I was making a comeback after being away from the scene for over ten years, I would take almost any gig I could get. It could be in a wrestling ring, at an arena or nightclub, or even a restaurant. It was trick or treat. Neither they nor I knew where a show was going to be that far in advance or what kind of venue it was. Later on there were more solid tours such as the 60 city tour in 2005 and 2006.

Were they shooting off and on throughout the 15 years since they met you? Were there early cuts of the film that were close to completion that changed after new developments in your life or career? 

When we started, they planned to finish the movie in a few years. We were hoping something big was going to happen quickly like a #1 record. They also traveled to different cities interviewing people in my past from managers, former musicians to ex-girlfriends and wives. Sort of "This is Your Life." 

But there were a lot of ups and downs before bigger things approached on the horizon. But even as things progressed and the band put out new albums, movies, tours etc things became twisted and crazy. There were severe highs as much as there were lowest of lows. It was mind blowing. But they caught it on film.

You have been involved with film since the mid-80s. Was there any thought to doing a doc or at least commissioning a doc yourself, or did you feel it needed to be a somewhat objective look at your life?

Actually I started getting involved with film in the 1960s and 1970s. I made appearances in Groundstar Conspiracy [a 1972 thriller with Geoge Peppard] and Christina, which were shot in Vancouver. I also made my own films like Powerman vs. Kong. Many times producers tried to make a documentary in the '90s, but they were never completed.

A number of reviews I've read mention the similarities to Anvil! The Story of Anvil. It sounds like I Am Thor was in production long before the other movie came out in 2008, but did it have any influence or impact on the making of the documentary?

Coincidentally, I just played the Muskelrock Festival in Alvesta, Sweden. We headlined with Bullet on Friday and Anvil headlined on Saturday. They showed both movies as well. Anvil Story vs. I Am Thor. But the fact is we started our doc many years previous. There was no influence from Anvil. 

I just knew them as a band in the '80s when we were touring and releasing records. No different than Manowar, Exciter, Twisted Sister etc. I mean I can't see Lips competing against Lou Ferrigno or appear in a musical called "What Do You Say To a Naked Waiter." However one thing we do have in common is the desire to succeed and to overcome obstacles.

The film was screened at Slamdance and festivals in Florida and Brooklyn as well as Muskelrock 2015 in Sweden. Have you focused more on traditional film festivals for booking, or do you see it being included at other metal festivals in Europe this summer?

Its been at festivals all over the world in such countries as Finland, Hungary, Sweden, USA and Canada. As well as traditional festivals, it has also appeared at Rock Festivals. The reaction has been incredible at every screening.

You and Steve Price played with Bullet at Muskelrock. Was that a band you'd performed with before? How did that connection happen?

We are great friends with them. They are wonderful people and very talented musicians. We met back in 2009 at the Sweden Rock Festival. We were introduced by Muskelrock promoter Jacob Hector.

Will you and Price both be joining Count Dante and the Black Dragon Fighting Society after the screening Thursday?

I will be. I'm not sure that Steve will be flying in. I look forward to playing with Counte Dante and the Black Dragon Fighting Society. As well as having the longest band name in rock history, they are a bunch of really cool guys who can play some really mean rock n roll. I can't thank CountDante and the guys enough for going the extra mile to work with me in San Francisco. There are some excellent opening acts as well in Womanowar and Space Vacation. There is a lot of talent in the Bay Area.

Are you coming in early to rehearse with the band? Do you already have the set list planned out? Is there a specific era of Thor material that you're focusing on?

The setlist ready to go. We will be concentrating on all eras. Unchained and Only The Strong have been re-released by Cleopatra Records so we will be playing songs from those albums for sure.

You've been pretty prolific as far as your output since you first returned to music in the late '90s. Did you have a storehouse of songs that you're drawing from, or do you write new material as you go?

I write a lot of songs. Some are unfinished as far back as the 60's or 70's. But I dust off the tapes and try and complete them. I really enjoy writing new songs with co-writers Frank Meyer, Bruce Duff, Frank Soda and Steve Price.

What do you have on the horizon as far as new recordings and touring?

A new album will come out in October or November on Cleopatra Records that will shake the earth! My best stuff yet. A new tour is on the horizon. There will be some major announcements soon.