L.A. 'Tenant from Hell' tried a similar scheme in Oakland in 2019
OAKLAND, Calif. - Elizabeth Hirschhorn, the "Tenant from Hell" currently occupying a guest house at a palatial estate in Los Angeles, faced a similar situation in Oakland just months before she moved into the L.A. home, court records show.
As first reported by the Daily Mail, Hirschhorn, 55, began subletting at a $2.6 million home on 63rd Street in the Rockridge area of Oakland in 2019. 
There was a dispute over cleaning the unit and Hirschhorn continued to stay at the home without paying rent or having a lease agreement, eventually citing the COVID-19 pandemic eviction regulations and health concerns as reasons for not leaving, court records state. 
Hirschhorn filed a lawsuit against the Oakland homeowner in October 2020 and claimed in the lawsuit that in November 2019 the homeowner "disbursed large quantities of a harmful substance inside the property" that "contaminated [Hirschhorn's] living space and personal property and negatively impacted her health," court documents state. 
Hirschhorn claimed she had to leave the residence in December 2019 and returned in February 2020, and the house was not sufficiently cleaned to her liking. 
PREVIOUS COVERAGE: LA law protects Airbnb guest living at Brentwood rental for 500+ days without paying rent
The Oakland case was settled in July 2021 on undisclosed terms. 
Shortly thereafter, Hirschhorn moved into the L.A.-area estate and has refused to pay rent there as well, she's been in the home for over 500 days. The L.A. landlord, Dr. Sascha Jovanovic, has tried to evict Hirschhorn, but Hirschhorn is using a legal loophole to stay.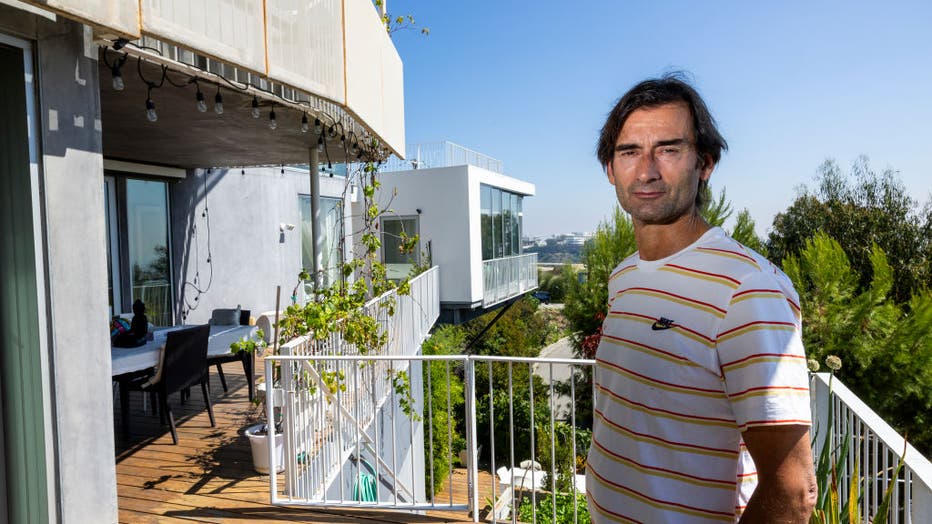 Los Angeles, CA - September 25: Aleksandar Jovanovic, a Airbnb landlord, stands on the deck of his Los Angeles home. His tenant, Elizabeth Hirschhorn, not pictured, is still living in his guesthouse listed on Airbnb, shown in background middle with a
Her attorney told the Los Angeles Times that Hirschhorn is "not required to pay rent because the city had never approved the unit for occupancy and that its shower was constructed without a permit."
Because of several code violations, the city found that Jovanovic is unable to evict Hirschhorn. Jovanovic claims Hirschhorn won't let him inside to do the upgrades and bring the rental up to code.
"I tried to be a kind host," Jovanovic told the Times. "I had no idea she would become what she has become."
Since Hirschhorn has stayed in the unit for six months, she qualifies for L.A.'s recently adopted Just Cause Ordinance, which requires a landlord to have a legal reason to evict a tenant, and if there is no legal reason, the landlord is required to pay for relocation assistance for the tenant.
Hirschhorn wants Jovanovic to pay a $100,000 relocation fee, the Times reported.