Late George H.W. Bush was friend to Bay Area in good times and bad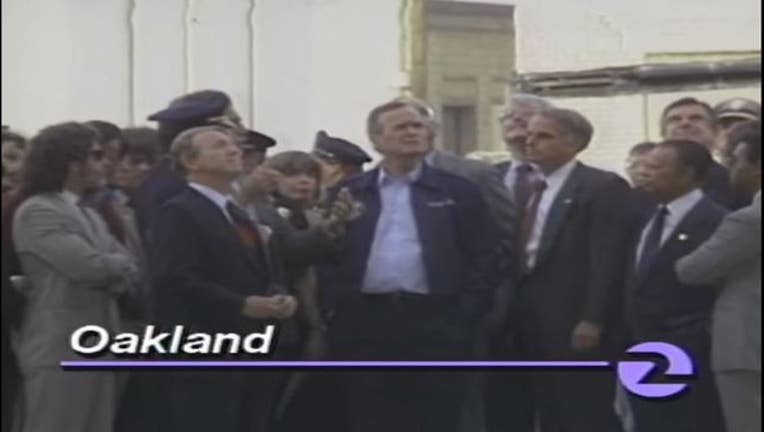 OAKLAND, Calif. (KTVU) - Former President George H.W. Bush was a friend to the San Francisco Bay Area in good times and bad. 
Nearly 30 years ago, Bush, who had been in office for less than a year, flew to the Bay Area three days after the deadly Loma Prieta earthquake struck the region on the evening of Oct. 17, 1989. 
Bush met with local officials and first responders and toured Oakland, San Francisco and Santa Cruz, the areas hardest hit by the magnitude 6.9 earthquake. The quake killed 67 people, injured thousands more and damaged or destroyed nearly 15,000 homes and businesses in the San Francisco and Monterey Bay regions. 
After Bush toured the collapsed Cypress Freeway in West Oakland, where 42 people lost their lives in the quake, he told reporters that he was "deeply moved" by the experience. 
"Sad in some ways and yet a genuine appreciation for the way this community is pulling together, this state," Bush said. 
When he returned to Washington D.C., the president signed a $1.1 billion disaster relief package to help the region recover from the earthquake that caused more than $6 billion in damage. 
Art Agnos was the mayor of San Francisco at the time and recalled fondly how the late Republican president quickly rallied to help an area that was overwhelmingly Democratic. 
"This was important to me because our city was a very blue city so to speak politically," said Agnos. "None of that came through with his attitude or his administration. He wanted what was best for the recovery of our city and our people and that showed."
The former president returned to San Francisco a year later under better circumstances when he helped campaign to elect California Republican Sen. Pete Wilson, a candidate in the 1990 California gubernatorial election. Wilson won the election and served two terms as governor.
Bush, who died Friday at the age of 94, was a politician at heart, but had many interests and hobbies that he pursued outside of office. One of those was baseball. In college, Bush played first base for the Yale University Bulldogs, and was captain of the team when they went to the College World Series in 1947 and 1948. 
Bush reportedly kept his college mitt in a desk drawer in the Oval Office while he was president. 
The long-time Texan also loved the Texas Rangers, and was in Arlington with his son, former President George W. Bush, when the younger Bush threw out the first pitch before the fourth game of the 2010 World Series between the Rangers and the San Francisco Giants. 
It was the first time two former presidents attended a World Series game. But the late Bush may not have been happy at the end of the game that night. The Giants beat the Rangers and went on to win the World Series after game five.
His allegiance to professional sports teams wasn't limited to baseball. Bush hosted the San Francisco 49ers, including Joe Montana and Jerry Rice, at the White House after their Super Bowl victory against the Denver Broncos in 1990.
Bush, who was president from 1989 to 1993, will lie in state in the U.S. Capitol rotunda for a ceremony and public visitation from Monday through Wednesday.
An invitation-only funeral service is set for Wednesday at Washington National Cathedral. President Donald Trump and first lady Melania Trump are to attend. Bush's family has not said who will speak at the service. Former President Jimmy Carter also will be there.
Afterward, Bush will be returned to Houston to lie in repose at St. Martin's Episcopal Church before burial Thursday at his family plot on the library grounds. His final resting place will be alongside Barbara Bush, his wife of 73 years who died in April, and Robin Bush, the daughter they lost to leukemia in 1953 at age 3.
On Monday, when a long motorcade accompanied the hearse carrying Bush's remains left a Houston funeral home to fly to Washington D.C., admirers watching news coverage from the Bay Area and across the nation and world, paused to honor a man who was remembered for his decency, generosity and kindness.
The Associated Press contributed to this report.