Lawmaker sponsors bill to change new car license plate law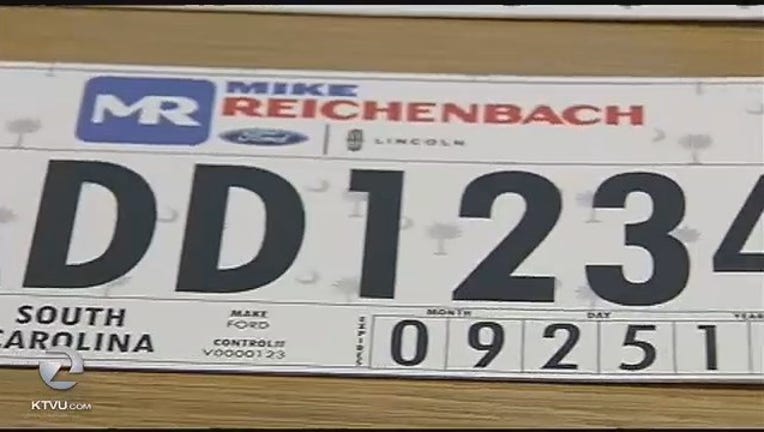 OAKLAND, Calif. (KTVU) - A Bay Area lawmaker is sponsoring a bill that would change the license plate law for Californians who purchase new cars.
AB 516 cleared the Assembly Appropriations committee Thursday sending it forward to a full vote.
Assembly Speaker Pro Tempore Kevin Mullin (D-San Mateo) is the sponsor of the bill which would require all vehicles on the road to have a permanent or temporary license plate, instead of paper dealer advertisements which some newly purchased vehicles are allowed to display.
Mullin says it's a matter of public safety. Every year, some 2 million vehicles are sold in California and allowed to drive off the dealer lot with only a paper advertisement in the plate frames and a small registration paper affixed to the vehicle's windshield.
"There's no way we're going to be able to read what's on that as they're driving by," said CHP Officer Vu Williams, a spokesman for the San Francisco office.
On Tuesday, the problem was evident when the CHP issued a public alert for a wanted vehicle which took off through the toll plaza. It did not have a license plate.
Officer Williams says too often, law enforcement officers run into roadblocks because vehicles wanted for routine stops or crimes are difficult if not impossible to trace with no license plates.
"Drunk drivers, hit and runs, road rage," Williams told KTVU, "A lot of times we just don't have a lot to work with because we don't have a license plate."
A KTVU investigation in 2013 revealed that California is the only state in the nation that allows newly purchased cars to drive up to 90 days without any license plate.
Mullin says AB 516 would enable law enforcement officers to check new vehicles through a temporary tag resembling a permanent license plate, "The vehicle drives away and there would be a very visible identification number that is now logged into a computer system accessible by law enforcement."
Critics are concerned about bureaucracy and cost.
Mullin says each temporary plate would cost consumers about $15 per vehicle and would be integrated with the DMV's existing databases.
The bill is getting support from the California Sheriff's Association and the California New Car Dealers Association.
Some drivers say they like the idea too.
"My girlfriend got pulled over for not having license plates and after that we called the DMV," said Luis Maldano of Oakland.
Maldano says they got a fix-it ticket because a dealer put paper ads over their license plates and said they'd be getting new plates in the mail. He says he'd support the bill.
"It'd probably be better for the buyer since you'd have a temporary plate, you wouldn't get pulled over or anything," Maldano said.
AB 516 is heading to the Assembly floor for a full vote and would still need to make it through the Senate and Governor Brown's desk. If it passes, Mullin's goal is to put the new temporary license plate system in place by January 2017.