Illinois EMTs charged with murder after strapping man to gurney facedown
SPRINGFIELD, Ill. - The lawyer representing two Illinois paramedics charged with a Black man's murder for strapping him facedown on a gurney deemed it a "very odd criminal case," and the leader of the local civil rights chapter made comparisons to the notorious 2020 death of George Floyd in Minneapolis.
The Sangamon County State's Attorney Office brought first-degree murder charges Tuesday against Peter Cadigan, 50, and Peggy Finley, 40, in connection to the Dec. 18 death of Earl L. Moore Jr.
Moore, a severe alcoholic who hadn't had a drink in days, reportedly dialed 911 himself for help, but when officers responded to the Springfield home, a woman answered the door.
Body camera footage shows her telling cops, "There's no one here with guns," explaining that Moore was having "alcohol withdrawals" and "drunk hallucinations."
"He called you guys for no reason," she says in the video. An officer asks if she thinks the man needs an ambulance, but the woman replies, "Every time I take him to the hospital, all they do is release him."
"He's seeing stuff that's not there and hearing voices in his head," she adds.
The charges for the two EMS workers, employed by private company LifeStar Ambulance Service, come after a coroner ruled Moore's death a homicide due to "compressional and positional asphyxia, due to prone face-down restraint on a paramedic transportation stretcher due to straps across the back."
Given their experience and training, Finley and Cadigan should have known that strapping Moore facedown would "create a substantial probability of great bodily harm or death," State's Attorney Dan Wright said Tuesday, according to the Washington Post.
"These are two good people that find themselves in a very odd criminal case," D. Peter Wise, an attorney who represented both paramedics at a bond hearing, told the Post.
Body camera footage shows the woman who answered Moore's door direct the three officers to a back bedroom. Officers found Moore lying on the bed as what sounds like calming instrumental music plays from the television.
Moore is seen moving – and at one point kicks off his shoes – but only rambles an address when asked if he needs an ambulance. As one officer calls for an ambulance, another continues asking the man if he knows where he is, what his name is and if he remembers why he called the police.
SUBSCRIBE TO FOX 32 ON YOUTUBE
He gives little to no responses and is heard panting while he continues lying on the bed.
"She's worried about you man. She's said you've been struggling a bit," an officer says of the woman.
The man eventually sits up on the bed on his own, telling officers, "I can use some water."
"Yeah, man, we can get you some water," an officer says.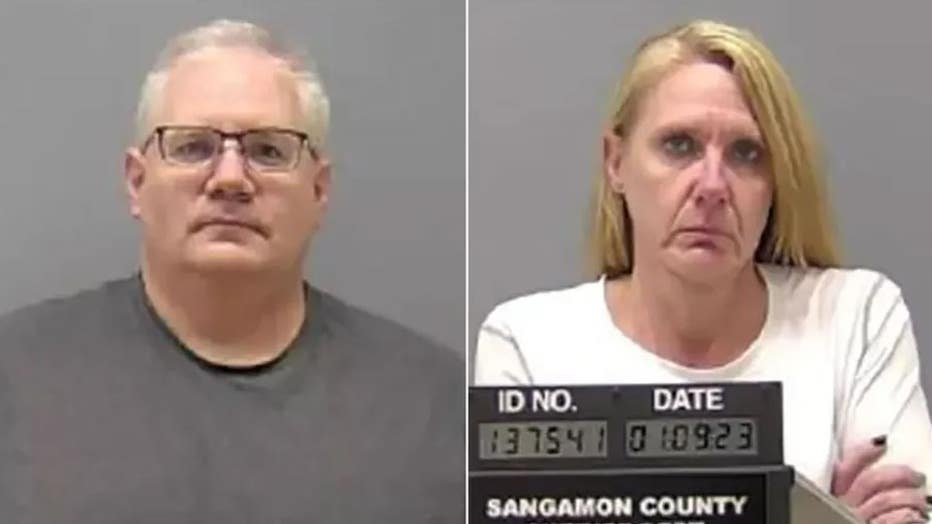 Peter Cadigan and Peggy Finley are charged with first-degree murder. (Sangamon County Jail)
About 15 minutes pass as they wait for the paramedics to arrive.
Growing frustrated when Moore flails himself onto the ground, Finley tells him, "I am not playing with you tonight. Sit up." Two officers help Moore to his feet, coaxing him to walk with their help through the home and out the front door.
"If you want to go to the hospital, man, you've got to help us out a little bit," an officer says.
Once outside, Moore appears to fall down again.
Finley adds, "Get up on there, Earl. It's a bed on wheels."
Cadigan, who waited out front by the ambulance, forcefully shoves Moore onto the stretcher facedown. Both paramedics then strap him down and wrap him in a white sheet.
About 45 minutes later, Moore was pronounced dead at a hospital.
Teresa Haley, president of the NAACP's Springfield chapter, compared Moore's death with Floyd, who was murdered by a police officer who kneeled on his neck for nearly 10 minutes during his 2020 arrest.
"It was almost worse," she told the Illinois Times. "If this guy was already … having difficulties breathing, and then you put him on a stretcher facedown, I mean, it was hostile to see the video and how they treated him."
"They literally threw his hands behind and just strapped him down. He couldn't move if he wanted to," she added.
Finley and Cadigan were booked into the Sangamon County Jail on a $1 million bond each. If found guilty, both EMS workers face up to 20 to 60 years in prison.
For more go to foxnews.com.