Leah Still scores a touchdown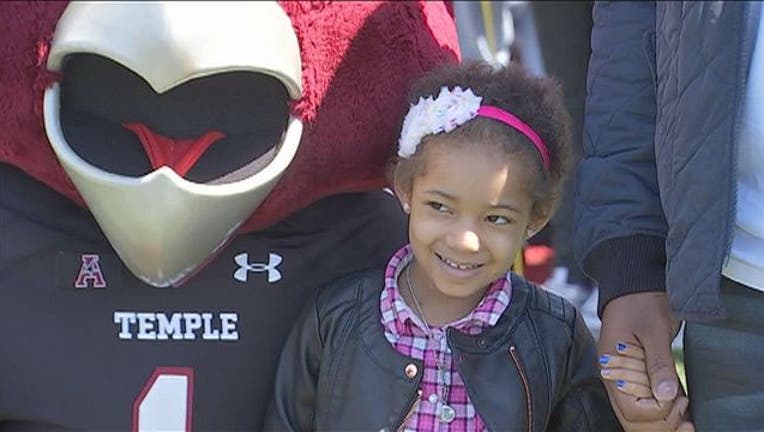 article
Leah Still stole the nation's hearts several months ago, as her battle with cancer went viral.
On Saturday, Leah stole six points, as she scored a touchdown at Temple University's Annual Cherry and White Game.
Leah was originally invited to the game to conduct the coin toss, but managed to take a detour to the endzone!  
On the first play from scrimmage, Leah caught a screen pass from Junior Quarterback PJ Walker, and darted down the field for a 45-yard score!
The Owls circled around her to celebrate as Leah put the exclamation point on her score with a spike of the football and a touchdown dance.
Leah's battle with stage 4 neuroblastoma has been well documented thanks to her father, Devon Still. Devon is a Camden native Defensive Tackle for the Cincinnati Bengals, and played at Penn State.
READ MORE: Devon and Leah Still Share Great News
Devon documented much of Leah's battle on Instagram, including the announcement that she was cancer free back on March 25th, 2015.
Leah received her treatments at the children's hospital of Philadelphia.
As for the Cherry and White game, the White Squad won by a score of 43-23.
The Owls will open the regular season against Devon's Alma Mater Penn State at Lincoln Financial Field on September 5th.