LeBron on stopping him or Stephen Curry: "You can't"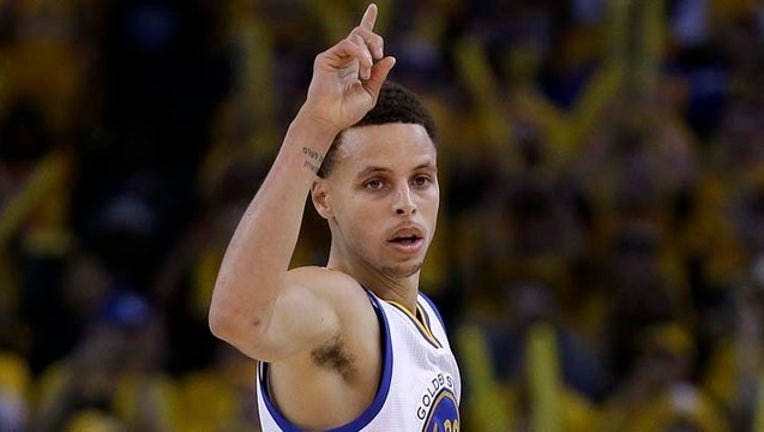 article
INDEPENDENCE, Ohio (AP) -- With a week to get ready for the NBA Finals, the Cavaliers have a check list of things to get done before Game 1.
First, is to get All-Star guard Kyrie Irving healthier after he sat two games in the conference finals with knee and foot injuries. Then, there's putting together a defensive plan to try and slow Golden State guard Stephen Curry, the league MVP and quickest draw in the West.
LeBron James believes that's futile. Asked how to stop Curry, James was dismissive.
"Well, the same way you slow me down," he said, pausing for effect. "You can't."
The marquee matchup between James and Curry, the game's established face vs. the fresh-faced newcomer and probable successor, won't happen until next Thursday, allowing for a buildup that may rival Mayweather-Pacquiao for hype. With the Cavs and Warriors making the finals, the league is getting to showcase its two biggest stars -- both, by the way, were born in Akron, Ohio -- who have been battling each other from afar all season for the public's affection.
Now, they'll go head to head with a trophy up for grabs.
This is nothing new for James, who will appear in his fifth straight finals, a feat not accomplished since 1966 when Bill Russell and a few of his Boston teammates were in the midst of their dynastical run. He's four wins from winning his third title, and he has a chance to end Cleveland's 51-year pro sports championship drought -- the longest for any city.
James has never been more driven, and Friday he and his teammates returned to the floor following two days off to celebrate their sweep of Atlanta in the conference finals.
The Cavs had a light workout, but they'll increase their intensity in practice over the next few days. James said the break has been good physically and mentally for everyone.
"For a lot of our guys that have been banged up, including myself, to get some rest and be able to get back to as close to full strength as possible," he said. "I don't think we'll be able to get there, but as close as possible, and I'm going to do a lot of shooting this week to kind of get my shot back on point, where it was kind of missing the last round."
It's about the only component of James' game that's been missing after he nearly averaged a triple-double as the Cavs swept the Hawks. He had to do more than usual, forced to handle the ball because of Irving's medical issues. Irving sat out Games 2 and 3, but returned for the series close-out win, scoring 16 points in 22 minutes as the Cavs clinched their second conference title.
Irving's health will remain a hot topic until he takes the floor and shows what he can do, especially when he's defending Curry. But the 23-year-old, who has been playing with a brace on his left leg, said returning to the court for Game 4 was a psychological boost. The pain in his left knee and right foot was no match for the hurt at not helping his teammates.
"Being hurt sucks, especially at a time like that," he said. "It was just a learning experience, to say the least. But it was a test of my will and I was very resilient in what I was doing, and hopefully going forward I won't have any relapses with my knee."
Irving's injuries made it difficult for the Cavs to formulate a game plan against the Hawks. His playing status often came down to a game-time decision, and the Cavs will only benefit if they know they can count on Irving in the finals.
"More so for him, to be able to get out there and be comfortable," coach David Blatt said. "Not have to worry about, `Am I going to hurt today? Is it going to get worse if I play? Is it going to bother me from doing the things I normally do at both ends of the court?' So I'm hoping, more than anything else for him, his feeling is such that he can get out there and play without worry and without concern. Then he'll be fine."
Irving wants to be counted on. His first postseason hasn't gone exactly as planned, but he's got a chance to make up for it by pushing through for as long as he can. His return in Game 4 has given him the confidence he can be effective.
"I'm in a good spot right now," he said. "I'm really happy, especially where I am."
James helped him reach the finals, where because of Curry, the Cavs will need as much as Irving can give them.
"Kyrie at 50 percent, Kyrie at 60 percent is better than no Kyrie at all," James said.