Locals mourn second death related to Mission District fire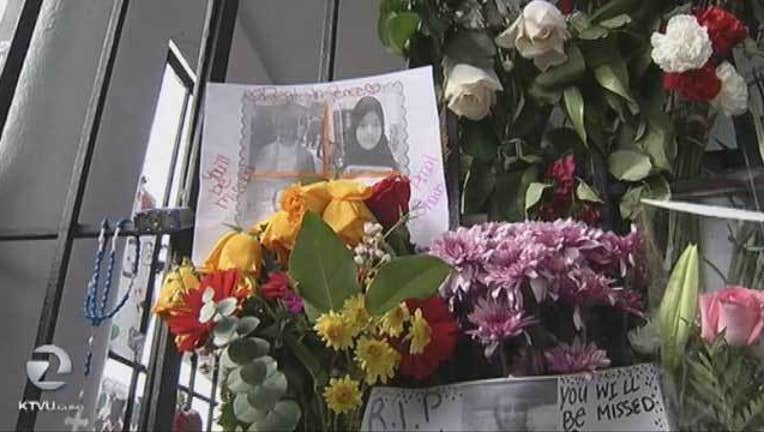 article
SAN FRANCISCO (KTVU) -- Fresh flowers were left on the gate of Marvin's Corner Liquor Store in San Francisco's Mission District Friday as strangers and neighbors grieve the lives lost in the wake of a fatal fire in the apartment above last week.
"We used to come to the store all the time and they were just very friendly to everybody, it was just like going to your friend's house," said Jennie Patton.
The store is located at 24th Street and Treat Avenue. A fire in the apartment above broke out March 11th. 
38-year-old Mohamed Shaibi -- who ran the store and lived here with his wife and three children -- died last weekend. His 13-year-old daughter Amal died Wednesday and was laid to rest Friday afternoon, according to a family member.
"Just a beautiful young girl; so much potential. It's hard to make sense of anything like that," said Mission Skateboards owner, who watched the girl and her brothers grow up across the street from his store. "Really nice kids, always super polite, really respectful."
The cause of this fire is still under investigation. But in the wake of this and other recent fires, the city says it is stepping up fire safety enforcement.
A January 28th fire at 22nd and Mission Streets killed a man and left dozens of others homeless. Inspectors said there were numerous safety violations, including missing extinguishers, locked exits and blocked fire escapes.
The Department of Building Inspection this week fast tracked complaints against three other buildings to the City Attorney for repeated safety code violations. The complaints allege missing or non-working smoke detectors, chained exit doors and blocked fire escapes.
"Fire escapes, for example, they block it or put something there," said DBI Director Tom Hui. "Or padlock the fire escape because in those areas, people may worry about vandals that they climb up to the fire escape to get into the building."
Hui said two of the three building owners have stepped up to say they will come into compliance. But Hui conceded the DBI is understaffed. He said he hoped tenants step forward to complain to help make building owners comply with fire safety laws.
"This is more to send a signal to the owner they are responsible to make sure the buildings are safe," said Hui. "We don't want to put them in jail or punish them. We want them to do their job to make sure to protect lives."