Man attempts to rob female UFC fighter, gets beat-up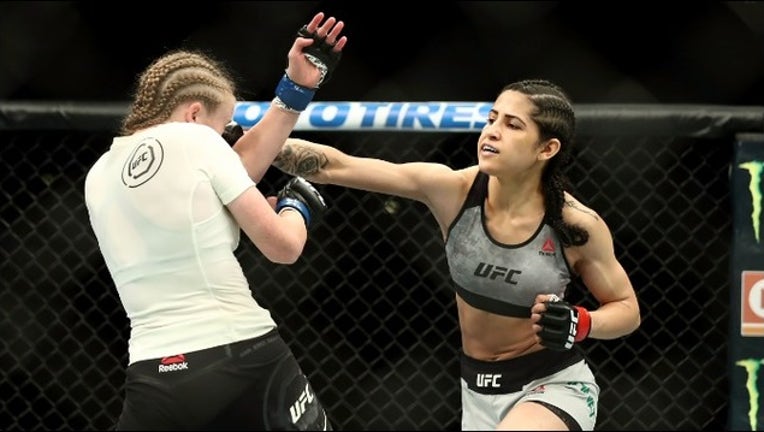 article
(KTVU) - A would-be robber unknowingly chose a professional fighter as a victim. And instead of leaving with her phone and other belongings, the man earned himself significant bruises and some viral face time in all the wrong ways, according to a Twitter post from UFC President Dana White.  
Brazilian fighter Polyana Viana, 26, said she was waiting for an Uber in front of her Rio de Janeiro apartment Saturday night when the man managed to quietly creep up on her, she told MMA Junkie. He then sat down next to the UFC strawweight, which is a weight class for fighters weighing between106 to 115 pounds, and demanded her phone, informing her that he had a gun, which he put his hand over.
But Viana thought he was bluffing and saw a window to call him on it. She said the concealed "gun" looked "too soft." And since he was already so close, Viana thought she could disarm the man before he was able to draw the alleged weapon.
"So I stood up. I threw two punches and a kick. He fell, then I caught him in a rear-naked choke. Then I sat him down in the same place we were before and said, 'Now we'll wait for the police," said Viana, per MMAjunkie. 
White tweeted a side-by-side photo of the fighter and the robber, summing it up with hashtag "#BadF***ingIdea."
Turns out Viana's potentially dangerous hunch was right. The robber's weapon was a piece of cardboard cut in the general shape of a handgun. Viana, who is 1-1 in the UFC and 10-2 in her professional mixed-martial arts career, said she was alone but had help from witnesses once the unnamed man was subdued. They called the police as she kept her attacker's arm immobilized. 
"I was fine because he didn't even react after," Viana said. "Since he took the punches very quickly, I think he was scared, so he didn't react anymore."