Man leaving for work gunned down in Oakland hills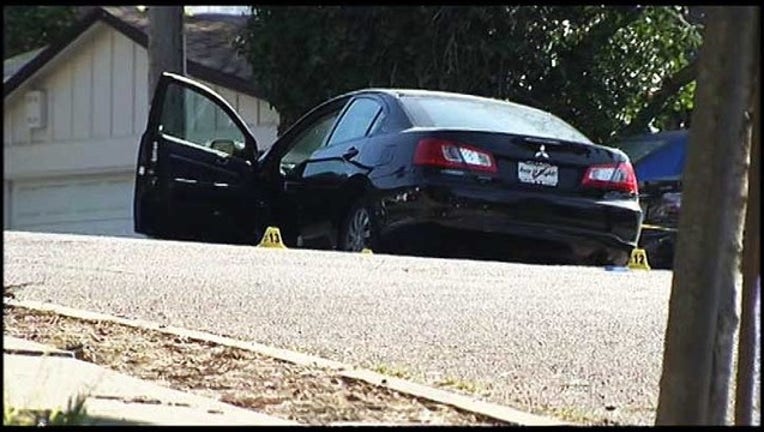 article
OAKLAND, Calif. (KTVU and wires) – A 21-year-old man was fatally shot as he was getting into his car early Tuesday in an Oakland hills neighborhood, according to police and neighbors.
Art Scott lived up the street from the shooting scene in the 4700 block of Scotia Ave. He said he heard several shots around 7:30 a.m. and headed outside to see what was happening.
"I heard some shots and then came down and there was this young man shot in front of his car," he said. "He was getting into his car…It was a drive-by "
Scott described the victim as a 21-year-old male who lived in the neighborhood with his grandmother. Family members told KTVU Fox 2 the victim's name was Marcus West Jr.
West was declared dead at the scene.
Scott said he heard seven shots ring out from a small caliber weapon and the young man was struck by 4 or 5 shots.
"He bled out on the street," he said.
Marcus' grandmother Jinnie West said she didn't want her grandson to merely be another statistic on the deadly streets of Oakland. He was the city's 18th homicide of the year.
"I know that he is a statistic, I'm sorry he is," she said. "I didn't want him to be a statistic."
Jinnie West heard one boom outside her home and walked outside to discover her grandson dying on the street.
"I saw his body," she said. "I covered him up with a blanket…I saw him take his last breath...He was my friend as well as my grandson."
She said West had just gotten a new job and was the proud father of a two-month-old boy.
"He just had a baby, a new job – he was doing good," she said.
Investigators have not released any other details, a description of the shooter or the type of car the gunman fled in from the scene.
Jinnie West said she didn't know of any reason someone would want to kill her grandson.
"I don't know anyone who could hate him this much to kill him," she said.
Asked what she will miss most, Jinnie West was quick to answer.
"I will miss the morning talks," she said. "We'd talk every morning – laugh and joke. I'd try to give him good advice – what to do in life."