Man on fire walks through UC Berkeley campus, allegedly suffering mental health episode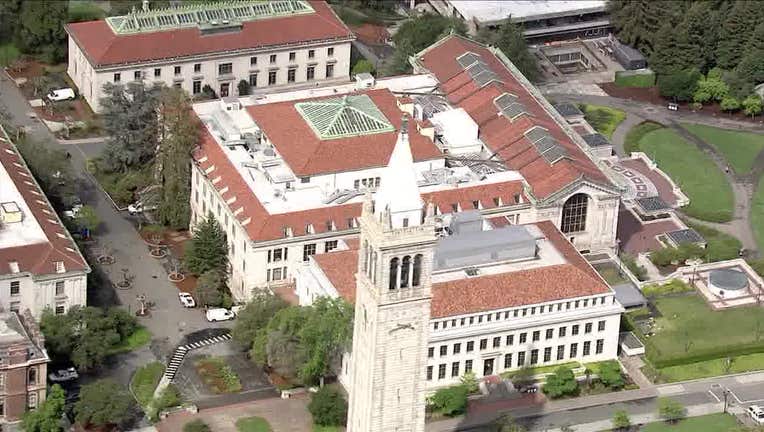 article
BERKELEY, Calif. - A person on fire was walking through UC Berkeley's campus on Wednesday afternoon and was hospitalized, reports say.
The university's alert system sent out a notice that a man on fire was walking near the intersection of Bancroft Way and Telegraph Avenue around 4:15 p.m. Officials said multiple good Samaritans tried to render aid to the victim and put out the fire. 
The school's police department responded to the scene and provided aid. The victim was transported to a local hospital immediately after the Berkeley Fire Department arrived.
Additionally, one of the helpers suffered injuries and was transported to a local hospital, officials said. The severity of their injuries is unknown, though The Berkeley Scanner said the victim, believed to be in his 20s, suffered critical injuries while the bystander, believed to be in her 40s and provided aid, suffered minor injuries. 
The Berkeley Scanner also states the Berkeley Fire Department said the victim was suffering from a mental health episode and had said to authorities to "leave him alone" as they extinguished him.
UCPD, BPD, BFD, and Berkeley Mental Health were all on scene during the incident. 
It's currently unknown if the victim is affiliated with the university or intentionally set himself on fire. His identity was not immediately made known.
Authorities have not confirmed if the incident is related to a separate fire that occurred earlier in the day shortly before 11 a.m. at the People's Park Housing Construction Site.
READ ALSO: Wiener criticizes judge's ruling on Berkeley People's Park housing project
At the housing site, there was a bathroom fire. UCPD and BFD said the fire was caused by arson and are investigating.
Anyone with information about the victim or the incident is urged to contact the University of California Police Department at (510) 642-6760. 
With videos circling online, school officials are letting students know about their counseling services. Those who need additional assistance can reach out to deanofstudents@berkeley.edu.
Staff members can visit this website here or can contact an Employee Assistance counselor at (510) 643-7754 and employeeassistance@berkeley.edu.
O. Gloria Okorie is a digital reporter for KTVU. Email O. Gloria at o.gloria.okorie@fox.com or call her at 510-874-0175. Follow her on Twitter @ogloriaokorie.