Marine vet who took viral Vallejo police video is also an artist, historian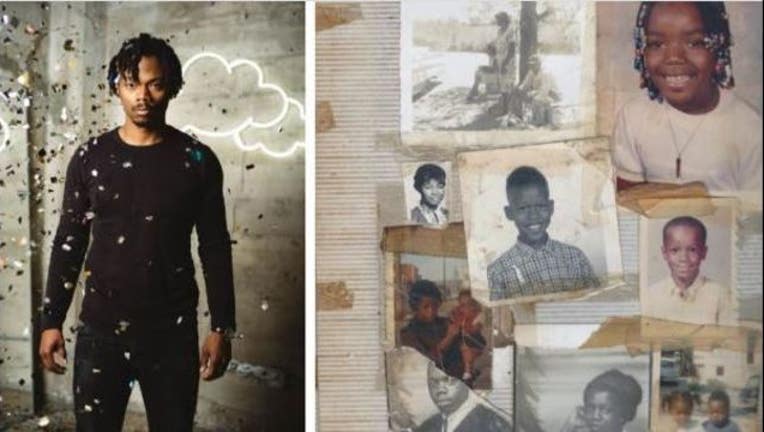 article
SAN FRANCISCO (KTVU) - Oakland-born Adrian Burrell  is best known now for his role in capturing a Vallejo police officer on his cell phone as he detained his cousin in his driveway with his firearm pulled out.
That video, posted on Burrell's Facebook page and which has 3 million views and 41,000 shares, led in part, to Officer David McLaughlin's administrative leave from the department, as superiors investigate whether he used excessive force. Burrell said he was assaulted by the officer that day and suffered a concussion as a result. 
But the 28-year-old Marine veteran is also an international photographer, documentarian and film producer who graduated from the San Francisco Art Institute and was just accepted into UC Berkeley's journalism school and is waiting to hear if he's been accepted into Stanford University's master's program. 
Burrell was putting together an exhibit, which shows on Thursday from 6:30 p.m. to 9:30 p.m. at the 1090 Gallery in San Francisco, when the Jan. 22 incident in his cousin's driveway took place, catapulting him reluctantly into the spotlight, not for his art, but for an unwanted encounter with police.
"I just don't want him to be known for that violent video," said Amir Saadiq, a fellow photographer and Oakland community activist who helped curate Burrell's exhibit, along with JP Hailer.  "He did an amazing amount of research for his project, researching where he was from. And this needs to be seen." 
Since Burrell was a child, he sat at the knees of his aunties and grandmother, listening to stories of his family history. Tales about his ancestors hail back to Senegal and Nigeria, to plantations in Louisiana to the streets of Oakland, where he graduated from Skyline High School. 
He learned of relatives who were chased by the KKK and cousins who were sent to prison and got caught up in gangs. "It was a violent and turbulent time," he described in the mid-2000s. More recently, he did a DNA test and flew to Africa to meet people who knew his relatives and photograph places where they had been. He launched Kickstarter campaigns to help him fly around the world.
"My work is autoethnographic," Burrell said. "But I think it goes beyond the representation of my own family and how they came to be, and says something more about the world."
The name of the exhibit, "Mama's Babies," is a nod to a novel by Hortense J. Spillers, "Mama's Baby, Papa's Maybe."  The book outlines matriarchal family structures in black communities and touches on the relationship between women and slavery. 
His roots aren't so far from the present, he said, recalling what happened to him and his cousin in Vallejo, who he also insisted was never speeding on his motorcycle in the first place. The same officer was captured on another video in August pulling out a weapon in a crowded parking lot at a father walking into a birthday party in Walnut Creek, exclusive video obtained by 2 Investigates shows. 
"In the current context, we're not slaves," he said. "But the prison system, the police take the place of the slave owner. That day, I was put in a cage, locked up in the back of a police car. My humanity was taken away, like my ancestors." 
But Burrell doesn't want anyone who sees his photography to leave feeling just pain and suffering.
"That doesn't give you the full picture," he said. "We have to see the quotidian, the mundane. We need to see the love, the happiness and the full picture of who somebody is." 
For information on the exhibit, click here.