Mayor Breed: Stay indoors as smoky air expected into the weekend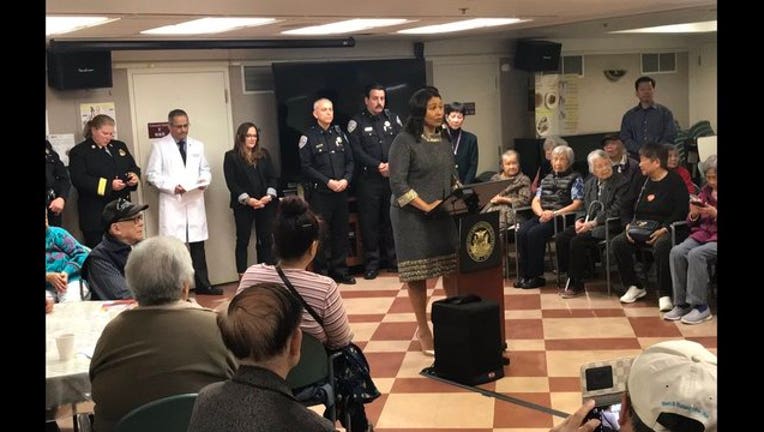 article
SAN FRANCISCO (BCN) As poor air quality persists throughout the Bay Area from the Camp Fire in Butte County--the deadliest fire in California's history--San Francisco Mayor London Breed today again advised residents to remain indoors, including this weekend.
"We know that so many people are struggling right now," she said, speaking to a group of seniors at the Lady Shaw Senior Center in Chinatown. 
"Our goal is to try and keep people indoors and the windows closed for the purposes of making sure that people are safe. This is a situation that none of us could've ever anticipated."
Smoky air has choked the region since the start of the Camp Fire last week, which has since burned 142,000 acres and killed 63 people.
According to Breed, the city has taken several extra measures to provide respite for the city's most vulnerable residents, including seniors, children, people suffering from asthma and the homeless. But, she said, San Franciscans also have to do their part.
"We also have to make sure that we're checking on our neighbors. There are seniors who may not participate in programs, who may live alone. 
Some of you know who those folks are," she said. "Ultimately during this very challenging time in San Francisco, our goal is to provide the additional resources and really just ask that we look out for one another as we get through this."
Mary Ellen Carroll, director of the city's Department of Emergency Management, said that city services remain on deck as alleviation from the polluted air probably won't come until next week, and the city will continue to run.
"We are taking precautions with our own city employees, particularly those who work outside to provide whatever protections we can, but buses need to continue to flow, Public Works has to work and our first responders are still out there and continue to be," she said.
Although the conditions have persisted for more than a week now, Carroll said so far there haven't been any significant related impacts to the city's hospitals and 911 emergency services.
Regarding masks for protection from the air, San Francisco Health Officer Dr. Tomas Aragon said, "Masks are no substitute for staying indoors." 
However, he said if outdoor activities are a must, masks should be fixed tight to the face.
But, he warned, masks can create increased pressure on the heart and lungs. "If you have an underlying heart or lung condition, it could make somebody worse and so we tell people the most important thing is stay inside."
Additionally, he said residents should make sure that their indoor fans and air conditioners are circulating indoor air only.
The San Francisco Fire Department has deployed 40 firefighters to battle the blaze in Butte County, according to Fire Chief Joanne Hayes-White. Additionally, she said, 12 firefighters just returned from the southern part of the state, helping out as residents there are also dealing with wildfires.
"Our thoughts and prayers go out to them, but I also ask that you keep the first responders in mind. They're away from their families. It takes a very difficult toll on them," she said.
According to Breed, the city's Department of Aging and Adult Services and nonprofit partners are continuing performing wellness checks on seniors.
All San Francisco Unified School District schools will remain closed through next week into the Thanksgiving holiday because of the air.
Also, several museums across the city will be free through the weekend. Service on San Francisco Municipal Railway buses are free too. A list of all respite centers can be found at www.SF72.org.
The city's Department of Homelessness and Supportive Housing has added 75 shelter mats. Also, on Sunday, the city's Emergency Winter Shelter Program will begin and shelter and schedules can be found http://hsh.sfgov.org/services/emergencyshelter/.
For air quality updates, visit https://airnow.gov/.