Milwaukee officer killed in shootout chasing robbery suspect on probation
MILWAUKEE - Milwaukee Police Officer Peter Jerving, 37, died after he was shot near 14th and Cleveland on the city's south side early Tuesday, Feb. 7. Police said he was shot during a struggle with a robbery suspect who had just been placed on probation Monday.
Shootout during robbery investigation
The shooting happened around 1:15 a.m. Tuesday when officers responded to 14th and Cleveland. Milwaukee Police Chief Jeffrey Norman said there was a report a man wanted for a robbery that happened near Teutonia and Good Hope Road late Monday was in the area. Norman identified him as Terrell Thompson, 19. 
Chief Norman said officers found Thompson, but he ran off. After officers caught up to him, during a struggle, Norman said Thompson shot Officer Jerving. Jerving then fired back, hitting Thompson. He died at the scene.
SIGN UP TODAY: Get daily headlines, breaking news emails from FOX6 News
Jerving, 37, had four years of service with the Milwaukee Police Department. He died at the hospital.
"Milwaukee, our hearts are heavy. Milwaukee Police Department hearts are heavy. My heart is heavy," Norman said. "One of our finest who put on that uniform, put on that badge, went into work last night and paid the ultimate sacrifice for protecting our community. Milwaukee, we need your prayers. We need your support."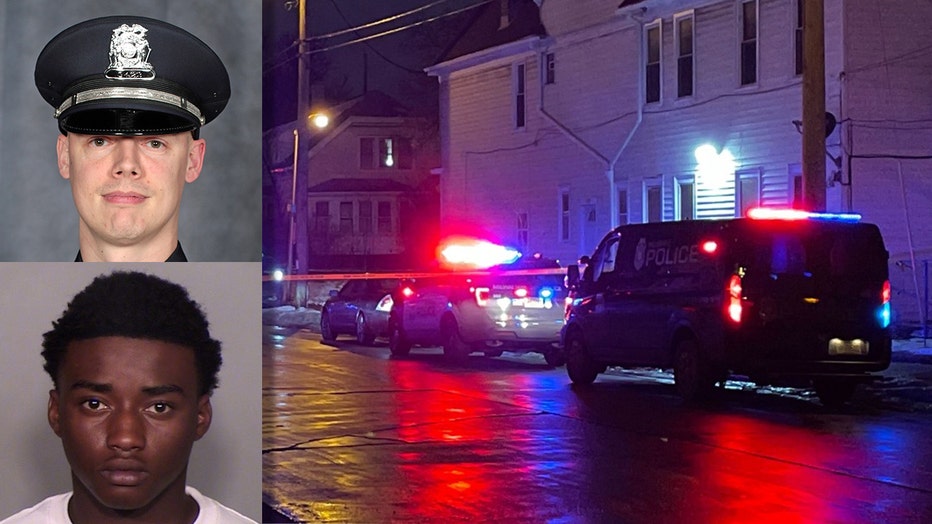 MPD Officer Peter Jerving; Terrell Thompson; Fatal shooting near 14th and Cleveland
Terrell Thompson placed on probation Monday
FOX6 News learned Thompson was in court Monday for a 2021 case and pleaded guilty to causing a hit-and-run.
Court records indicate Judge Christopher Dee ordered Thompson to serve 120 days in the House of Correction but stayed that sentence in favor of 12 months of probation. It means Thompson only had to serve time if he violated the conditions of his probation.
Officer Jerving wanted to serve since he was 13
Jerving was a lifelong Milwaukee resident and decorated officer, honored by the police department in fall 2022 for saving someone's life in June. The Milwaukee Police Department said he received the award "for heroically providing lifesaving care to a shooting victim during extremely dangerous conditions." Officer Jerving grabbed a fire extinguisher and helped save a man in a burning vehicle who had been shot.
Milwaukee Police Officer Peter Jerving
A procession guided Jerving's body from the hospital to the medical examiner's office Tuesday morning. Highways were shut down Tuesday evening for another procession, as the fallen officer's body was transported from the Milwaukee medical examiner's office to a Brookfield funeral home. 
"He was a loving friend, trusting colleague and outstanding officer whose passion it was to serve since the age of 13," Norman said.
The department's chaplain, George Papachristou, read a statement from Jerving's family at a Tuesday afternoon news conference.
"It is with much sadness that we, the family of Officer Peter Jerving, announce his untimely death which took place in the line of duty," the chaplain read. "Officer Peter Jerving loved and dedicated his life to serving the great people of our city. To his last breath, Peter fulfilled that goal. Milwaukee has lost one of its finest young officers."
A growing memorial to remember the fallen officer formed at Milwaukee Police District 4.
A squad outside the police station was draped with a flag. Passersby left bouquets of flowers and other items.
The district station was temporarily closed due to the loss. Those in need of help were urged to visit District 7 (3626 W. Fond du Lac Avenue).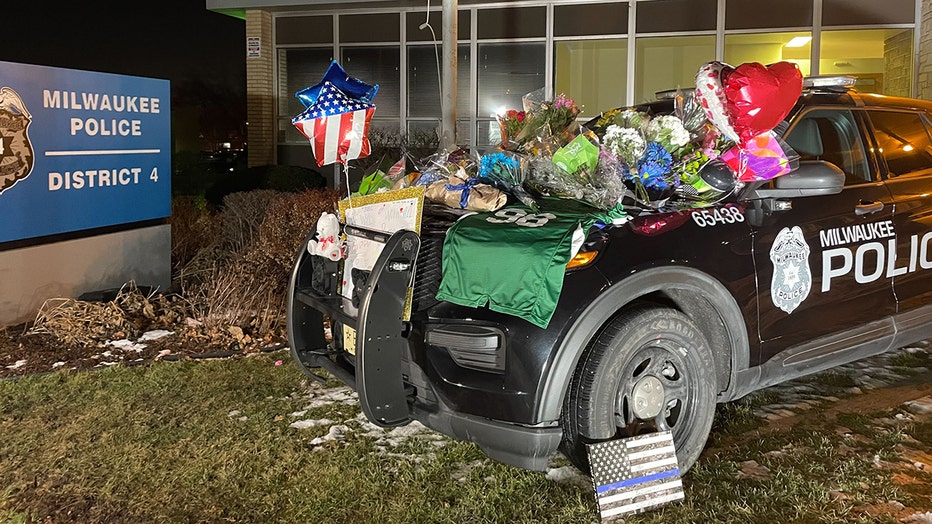 Memorial for Officer Peter Jerving outside MPD District 4
On Tuesday night, dozens of Milwaukee police motorcycles and squads escorted the hearse carrying his remains to Krause Funeral Home in Brookfield, where a handful of people, like Dennis Kegley, felt they had to be.
"Officers and first responders, in general, have a very, very tough job, and when one of them gets killed in the line of duty like this, it hits you pretty hard," said Kegley.
"That's a family member. He's a person. It's a human being," said Kayla-Ann Alberson of Milwaukee. "It's just not fair to take a life. It's not."
With only lights flashing along the procession route and upon arrival, for so many, the silence was overwhelming.
"It's just a heart-sinking feeling of remorse and respect for people and what they do every day to protect our safety," said Michael Webber of Pewaukee.
With police officers surrounding the family and the fallen, a final salute to service ended a day of heartache. 
"It's heartbreaking because here goes another person that can't even see a life," said Angela Kibeau of Milwaukee. "Thirty-seven years old. What are you getting out of gun violence? What are you really getting out of that? Nothing."
Police chief, mayor, alders speak out
The killing of Officer Jerving was the first line of duty death under Milwaukee Police Chief Jeffrey Norman's tenure. 
The chief spoke directly to the men and women in uniform Tuesday morning, saying: "I see you. I'm proud of you. The work that you do does not go unnoticed, and at this time, our community needs you."
Chief Norman told officers and community members now is the time to lean in and get the job done.
"The violence needs to stop. The violence needs to stop. Everyone has a role in community protection," Norman said.
Milwaukee Mayor Cavalier Johnson, angry and frustrated, echoed that statement, saying the entire community, not just police, must play an active role in trying to combat gun violence and making the city safe.
"The men and women of the Milwaukee Police Department, it's not just them — it's up to all of us," the mayor said. "Enough of this. Enough of this. There's no excuse for this. This officer should not be dead right now."
"This whole city owes a debt of gratitude to that officer, to his partner and to this entire department that goes out each and every single day to make sure that all of us are safe," the mayor added.
The mayor referred to Terrell Thompson and talked about how the community should step up to protect others.
"Somebody that age, 19 years old, they're probably getting up from somebody's couch, and somebody knows that they're out here doing things," the mayor said. "We need you to speak up. We need you to be engaged because if you are not, then this is the deadly consequence that we see. It's a police officer dead. It's somebody else who ends up getting injured or hurt because of violence like this on the street."
Common Council President Jose Perez also spoke about the importance of being involved in community, saying the shooting happened near his home. 
"You're going to hear this message often – it's up to all of us, every one of us; priests, pastors, fathers, mothers. We need to continue to come together. We can do better. We deserve better, and it's up to us," Perez said.
"We lost a public servant that gave his life in an effort to preserve peace in his community," said Andrew Wagner, president of the Milwaukee Police Association. "Our officers are suffering. They're in mourning. The officers are in mourning. Our city is going to be in mourning. Our entire state will be in mourning for the loss of this public servant."
Wagner said it is our duty to ensure Officer Jerving's service to the community will never be forgotten. 
"Peter Jerving is a name that we will remember in Milwaukee and a name that we will honor in Milwaukee," said Mayor Johnson.