Mobile health clinic offers free medical, dental, hearing and eye care to South Bay community
SAN JOSE, Calif. - Hundreds of people without health insurance were able to get medical and dental services for free on Sunday, through a mobile health clinic at Sacred Heart Community Service. 
"Everybody deserves really great healthcare. It doesn't matter what their stage is in life, we want to make sure everyone gets the care they need," said Kevin Fell with Shir Hadash, a Jewish congregation in Los Gatos that organized the event.
The clinic was created to treat and care for the South Bay's underserved population. There were makeshift dental offices set up inside, with rooms for hearing tests, eye exams and blood work.
Community organizations such as Tzu Chi Medical and the Lions Club set up mobile clinics at Sacred Heart so all the services were in one place.
"They have some 200 people that are registered to come, we already have 5 dental patients waiting. And we do this all over northern California, so last weekend we were in Modesto providing dental care to those who need it, simply can't afford it, don't have insurance. That's what we're here for," said Jim Toal, a volunteer with Tzu Chi. 
Fell said about 150 volunteers worked to put on the event. Some of them are nursing students from Mission College and San Jose State University.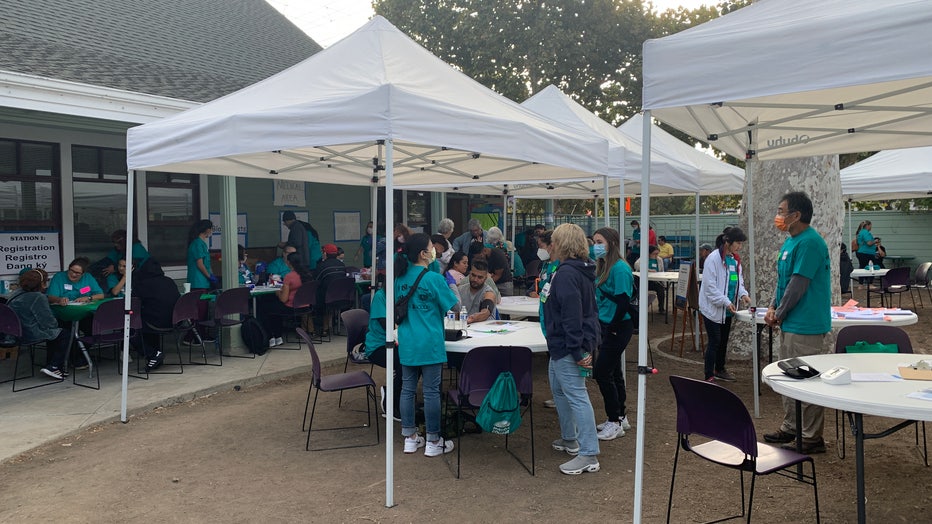 Volunteers prepare for mobile health clinic at Sacred Heart Community Service in San Jose.
Mission College student Raquel Vasquez Bolli said she is gaining hands-on experience "just seeing different cultures, you get more exposure when you're out in the community like this and that's really important."
The population in need of these services is often ignored, but translators were on hand to help facilitate conversation with doctors and make sure people are knowledgeable about their own health. 
"They don't know about the resources we have in this community, or they're too shy to speak up, or they don't have the knowledge to be able to get this kind of help," said Sofia Diaz-Infante, a nursing student at San Jose State University.
This is a full-circle moment for Diaz-Infante because she used the resources at Sacred Heart as a kid, and grew up right down the street. She said being able to help her own community is why she decided to become a nurse. 
"This place gave so much to me, so it was really important to take that into consideration and be able to help give people back the help that I got when I was younger," said Diaz-Infante.
The event goes until 4:30 p.m. Sunday.