Modular housing near Coliseum BART station being built quickly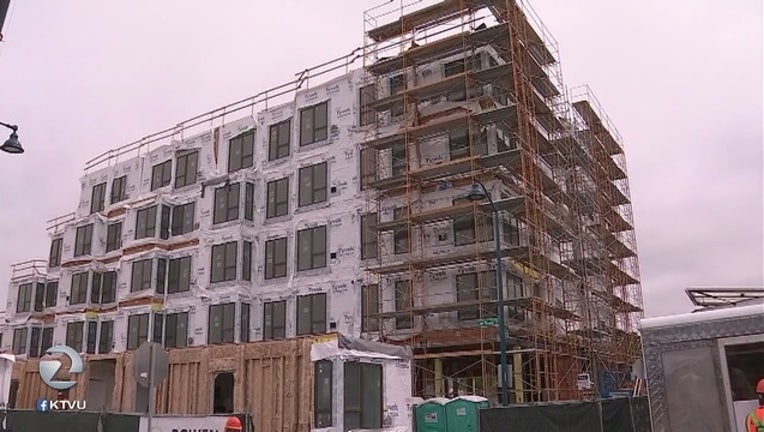 article
OAKLAND, Calif. - KTVU got a sneak peak Thursday at an affordable housing complex in East Oakland that's being built extremely quickly thanks to the use of modular construction techniques.  
 
The five-story building, Coliseum Connections, is right across from BART at 71st and Snell. It will offer dozens of affordable apartments once it opens. And it's coming together quickly because the developer decided to use these modular units.
They're constructed off-site by a company called Guerdon Modular Buildings. Instead of traditional construction, they are dropping the modules in with a crane, meaning the work will be done about four  months earlier.  
The units are finished inside -- with floors, windows, doors, bathrooms, kitchens and appliances all ready to go.
For Guerdon's Randy Duggan, this is all a wonderful project that will help the region provide much-needed housing in a fashion that's fun to build.
"All we are is grown men playing with Legos," he said.  

vo:

  this is a 110 unit complex that's built on what was a bart-owned parking lot. 
   half the units are market rate -- with rents between $1900 and $2400 a month.
  the other half are affordable units -- with rents between $1100 and $1600 a month -- those apartments are for families who make about half of the area median income.
  the developer "urbancore" -- partnered with the city of oakland to secure the financing for this $56 million dollar project.

sot:  (michael johnson/urbancore president)  33:07  the goal here is to bring in affordable housing...east oakland as a whole.  
  
 the city of oakland is paying for half of the cost -- with other money coming from the state and county.  
  using modular units -- led to a 10 percent savings on construction costs.  
 the "coliseum connections" apartment building is expected to be finished by january of next year.
live:

  there will be a lottery for families who want to move into the affordable units -- the market rate apartments will be first come first served.