Monopoly drops San Jose Edition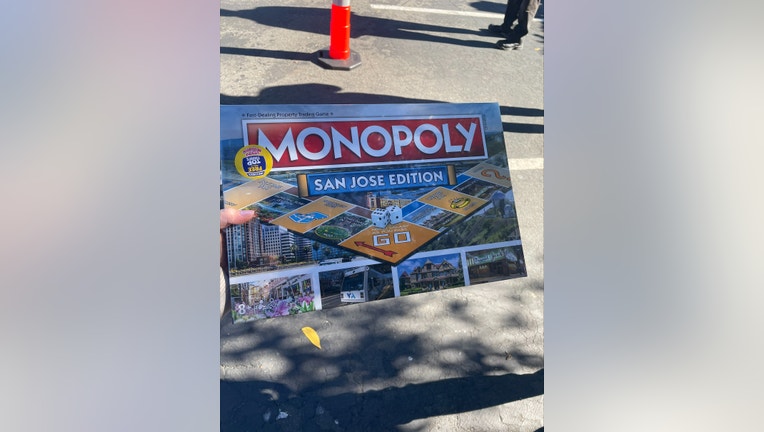 article
SAN JOSE, Calif. - America's most played game is getting a local makeover. Hasbro announced that the newest edition of Monopoly will be based on our very own South Bay City of San Jose. 
A historical place in San Jose got a visit from a money-minded man Monday morning, when the Monopoly team arrived at Winchester Mystery House. Milburn Pennybags, better known as Mr. Monopoly came out to announce the San Jose Edition too.
"San Jose is no stranger to Monopoly. Our very own discovery meadow holds the record for the world's largest Monopoly board, so it's about time we had our own edition of the game," San Jose Mayor Matt Mahan said at the announcement.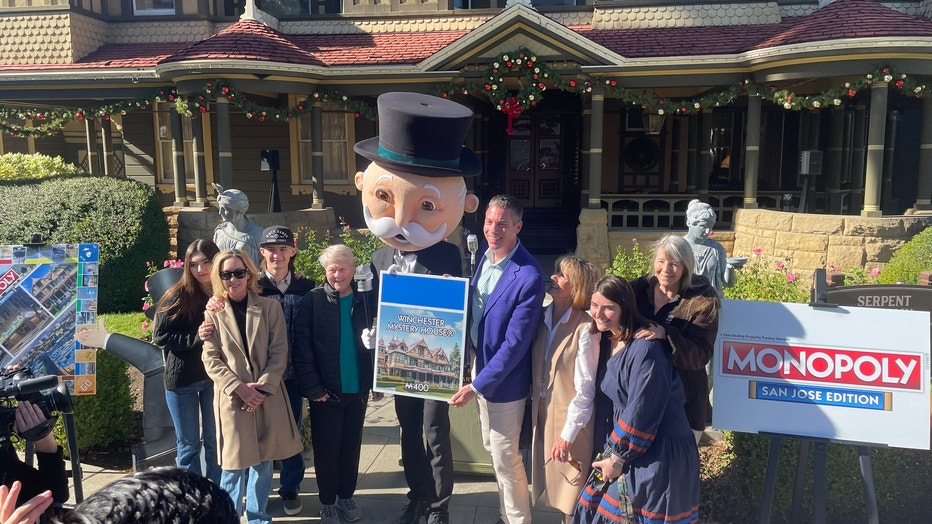 Winchester Mystery House employees pose with Mr. Monopoly 
Back in March, Hasbro announced that San Jose would be the host of it's newest Monopoly edition, and community members sent in hundreds of suggestions for which local haunts should be on the board.
"San Jose has so much history, so much to be proud of, so much to celebrate and this is just one more great opportunity to do that," Mahan said. 
San Jose State University, San Pedro Square and even the Municipal Rose Garden all landed spaces on the board, but Winchester mystery house claimed the coveted top spot, where Boardwalk typically sits on the board.
"This game board will bring together generations of families around the table for some fun, friendly competition," Mahan said. 
Valley Transportation Authority was excited to be included on the board. VTA will hold the transportation squares on the San Jose Edition. Several VTA buses and rail cars will be getting a Monopoly makeover. 
The VTA bus station outside of the SAP Center is also getting decked out in Monopoly gear and should be up for the next six months.
"We hope that people go take selfies and photos and really just enjoy the opportunity to not just play the game but also be a part of it in real life," VTA spokesperson Marina Chakmakjian told KTVU.
Local business owners also joined in on the fun, with many coming to claim their custom squares that were on display.
"For us, it's great as a business to be on it and have the recognition, but this is really a testament to San Jose and the community, and really what they've achieved," Cap Peters told KTVU. 
Cap Peters and his sister own and manage Peters Bakery, a San Jose staple since his grandfather started the business in 1936.
SEE ALSO: VTA says BART service into San Jose is another 10 years away
"It's generational, just like all the generations that have been coming into Peters Bakery since my grandfather started it," Peters told KTVU. "It's great that they love the products we're making, but without the community we wouldn't be in business."
When KTVU asked if the Peters family members would fight over their family's beloved bakery spot on the board when they break the game out for the first time, he smiled. 
"Oh I sure hope so, and I hope people when they play the game and land on our spot, they think, 'Oh time to get a burnt almond cake,'" Peters laughed.