Mother served search warrant after Pleasanton police fatally shoot son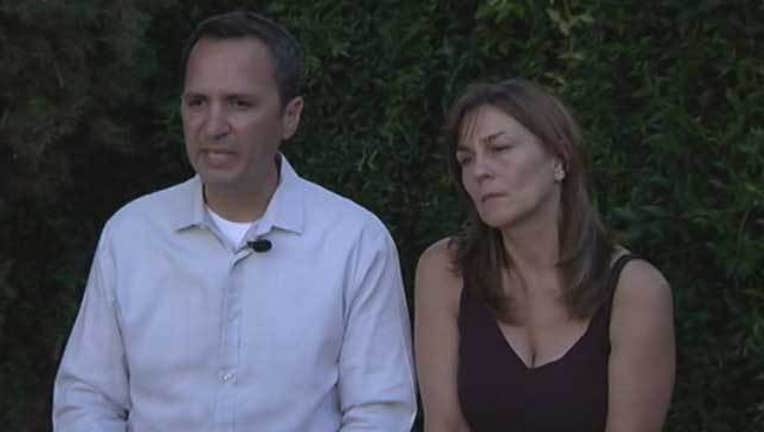 article
PLEASANTON, Calif. (KTVU and wires) -- It took 19 hours for Pleasanton police to inform a San Jose woman that they had shot her son to death Sunday, and they told her only after they handcuffed her at gunpoint and searched her home for evidence, according to a statement from the family's attorney.
Pleasanton police shot the woman's son, 19-year-old John Deming Jr., in a confrontation on Sunday at about 2 a.m. outside Specialty Sales Classics, a car dealership specializing in antique and exotic cars at 4321 First St. in Pleasanton.
Police described his behavior as erratic and threatening. According to a police statement, Deming was Tased twice during the encounter and continued attacking Officer Daniel Kunkel after he had already been shot once.
Investigators who searched the San Jose home of his mother that night were looking for drugs that could have caused psychotic behavior, burglary tools, diaries, electronics and anything that could have connected him to the auto dealership, according to a copy of the warrant released Wednesday by the law firm of Mark Geragos.
According to a statement by the firm, officers "stormed the family home" without showing Deming's mother a warrant and handcuffed the 5-foot-2-inch 105-pound woman at gunpoint. When she asked where her son was, they told her simply, "he is with the sheriff's department," until they finished the search at about 9 p.m. and told her that her son was dead.
Police said they first encountered Deming, the son of an Oakdale reserve police officer, when they responded to a burglary alarm at the car dealership.
Initially the department reported that Deming was found outside, but in a statement Tuesday, officials said he was found still inside the business but visible through the dealership's large front windows.
Deming allegedly threw a 50-pound floor jack through the window, which landed on the sidewalk near the officers. Police fired at him with a beanbag round but missed, and Deming refused commands to leave the dealership, police said.
He jumped on the tops of cars screaming and then ran to another section of the dealership, out of sight of the officers, police said.
The officers went in after him with a dog and found him sitting on a car in the main showroom area. He ran and the officers released the dog after him, but he jumped through a broken window, police said.
Kunkel was standing watch in the back of the business and saw Deming jump through the broken window. Kunkel ordered him to stop but Deming kept running, and Kunkel hit him in the back with a Taser, according to police.
The Taser didn't stop Deming, and Kunkel started to chase him until Deming turned and charged Kunkel aggressively, police said.
Deming allegedly kicked Kunkel in the stomach and punched him in the head, knocking him to the ground. Deming got on top of Kunkel, pummeling his head as he lay on the concrete, police said.
Kunkel thought he might lose consciousness and used his Taser again, but again it had no effect, so he drew his pistol and shot Deming once in the torso. Even that didn't stop Deming and he continued his attack, police said.
Kunkel then fired two more rounds, hitting Deming at least once in the face, police said.
Other officers ran toward the gunfire and found Kunkel unresponsive and Deming on the ground next to him bleeding. Deming still resisted the other officers as they tried to handcuff him, according to police.
Both Deming and Kunkel were taken to hospitals. Deming died at Eden Medical Center in Castro Valley a short time later. Kunkel was taken to ValleyCare Medical Center in Pleasanton and was released later that day.
Kunkel remains on paid administrative leave during the investigation into the shooting, according to police.
Deming's father, John Deming Sr., was contacted by a Pleasanton police sergeant after the San Jose raid to inform him of his son's death, according to the family's attorney.
During the call, officials reportedly told John Deming Sr. the officer was wearing a body camera during the confrontation and that surveillance cameras captured the shooting. But according to the family's attorney, police later said Kunkel had not yet been issued a body camera and there wasn't surveillance footage from outside the building.
Pleasanton police did not return requests for information Thursday about whether the shooting was captured on camera.
John Deming Sr., a reserve police officer for nine years with the Oakdale Police Department, said in a statement, "We are dealing with our son's killing and under the circumstances, the treatment we have received by the Pleasanton Police Department is unconscionable and has compounded their wrongful conduct and our grief."
His son had recently graduated from Piedmont Hills High School in San Jose, where he was a football player. He was an aspiring musician and active churchgoer who had never been arrested, according to Geragos.
The family retained Geragos, a high-profile attorney based in Southern California who has previously represented Chris Brown and Michael Jackson, shortly after the shooting.