NASA's Virginia rocket launch expected to be visible across DC area; lift off scheduled for Tuesday
UPDATE - NASA officials are hopeful that the launch of its Electron rocket will be able to take place Tuesday night.
The launch had originally been scheduled for Monday, Jan. 23 but due to unfavorable weather conditions was postponed until Tuesday.
A launch window for between 6 p.m. and 8 p.m. EST has been set. More info is available here.
Original story below:
WALLOPS ISLAND, Va.  - This coming Monday, look up! Rocket launches on Wallops Island, Virginia are happening more frequently, but the one coming up on Monday is a bit different.
"We're kind of excited about this one, because it is the first Electron rocket to be launched out of the United States," said Ted Mercer, the CEO of Virginia Space, which is the commission that operates the launch site at Wallops Island.
Electron is a rocket type made by New Zealand-based Rocket Lab.
FOX 5 spoke with its CEO, Peter Beck, who says this type of rocket marks an exciting new chapter for rocket launches in the U.S.
"It's great to bring a new capability to the nation. The nation doesn't have a reliable small-launch vehicle launching off US soil. We launch the vehicle off foreign soil, but this is bringing the capability to hometown," Beck said.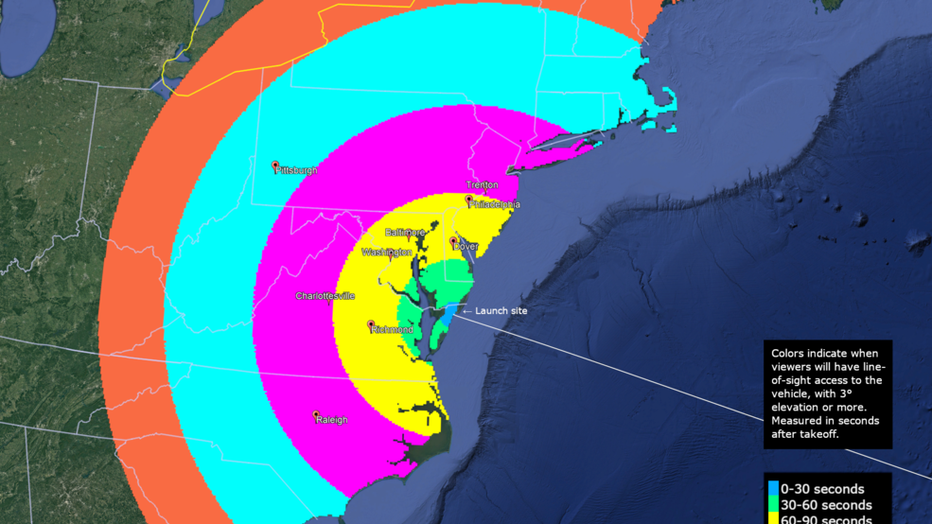 These circular areas show where and when people may see Rocket Lab's Electron launch in the sky, depending on cloud cover. (CREDIT: NASA Wallops/Mission Planning Lab)
The rocket launch Monday is also the first Virginia launch with a Virginia payload.  Herndon-based Hawkeye360 will launch three Radio Frequency Monitoring satellites during this flight.
"The excitement level is pretty high," Mercer said, "The week of launch the excitement level goes through the roof. Because we are involved in our various reviews, getting ready for the launch on Monday. So there are a whole series of reviews that have to take place to make sure we're on time and ready for a safe launch."
The launch was originally scheduled for December, but was pushed back due to weather conditions, Mercer said.
For now, the launch window is between 6 and 8 p.m. on Monday.
Currently, the forecast calls for clear skies.
READ MORE: Virginia rocket launch to be visible to much of East Coast
Most of the DMV will be able to see the rocket 60 to 90 seconds after launch.
A better idea of the launch timing is expected Monday, with an expected 40-minute countdown.