NBA Finals go on, with Warriors seeming even bigger favorite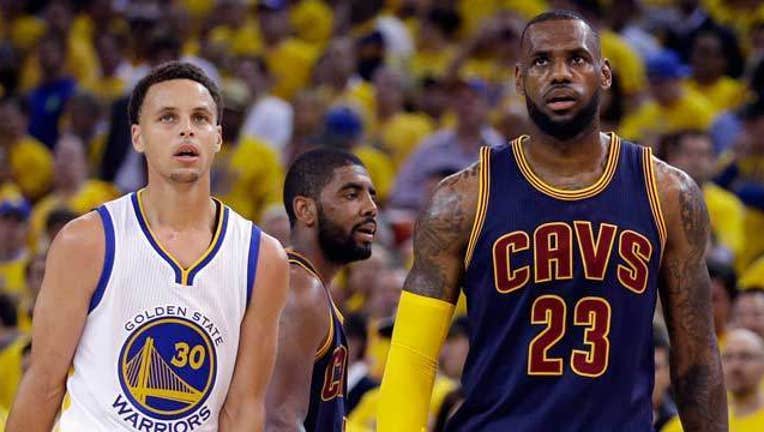 article
OAKLAND, Calif. (AP) — The NBA Finals hyped as LeBron James vs. Stephen Curry now seems like James against the Golden State Warriors.
The Cavaliers are down another important player, with Kyrie Irving having surgery Saturday back in Cleveland to repair his fractured left kneecap.
And with what was an already short-handed Cavs team down 1-0 heading into Game 2 on Sunday night, a series that just started has the feel of one that could end quickly.
"(I) understand that we were the underdog coming into the series and with Kyrie being out people are writing us off," James said. "So, I mean, that's fine. That's fine. I'm motivated to get our guys ready to go tomorrow and we will be ready."
James seemed more downcast as he spoke then a day earlier, before the Cavaliers had revealed the severity of Irving's injury following an MRI exam. Irving had been hurt previously in the postseason and Cleveland had won without him, but this time was different.
"Obviously, we've been in this situation, but we always knew at some point he'll come back," James said. "Knowing that he's out for the rest of the finals and out for a period of a long time, first of all, it sucks for him personally. It's a huge blow for our team, especially at this stage."
The Warriors were already the favorites to win the championship after leading the NBA with 67 victories during the regular season. Now, with Irving joining Kevin Love on the sideline, the Warriors were trying to brush away the suggestions that not only should they win, but do it easily.
"No series is unlosable," center Andrew Bogut said. "Stranger things have happened and they're still a great team with arguably the best player in the world. Obviously they're going to have other guys that have to step up to help him get wins, but we can't take this team lightly."
Curry said the mood in the Warriors' locker room was no different than it was going into the series.
"There is no pressure or added pressure, I don't think, because our goal stays the same," Curry said. "We're not really listening to any outside noise or predictions, or who is favored to do what, because we control what we control. When we go out there and play, we've got to play better than we did in Game 1, and that is really our only focus."
Both teams noted how closely the Cavs were to winning Game 1, and in fact the series nearly had a decidedly different feel.
James and Iman Shumpert both missed jumpers on the final possession of regulation. Had either gone in, the Cavs would be the team with the 1-0 lead and would've avoided the overtime period that featured Irving's injury, which coach David Blatt said came when the All-Star point guard was kneed in his knee.
Blatt acknowledged the difficulty of losses like Game 1, saying "they cost you some hours of sleep." But he said the Cavs had moved forward from it.
"You'd love to see us at full strength, obviously, for the finals," he said. "The situation as it is, is what it is, and we are going to come out and play and play to win. Request no quarter and no sympathy. We've got to come out and play, and play to win. That's it."
Matthew Dellavedova was likely to replace Irving for the Cavs, who aren't nearly as deep as the Warriors. James said he could maybe play 40 to 42 minutes in a finals game, but it's hard to imagine even he could do much more than the 44 points he scored in Game 1.
Still, Warriors coach Steve Kerr said he would remind his players that the Cavaliers were "still a great team."
"They won two games against Atlanta without Kyrie," he added. "They're still loaded with talent. They're going to be loose. Now all the spotlight is going to be on this injury and all that stuff. It can't affect us. We just go out and play and we've got to do our thing."
The Warriors recalled having games during the regular season where they had a letdown because an opponent was without one of its top players and said they wouldn't let that happen now.
"We're not going to lay down for it just because their great player is out," reserve Andre Iguodala said.