NBA mourns death of Gregg Popovich's wife, a 'real star'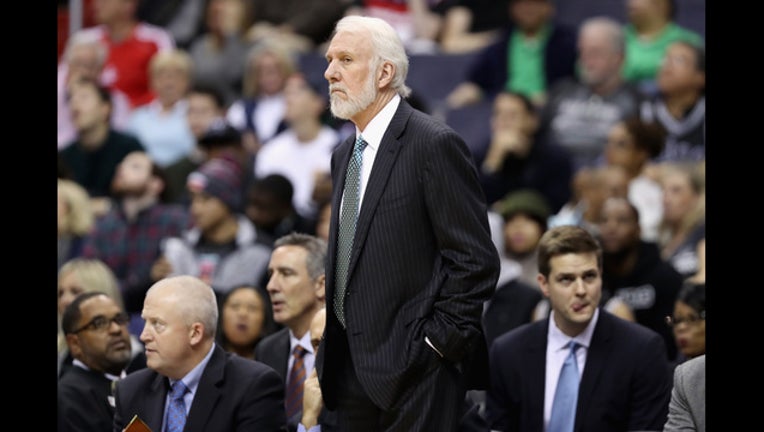 article
SAN ANTONIO (AP) - LeBron James fought back tears. Former President Bill Clinton offered condolences. Craig Sager's daughter tweeted that she was "just sick" over the news. 
Such is the regard that so many, from so many walks of life, have for San Antonio Spurs coach Gregg Popovich, whose 67-year-old wife, Erin, died Wednesday after a long battle with a respiratory problem. 
Spurs star Manu Ginobili says the team is "devastated, we are all hurting." But the players will "go out there and compete" and respect Popovich's philosophy of playing with "fire" and "determination."
Added San Antonio's Tony Parker: "It puts everything in perspective. It's way bigger than basketball."
The Spurs trail the Golden State Warriors 3-0 in the first round after losing in San Antonio 110-97 on Thursday night. The 69-year-old coach ran practice Wednesday but was not on the sideline for the game. Assistant Ettore Messina coached the team.
Clinton reached out on Twitter to the coach and his daughters: "I join the NBA family and countless fans across the country who are thinking of you, Jill, and Micky tonight as you mourn the loss of your Erin."
The Spurs asked the media to respect the family's privacy. General manager RC Buford said at Thursday's shootaround he spoke to Popovich, who is "overwhelmed by the support" but "wants our focus to be about the game."
"Erin and Gregg were best friends who were together for 40 years, and Erin's impact and influence on our organization, on our families, on our players and their families will be felt for years to come," Buford said. 
Popovich has been a mentor to countless players and coaches, never afraid to speak out on social issues or rebuff a wayward question from a reporter. His humor is sharp, and just the other day he was the one in the film room who shouted "Go Warriors!"
Warriors coach Steve Kerr is one of those mentored by Popovich, and he knows the family well, having played for the Spurs in the late 1990s before being traded by Popovich.
"Erin was sort of the balance that Pop needed," Kerr said with a laugh. "She was part of the family, but she's dealt with a lot over the last few years health-wise and has been very courageous." 
Warriors star Stephen Curry tweeted that he is "lifting up prayers" for the coach and his family.
Ginobili had to contain tears at the shootaround.
"We all know the type of guy Pop is," he said. "Not many people know the type of gal that Erin was. It's painful and having to go through this is always tough. There is never a good time.
"We want to be next to Pop, we want to support him, but we've got to go out there and compete today. But, for sure, we are toiling. It's not an easy day to be here."
After Popovich ran practice Wednesday, Ginobili and Parker spent time with the coach that evening.
"She was a great lady," Parker said. "I always thought of them like a dad and a mom, everybody knows that. He was always very private, but I had an opportunity to see him in a different way."
Kacy Sager was heartsick because of the bond her late father shared with the coach. When the longtime broadcaster returned to his TNT job in 2015 after treatment for the leukemia that ultimately took his life, Popovich granted an interview if for no other reason than to welcome Sager back.
"Pop went out of his way to make sure our family knew we had his support when my father passed. ... I hope the Popovich family are also able to find strength in all of the love this community has to give," Sager wrote on Twitter.
James was visibly upset by the "devastating news" after Game 2 of the Cavaliers-Pacers series.
"The NBA family, we all stick together," James told TNT. "I know we compete every night. But something like this happens, it puts everything in perspective."
Popovich has coached San Antonio since 1996, leading the Spurs to five NBA titles. He also is the U.S. Olympic team coach. 
James calls him a "mastermind of the game" and has said he'd consider playing for the U.S. under Popovich at the 2020 Tokyo Games after skipping the Rio Olympics.
Other NBA greats expressed their grief on Twitter -- Bill Russell, Magic Johnson and Kobe Bryant among them. Steve Nash wrote: "Knowing Pop, it's fair to assume Erin Popovich was an absolute legend."
Popovich met his wife at the Air Force Academy in the 1970s when he was an assistant coach for the Falcons. Erin's father, Jim Conboy, was Air Force's head athletic trainer.
Former Spurs assistant and current Philadelphia coach Brett Brown said he's known Erin a long time.
"Their family has been incredibly kind to my family," he said. "And she was a star, like a real star. A very strong woman, and somebody that will be missed."
------
AP freelancer Raul Dominguez contributed to this report.