Nearly one-third of San Jose police's new recruits are from out of state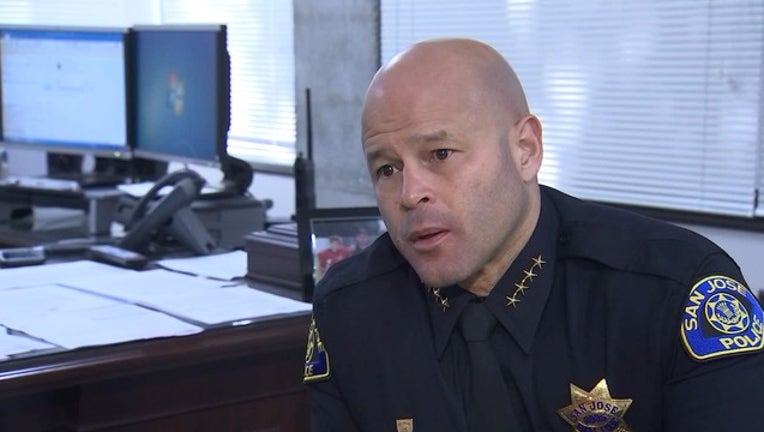 SAN JOSE, Calif. (KTVU) - Nearly one-third of San Jose's newest police academy class have moved cross country to join the force. This is in stark contrast with recent years, when the department had a hard time attracting recruits at all. 
It's day one of the Academy for San Jose's newest police recruits: among them, Filip Trajkovski who left New Jersey, and a previous career in the medical field, to be here.
Trajkovski says, "It's a big change. I'm not going to lie about it. And I have full support, which is a big thing in my case." 
And he's not alone. In fact, 16 recruits have come from out of state, traveling from New York, New Jersey and Alabama. Chief Eddie Garcia says that's unprecedented.
Garcia says, "When someone's willing to get up and move their lives clear across country, to wear this uniform, not only does it make current San Jose police officers proud, but it should make any police officer who wore this uniform proud."
And it represents a big change for the department. A ballot measure in 2012 had affected their ability to offer competitive pension and benefits packages. The result: by February of 2016 only 7 people that graduated from one academy.
And, Garcia says, 5 or 6 officers a month would resign.
He says Measure F in 2016, addressed the problem and turned the tide.
He says, "If people keep their eye on the ball and concentrate on the issues instead of trying to make excuses and fix the problem, you're going to get officers again. and that's what we're doing."
And they're actively recruiting.
The Chief personally traveled to a job fair in New York, which may explain why so many in this academy hail from the east coast.
Trajkovski says, "At the recruitment session in New York City, what strike me is the professionalism of the recruitment team, starting with the chief of the San Jose Police Department Ed Garcia."
Trajkovski says the competitive pay, well-respected training program, and the weather helped seal the deal. 
And while Garcia says he's pleased with his 54 new recruits, there's still more work to be done.
Garcia says, "We've come a long way in a short time. But we're not done yet. We've got to keep grinding and keep growing as a department."
At just over 1,000 people, staffing levels are still lower than they were at their peak in 2009.
The chief says they're working on a plan to grow as the city does.