Nepal plane crash: Flight data, voice recorders retrieved from site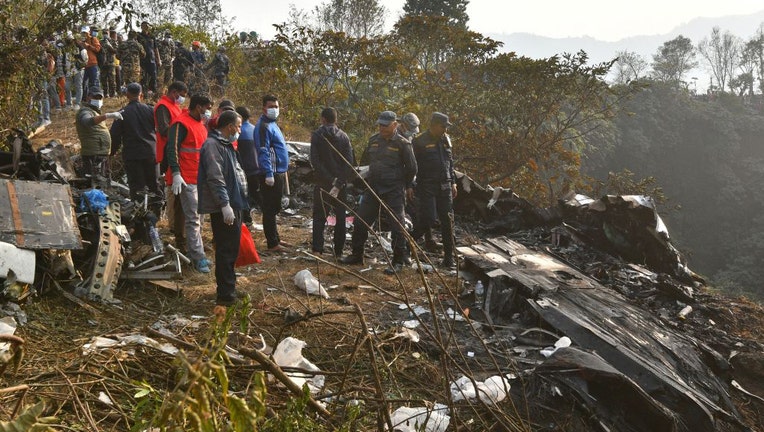 article
POKHARA, Nepal - Search teams retrieved the flight data and cockpit voice recorders Monday of a passenger plane that plummeted into a gorge on approach to a new airport in the foothills of the Himalayas, officials said, as investigators looked for the cause of Nepal's deadliest plane crash in 30 years.
At least 69 of the 72 people aboard were killed, and officials believe the three missing are also dead. Rescuers combed through the debris, scattered down a 300-meter-deep (984-foot-deep) gorge, for them.
Many of the passengers on the flight were returning home to Pokhara, though the city is also popular with tourists since it's the gateway to the Annapurna Circuit hiking trail. A pharmaceutical marketing agent was traveling to be with his sister as she gave birth, and a minister of a Korean religious group was visiting the school he founded.
RELATED: Nepal plane crash: 68 dead, 4 missing in resort town Pokhara
On Monday evening, relatives and friends were still gathered outside a local hospital. Many consoled one another, while some shouted at officials to speed up the post mortems so they could take the bodies of their loved ones home for funerals.
It's still not clear what caused the crash, which took place less than a minute's flight from the airport on a mild day with little wind.
Nepal's Civil Aviation Authority said the aircraft last made contact with the airport, which began operations only two weeks ago, from near Seti Gorge before crashing.
A witness who recorded footage of the plane's descent said it looked like a normal landing until the plane suddenly veered to the left.
"I saw that, and I was shocked," said Diwas Bohora. "I thought that today everything will be finished here after it crashes, I will also be dead."
After it crashed, red flames erupted and the ground shook violently, Bohora said. "Seeing that scene, I was scared," he added.
Amit Singh, an experienced pilot and founder of India's Safety Matters Foundation, said Bohora's video appears to show a stall, a situation in which a plane loses lift, especially likely at low airspeeds.
The twin-engine ATR 72 aircraft, operated by Nepal's Yeti Airlines, was completing the 27-minute flight from the capital, Kathmandu, to Pokhara, 200 kilometers (125 miles) west. It was carrying 68 passengers, including 15 foreign nationals, as well as four crew members, Nepal's Civil Aviation Authority said in a statement. The foreigners included five Indians, four Russians, two South Koreans, and one each from Ireland, Australia, Argentina and France.
Jagannath Niraula, a spokesman for the authority, said the flight recorders will be handed over to investigators. Pemba Sherpa, spokesperson for Yeti Airlines, confirmed that both the flight data and the cockpit voice recorders were found.
Nepal is home to eight of the world's 14 highest mountains including Mount Everest. A pilot who routinely flies an ATR 72-500 plane from India to Nepal said the region's topography, with its mountain peaks and narrow valleys, raises the risk of accidents and sometimes requires pilots to fly by sight rather than relying on instruments.
The pilot, who works for a private Indian airline and insisted on anonymity due to company policy, called the ATR 72-500 an "unforgiving aircraft" if the pilot isn't highly skilled and familiar with the region's terrain and wind speeds.
Hundreds of people have gathered outside the Pokhara Academy of Health and Science, Western Hospital, where the bodies are being kept.
Bimala Bhenderi said was planning to meet her friend, Tribhuban Paudel, on Tuesday when she heard that his flight had crashed. "I'm so sad, I can't believe it still," she said in tears.
Bikash Jaiswal said he could only identify his wife's brother only by the ring he wore, and that he had yet to tell his wife, who just gave birth to their daughter. Sanjay Jaiswal, who worked as a marketing agent for a private pharmaceutical company in Kathmandu, was flying to Pokhara for the birth. More than 24 hours after the crash, his body lay in the same hospital where his niece was born.
"He was a hardworking person, and now there's no one left in his family to earn," Bikash said.
Park Dae-seong, a minister and spokesperson of the Won Buddhist order, confirmed on Monday the deaths of Arun Paudel and his daughter, Prasiddi.
Arun Paudel, 47, had worked as a police officer in Nepal before being introduced into the religion by his brother. He studied the religion for years at a South Korean university before becoming a minister in 2009. He then returned to Nepal and established a school in the Lumbini province in 2013 where children received English, Korean and information technology instruction. Park said Paudel was returning to Nepal for work related to the school, called the Vishow Ekata Academy.
The Civil Aviation Authority said that 41 people have been identified. Gyan Khadka, a police spokesperson in the district, said the bodies would be handed over to family after officials finish post mortem reports.
The type of plane involved, the ATR 72, has been used by airlines around the world for short regional flights since the late 1980s. In Taiwan, two accidents involving ATR 72-500 and ATR 72-600 aircrafts in 2014 and 2015 led to the planes being grounded for a period.
ATR identified the plane involved in Sunday's crash as an ATR 72-500 in a tweet. According to plane tracking data from flightradar24.com, the aircraft was 15 years old and "equipped with an old transponder with unreliable data." 
It was previously flown by India's Kingfisher Airlines and Thailand's Nok Air before Yeti took it over in 2019, according to records on Airfleets.net. ATR has not responded to a request for comment.
According to the Safety Matters Foundation's data, there have been 42 fatal plane crashes in Nepal since 1946.
Sunday's crash is the country's deadliest since 1992, when all 167 people aboard a Pakistan International Airlines plane were killed when it plowed into a hill as it tried to land in Kathmandu.
The European Union has banned airlines from Nepal from flying into the 27-nation bloc since 2013, citing weak safety standards. In 2017, the International Civil Aviation Organization cited improvements in Nepal's aviation sector, but the EU continues to demand administrative reforms.
This story has been updated to correct the name of the safety organization from India's Flight Safety Foundation to India's Safety Matters Foundation.
Saaliq and Pathi reported from New Delhi. Associated Press journalists Shonal Ganguly in New Delhi, David Rising and Adam Schreck in Bangkok, Elise Morton in London, and Kim Tong-hyung in Seoul, South Korea, contributed reporting.