New England feeling under the weather after record snowfall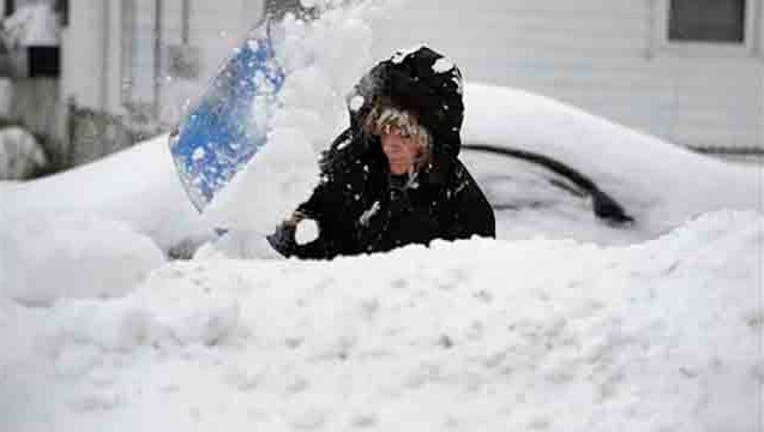 article
BOSTON (AP) — More than 2 feet of fresh snow piled up in parts of New England on Monday, breaking records set during the Blizzard of 1978 and testing the patience of officials and commuters as forecasters warned of more winter misery later in the week.
The latest onslaught forced the cancellations of hundreds of flights, tested transit systems and tempers, and collapsed roofs straining beneath the weight of 5 feet or more of snow that has fallen in less than two weeks.
"It's awful. I'm done with it. It's ridiculous," said Priscilla Medina, a sandwich shop worker in Westborough, Massachusetts, suffering from a nasty case of snow fatigue.
Here's the latest on the winter that just won't quit:
___
ONE FOR THE RECORD BOOKS
By midafternoon, the National Weather Service reported an unofficial measurement of 24.5 inches in Quincy, Cohasset and Weymouth, all south of Boston. Norwell got 23.3 inches, Milton 22.6 and Braintree 21. Sudbury and Ashland, west of Boston, got 16 inches. Logan Airport in Boston had well over a foot, and the city was forecast to get as much as 2 feet.
"You can't change it. The snow is there," said Helen Ferullo, a social worker in Weymouth. "You can't do anything about it."
Much of Connecticut and parts of upstate New York braced for 6 to 12 inches, and southern Maine was in for about 8 by the time the storm tapers off Tuesday.
___
90 FOOTBALL STADIUMS FULL
In Massachusetts alone since last month's blizzard struck, state workers have removed enough snow to fill Gillette Stadium 90 times over, Gov. Charlie Baker told reporters, calling the situation "pretty much unprecedented."
Boston set a record for the most snow recorded in a 30-day period, with 61.6 inches by 7 a.m. Monday, breaking the record of 58.8 inches set in February 1978.
Bangor, Maine, tied its own 30-day snowfall record with 53 inches, which hasn't been seen in such a short period since 1969, the weather service said.
___
ROOF COLLAPSES
Massachusetts emergency management officials confirmed that snow-laden roofs collapsed Monday in Quincy, Rockland and Bridgewater. No injuries were reported.
Police said a former set of "The Finest Hours" — a Disney film about a Coast Guard rescue of crewmen aboard an oil tanker wrecked off Cape Cod during a 1952 blizzard — suffered a partial collapse at an old shipyard in Quincy. The movie starring Chris Pine and Casey Affleck is scheduled to open next year.
___
TRANSIT TROUBLE
Boston-area subways, trolleys and commuter rail trains were scheduled to shut down at 7 p.m. Monday and remain idled Tuesday, with only limited bus service continuing. The Massachusetts Bay Transportation Authority said it needed the break to clear snow and ice from tracks and to assess equipment damaged by the spate of storms.
Boston's transit system, the nation's oldest, has been particularly hard hit this winter. The buildup of snow and ice on trolley tracks combined with aging equipment has stalled trains, delaying and angering commuters. Fifty commuters were rescued Monday from a train that became disabled between stations in Quincy, south of Boston.
A frustrated Baker called that "unacceptable," and commuters complained bitterly of the now-daily delays.
Amtrak canceled portions of its passenger train service linking upstate New York to New York City because of the storm. Hundreds of flights were canceled at Boston's Logan International Airport, Connecticut's Bradley International Airport and Maine's Portland International Jetport and Bangor International Airport.
___
MORE SNOW, LESS DOUGH
Forecasters said more snow was expected Thursday and again next weekend, and the Massachusetts Emergency Management Agency warned that potentially record-low temperatures and wind chills are expected later in the week.
The steady run of winter blasts has already sucked up over 70 percent of New Hampshire's Department of Transportation winter maintenance budget. Rhode Island, too, said Monday's storm will use up what's left of its $14 million budget for snow removal and nearly the entire salt stockpile.
___
OCEAN DUMPING APPROVED
State environmental officials gave cities and towns the green light to dump accumulating snow into open water if necessary.
The Department of Environmental Protection on Monday cited the challenges involved in getting rid of the historic snowfalls. Local communities may seek permission to take emergency steps that allow disposal of snow in the ocean or other bodies of water, which is normally prohibited.
Officials also were using giant melters to liquefy snow.
___
OVERHEARD ON THE STREETS
"They were pretty much walking around like zombies. They've been working for 20 hours straight." — Carrie Sullivan, describing plow drivers eating at her Weymouth diner.
"I'm really getting sick of the snow. It's relentless." — Matt Beauregard, owner of the Capital Deli in Concord, New Hampshire.