New-look Athletics open the season against familiar Rangers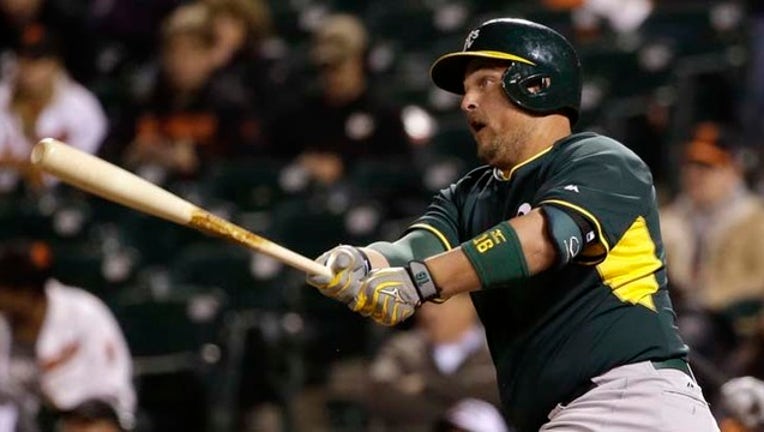 article
OAKLAND, Calif. (AP) — Ike Davis wandered from the clubhouse tunnel to the freshly manicured grass and took in the scene on a sunny Bay Area morning.
"Oh yeah, we are doing it now, boys," the first baseman said to anyone nearby. "We are doing it."
One of numerous Oakland newcomers, Davis and many of his teammates will spend the first week of the season getting comfortable in the new confines of the old Coliseum.
Just nine players remain on the 25-man roster who were with the A's on opening day 2014.
After an offseason featuring nine trades involving 27 players, new-look Oakland opens the season on Monday night against the familiar AL West rival Texas Rangers. Right-hander Sonny Gray starts his second straight opening day for the A's against Yovani Gallardo in his Texas debut after a trade from Milwaukee and five straight opening day outings for the Brewers.
Now, it's with the team he grew up cheering for as a boy in Fort Worth.
"It's going to be something special," Gallardo said. "I've had that opportunity to open games up in Milwaukee, but having the opportunity to do it for the team that you grew up watching as a young kid, I think it's going to be something special, and something that I would always remember and have throughout my career."
The Bay Area received rare rain Sunday, but it was expected to clear up by opening night.
While outfielders Coco Crisp and Josh Reddick are beginning the year on the disabled list, the A's have long prided themselves in their depth and how the next guy up comes through.
Oakland is chasing a fourth straight playoff berth, but general manager Billy Beane made major changes — even for these ever-changing A's — because he said the club was unlikely to make up a 10-game gap behind the reigning AL West champion and 98-win Los Angeles Angels.
Still, the A's will have to wait a while to be full strength. Pitchers Jarrod Parker and A.J. Griffin missed all of last season recovering from reconstructive elbow surgery, and the outfield is in mix-and-match mode for now.
"Having Coco and Reddick out for a little while is going to hurt but I think we've got guys who can step in and do well," catcher Stephen Vogt said. "I'm excited to see what our pitching staff's going to look like. If they can just do half of what they did during spring it's going to be pretty exciting."
Oakland is so used to facing Mariners ace Felix Hernandez on opening day in recent years, the Rangers will offer a nice change.
"It's like any other game," A's manager Bob Melvin said. "I look forward to it and I look forward to getting past it because you really want to make a great impression for your fans on opening night. We haven't been able to do that for a while."
The A's clinched the 2012 AL West crown against Texas on the season's final day.
Back home to lead Texas, new Rangers manager Jeff Banister just hoped to be feeling better by Monday.
He has been fighting the flu, missed the exhibition finale, and didn't fly with the team Saturday. He was scheduled to meet them in the Bay Area on Sunday.
"I've said it, and I'll keep saying it, to put the jersey on that has Texas across the front is an incredible feeling," Banister said. "I'm sure that opening day, both in Oakland and here in Arlington, will be emotional for myself and a lot of people."
Slugger Prince Fielder, for one, is eager for a fresh start now that he's healthy.
"They're a good team. Look at their lineup and certainly the first four or five guys get you attention," Melvin said. "The guys that you know, you know that they're going to have a formidable lineup."
The A's will debut a new high-definition scoreboard after a $10 million upgrade — but only after Texas gets introduced with the operator flip the switch to the snazzy new screen.
"We'll see how it plays during the game," Melvin said. "Certainly an upgrade for our fans, therefore it's a good thing."