New luxury apartments and town homes in Oakland for rent: Up to $8,000 a month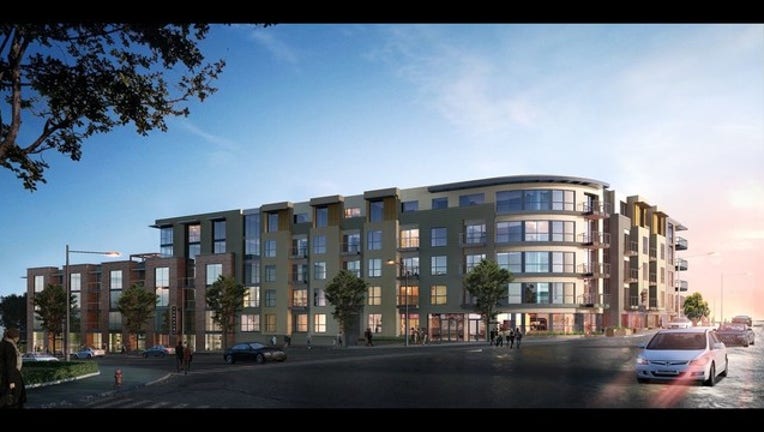 OAKLAND, Calif. - After at least three years in the making, the modern, luxury Baxter on Broadway apartments and town homes are finally for rent in Oakland.
And the prices are staggering.
A 400-square foot studio is going for about $3,000 a month.  A one-bedroom with about 570 square feet is $3,500 a month. And a three-bedroom town home with slightly more than 2,700 square feet is going for $8,000 a month – or $96,000 a year in rent. 
Many on social media immediately questioned who could afford those prices. And they brought up gentrification and skyrocketing prices pushing out regular folk.
But Legacy Property regional manager Jonathan Figone told KTVU that he believes the rental rates are in line with the rest of the Bay Area. The property is located at 4901 Broadway, at the intersection of the affluent Temescal and Rockridge neighborhoods.
"We're just being competitive," he said. As of Friday, he said he's leased "just a few apartments. We opened our doors a few weeks ago."
Earlier this week at the Oak Knoll Naval groundbreaking for another mixed-use project where 918 town homes will also be offered at market rate, Oakland Mayor Libby Schaaf said: "Housing at any price point helps relieve the supply and demand pressures and helps provide new places for new Oakland-ers to move into."
It's well known that Bay Area rental prices are sky high. Looking at other similar apartments nearby,  seemingly comparable two-bedroom apartments at Jack London Square, 777 Broadway and on Jefferson Street are renting for $3,500 a month. As of this month, Rent Cafe, listed the average rent for a one-bedroom San Francisco apartment at about $3,500 a month, and a studio at about $2,500 a month.
The new Baxter on Broadway two-bedrooms, which boast 1,000 square feet, however, are renting for about $5,000 a month. 
Figone pointed out that the Baxter on Broadway apartments are brand new. The 130 units feature a rooftop with a club room and barbecue pit, a bocce ball court, vegetable garden, dog run, pet grooming area and electric vehicle charging stations. The five-story building is near two BART stations, a Safeway grocery store and plenty of restaurants, book stores and coffee shops. It also sits kitty corner to a now-stalled retail project, where a vacant lot still sits awaiting development. 
"They all have stainless steel appliances," he said, "and beautiful flooring." 
Darin Ranelletti, policy director for Housing Security, said that Oakland has an affordable housing impact fee requirement for market-rate housing set at $22,000 per unit. However, he said, the fee does not apply to the Baxter units because the project began in February 2016 and the impact fee was established in September 2016. 
Baxter on Broadway is one of several new apartment buildings coming online in Oakland. City housing records showed there were 6,982 housing units under construction in Oakland, including 416 affordable units as of August. 
There will be a Baxter on Broadway open house on Saturday from 1 to 4 p.m. For more information, click here. 
KTVU's Allie Rasmus contributed to this report.