No date announced for SMART train service to begin in Sonoma, Marin Counties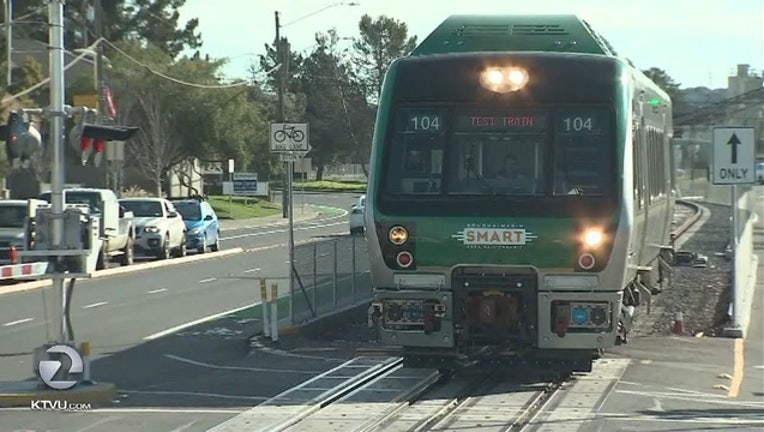 article
SONOMA, MARIN COUNTIES (BCN) - The Sonoma-Marin Area Rail Transit train is blowing its horn but its wheels are not yet turning to provide passenger service between the two counties.
At a much-anticipated meeting of the SMART District's board of directors attended by scores of SMART employees at the district's Rail Operations Center north of Santa Rosa this afternoon, general manager Farhad
Mansourian said two issues are blocking the start of service.
The Federal Railroad Administration must complete a full audit of SMART's operations and approve SMART's "Positive Train Control" system that prevents derailments.
Mansourian said the audit starts Monday and could be finished by June 15, and SMART is on the top of the FRA's list of projects awaiting final approval.
SMART officials previously said they hoped to announce today a specific date for when service might begin.
The FRA today gave SMART approval to begin "preview rides" for the public and the media on its 43-mile rail line while approval of the Positive Train Control system is pending, Mansourian said. He said he hopes those
rides can begin the day after the audit is completed.
"We will start service in the very near future," Mansourian said.
SMART plans to offer free rides then half-fare rides through Labor Day once service begins.
Voters in Sonoma and Marin counties in 2008 approved a quarter-cent sales tax for 20 years to pay for a 72-mile rail line between Cloverdale and Larkspur and a bike and pedestrian path along the line.
Adverse economic conditions forced SMART TO build the rail line in segments.
The current configuration is between Airport Boulevard north of Santa Rosa and downtown San Rafael.
There are 24 bridges, 7 miles of bike paths, and 63 at-grade crossings along the line. SMART still hopes to extend the rail line to Larkspur in 2018 and to Cloverdale later.
Many of the crossings in the counties are designated quiet zones that prohibit sounding the train horn unless it is necessary to provide a warning or in an emergency and if safety measures, including crossing arms
and raised medians, prevent motorists from crossing the tracks when a train is approaching.