Northeast gets its 2nd major workday snowstorm in a week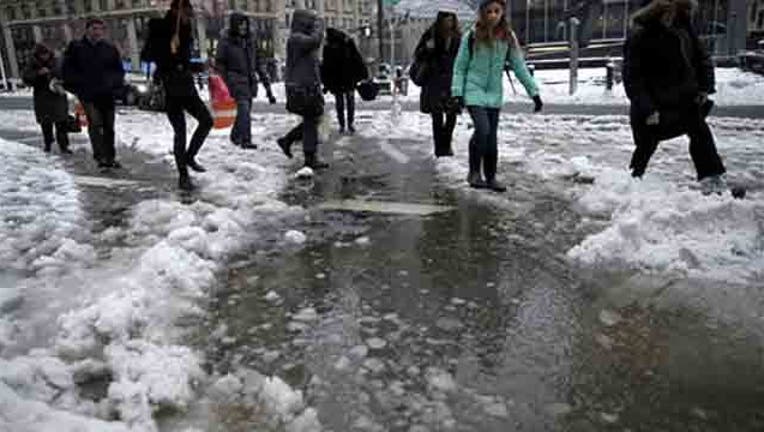 article
BOSTON (AP) — A winter storm inflicted fresh misery on the Northeast on Monday, causing the cancellation of flights, classes and major court cases across a region still digging out from last week's blizzard. Officials said a Massachusetts woman was killed when she was struck by a snowplow.
The same system dumped more than a foot-and-a-half of snow on the Chicago area and blanketed much of the Plains and Midwest. Here's how it's playing out:
___
DEATHS, INJURIES
In Weymouth, Massachusetts, south of Boston, officials said a woman in her 50s was struck by a snowplow and killed Monday. A spokesman for the Norfolk district attorney's office said she was hit just before 10 a.m. Monday at the condo complex where she lived and was pronounced dead at the scene.
Ohio officials said a Toledo police officer died while shoveling snow in his driveway Sunday and the city's 70-year-old mayor was hospitalized after an accident while he was out checking road conditions.
The officer, who was not named, died of an apparent heart attack. City and medical officials say Mayor D. Michael Collins was hospitalized after he had a heart attack and his SUV crashed into a pole.
In Nebraska, a truck driver and a 62-year-old woman were killed in separate traffic accidents on snowy roads. In Wisconsin, the Milwaukee County Medical Examiner's Office said a 64-year-old man with a history of cardiac problems was found dead Sunday in his garage after shoveling snow.
___
SNOWFALL AND WARNINGS
The snowstorm, which dumped more than 19 inches of snow to Chicago, deepened off the southern New England coast, bringing accumulations of 9 to 16 inches to Boston and a slushy wintry mix to Hartford, Connecticut, Providence, Rhode Island, southern New Hampshire and Vermont — places still reeling from the up to 3 feet they got last week.
"For New Englanders, we're used to this during the winter," said Matt Doody of the National Weather Service. But he cautioned that both the morning and evening commutes would be messy.
More than 20 counties in New York state were under a winter storm warning, with up to 16 inches forecast for the eastern Catskill Mountains, and northern and central Taconics. Many Long Island schools delayed opening or closed due to a forecast of snow and freezing rain. By early afternoon, central Massachusetts had more than a foot.
The Philadelphia area received about an inch of snow before the precipitation changed to rain. Forecasters expected 3 to 5 inches to fall in the Lehigh Valley, and 5 to 11 inches in northern Pennsylvania. Parts of northern Ohio got at least a foot.
___
COMMUTING PROBLEMS
Rush-hour commuters in New York City were stranded on a packed subway train that lost power for 2½ half hours Monday before it could be towed to a station. Five other trains were stuck behind it.
Police on Long Island say a tractor-trailer flipped on its side around 11:30 a.m. Monday on the westbound Long Island Expressway near Dix Hills. Several other accidents were reported in the same area.
In Henniker, New Hampshire, crews on Monday were cleaning up snow using plows loaned by the state and surrounding towns. A fire destroyed the town's plow fleet three days earlier.
___
PLANES AND TRAINS
More than 5,300 flights were canceled over Sunday and Monday due to the storm, according to flight tracking service FlightAware, including some shuttling Super Bowl fans back to the East from Arizona. But Boston's Logan International Airport kept two runways open during Monday's storm and said no major disruptions were expected.
Amtrak planned to operate a normal schedule Monday, but with some modifications. It said it would have extra crews available to remove downed trees or make infrastructure repairs.
___
DELAYS, CANCELLATIONS AND OUTAGES
The snowstorm is delaying two of the nation's biggest court cases — the murder trial of former New England Patriots star Aaron Hernandez and jury selection in the federal death penalty trial of Boston Marathon bombing suspect Dzhokhar Tsarnaev. Proceedings were expected to resume Tuesday.
Across the country, hundreds of public schools canceled classes due to the danger of children traveling. Many parochial schools and colleges did the same.
The weather led to power outages, including roughly 10,000 ComEd customers in Illinois on Sunday evening. That number had been cut to 5,500 by midnight CST and was down to 2,500 statewide early Monday.
___
RECORD-SETTING STORM IN MICHIGAN
The storm dropped 1½ feet of snow as it passed over Michigan's Lower Peninsula, extending the weekend for children at hundreds of schools into Monday and giving Detroit its biggest snowfall in four decades.
The storm made driving slow and dangerous. Communities across Michigan declared snow emergencies as road crews and residents worked to clear roads, driveways and sidewalks of snow. Freeway off-ramps were a problem, police said.
The National Weather Service said 16.7 inches fell at Detroit Metropolitan Airport in Romulus on Sunday and Monday. It was the No. 3 snow on record for Detroit and the area's most since a 19.3-inch dump Dec. 1-2, 1974, the agency said.
The Kalamazoo and Battle Creek areas got the most, mostly ranging from 12 to 18 inches. A total of 18.5 inches came in for Battle Creek. Twenty inches was reported in downtown Kalamazoo, but the weather service says blowing a drifting snow may have inflated that measurement.
Ann Arbor got 14.1 inches of snow. The Grand Rapids and Lansing areas had reports of 9-11 inches.
___
SOME REALLY DIG IT
Tony Troc looks on the bright side of shoveling snow: Hey, it's a pretty good workout.
"It doesn't bother me at all," the supermarket warehouse worker said after clearing another 8 inches of snow from his driveway in Whitman, 20 miles south of Boston. "If I didn't like it, I'd be in Florida."
Connie Lowell, trudging through the snow in Hartford, Connecticut, said she didn't mind, either.
"It's aesthetically pleasing. It's pretty," she said.
Todd Penney of Tolland, Connecticut, said digging out is fun.
"I actually get some perverse pleasure in snowblowing, just like I get some perverse pleasure in mowing my lawn on the tractor," he said. "When you have the tools that make the job easier, it's kind of like this alone time, this me time. It's kind of Zen."
___
SIX MORE WEEKS OF WINTER?
The handlers of Pennsylvania's most famous groundhog, Punxsutawney Phil, said Monday the furry rodent has forecast six more weeks of winter.
Members of the top hat-wearing Inner Circle announced the "prediction" Monday morning.
Legend has it that if the furry rodent sees his shadow on Feb. 2, winter will last another six weeks. If not, spring comes early.