'Notes of Hope' project looks to prevent suicides from Auburn bridge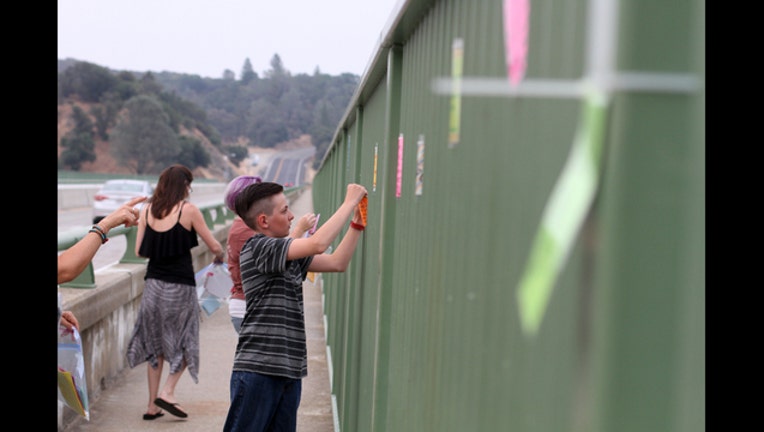 AUBURN, Calif. - More than 700 people have already submitted handwritten messages to the Notes of Hope project, and the interest in the project continues to grow, said Hendricks, who has hundreds of notes in her shop that still need to be posted on the bridge, which sits 730 feet above the north fork of the American River. 
She said some notes were recently ripped from the bridge, which inspired her to continue the push to get more notes onto the Foresthill Bridge, the highest bridge in California.
Hendricks got the idea for the project after seeing a video on her Facebook page of 18-year-old Paige Hunter, who pinned 40 uplifting messages onto a bridge in England to help those in despair or facing a mental health crisis. 
The messages penned by Hunter include: 'Even though things are difficult, your life matters; you're a shining light in a dark world, so just hold on.'
Hunter was recently awarded a commendation by police for her work. 
Hendricks said the video about the English teen spoke to her because she has a personal connection to mental health struggles. Her husband, a combat veteran who served tours in Iraq and Afghanistan, struggles with anxiety and PTSD. Hendricks said she worries about him committing suicide, which is a widespread cause of death among vets.
Although veterans comprise about 8 percent of the nation's population, they account for more than 14 percent of adult suicides, according to a 2018 report by the U.S. Department of Veterans Affairs.
In addition, Hendricks said she has inked memorial tattoos for people who have lost a family member or friend to suicide. She said she hopes the Notes of Hope project will not only stop suicides, but will spark conversation about the need for better mental health services and more acceptance of mental health issues among the general population. 
"If people start talking about it more, then maybe it won't be so taboo and people will reach out for help more," she said. 
For people struggling with suicidal thoughts, help is available 24/7 at the National Suicide Prevention Lifeline: 800-273-8255.
If you'd like to mail a note to the Notes of Hope project, send it to: Crimson Tattoo Co., 301 Commercial St. Auburn CA 95603. Notes can also be dropped off there.