Notre Dame beats Stanford 81-60, advances to Elite Eight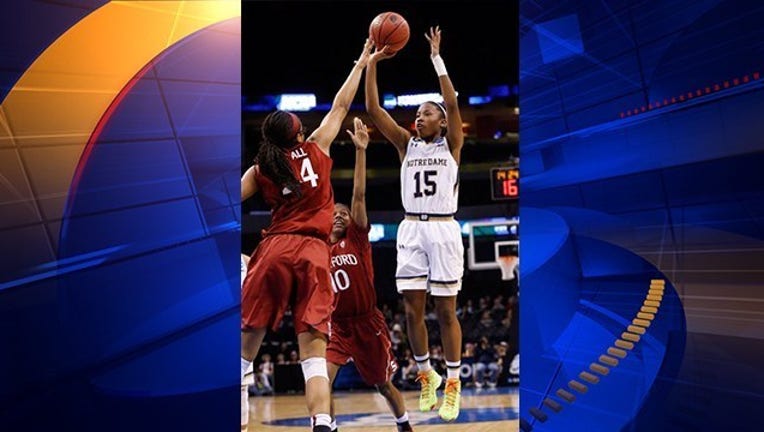 article
OKLAHOMA CITY (AP) — Lindsay Allen scored a career-high 28 points to help top-seed Notre Dame defeat Stanford 81-60 in the NCAA women's Sweet 16 on Friday night.
Jewell Loyd scored 17 of her 21 points in the second half for the Fighting Irish (34-2), who advanced to play Baylor (33-3) on Sunday for a spot in the Final Four. The Fighting Irish beat Baylor 88-69 in a regional final last year.
Bonnie Samuelson scored 17 points and Erica McCall and Amber Orrange each added 12 for No. 4 seed Stanford (26-10).
It was the first postseason meeting for veteran coaches Tara VanDerveer of Stanford and Muffet McGraw of Notre Dame, and just the third ever meeting between the schools. Stanford won the previous meetings in 1990 and 1991.
Allen scored nine quick points to help the Irish take a 20-11 lead.
The Cardinal trimmed Notre Dame's lead to 34-29 with about 3 minutes left in the first half before Allen drained two 3-pointers to help the Fighting Irish close the half on an 8-2 run. Allen matched her career high of 24 points in the first half, and the Irish led 42-31 at the break.
Stanford cut its deficit to 48-44 early in the second half before Loyd got going. Her 3-point play with just over 10 minutes remaining put Notre Dame up 59-47. The Fighting Irish shot 52 percent in the second half to pull away.
TIP-INS
Stanford: Lili Thompson tweaked her left knee and played just seven minutes in the first half, but she returned to start the second half. The team's top scorer for the season finished with just two points on 1 for 8 shooting. ... Samuelson made 3 of 5 3-pointers in the first half, but the rest of the team went 0-for-4 from beyond the arc before the break.
Notre Dame: Loyd, the team's top scorer for the season, made just 2 of 10 field goals and scored four points in the first half. ... Notre Dame committed just four turnovers in the first 20 minutes. ... The Fighting Irish made all 12 of their free throws.
UP NEXT
Stanford: Season over.
Notre Dame: Faces Baylor in Oklahoma City regional final on Sunday.