Oakland elementary schoolers get taste of college at UC Berkeley tour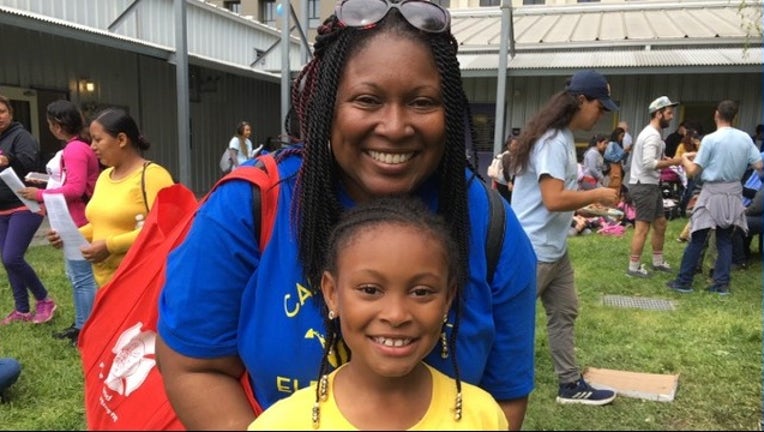 article
OAKLAND, Calif. (BCN) - Marilyn Gonzalez scampered across the grass at a courtyard near the University of California at Berkeley's Hearst Field Saturday during a visit to the campus conducted by Oakland Promise.
The 6-year-old kindergartner was one of more than 1,000 students and families from 30 Oakland Unified School District elementary schools escorted around campus by Oakland Promise staffers.
The program, which began in 2016, aims to increase the number of college graduates from Oakland. It's a partnership between the City of Oakland, the school district and other organizations.
"I'm going to go to college. I'm going to be a veterinarian," the young Oakland resident said as she sipped some bottled water under the watchful eye of her mom, Beatrice Estrada.
Saturday's college tour is part of the Oakland Promise "Kindergarten to College" initiative. Bringing young children to the campus helps them visualize themselves as college-bound, according to Tina Linarez, whose daughter Camara participates in the program.
"On the way here, the kids were saying, 'I'm going to live in this sorority house, this frat house,'" Linarez said. "This makes it real for them." Linarez is also a teacher at Carl B. Munck Elementary School in 
Oakland, where her daughter is a kindergartner.
"Oakland Promise Kindergarten to College demonstrates the power of creating a college-bound identity in our youngest students," Oakland Mayor Libby Schaaf said in a statement.
The initiative provides an early college scholarship of $100 to every student and encourages teachers to promote a college-bound identity for students. Also, it provides technical assistance to families to open college savings accounts, offering up to $100 in incentives.
The money is deposited in what is known as a 529 plan, which are specifically designed to encourage early and affordable college savings. All withdrawals from the account used for higher education expense are tax-free.
The Oakland Promise program has helped send about 1,100 students to college, in concert with the East Bay College Fund, spokeswoman Maggie Croushore said. The program also provides support to the students while they are in college, and has awarded more than $8 million to its students.