Oakland firefighters surprise A's fan with random act of kindness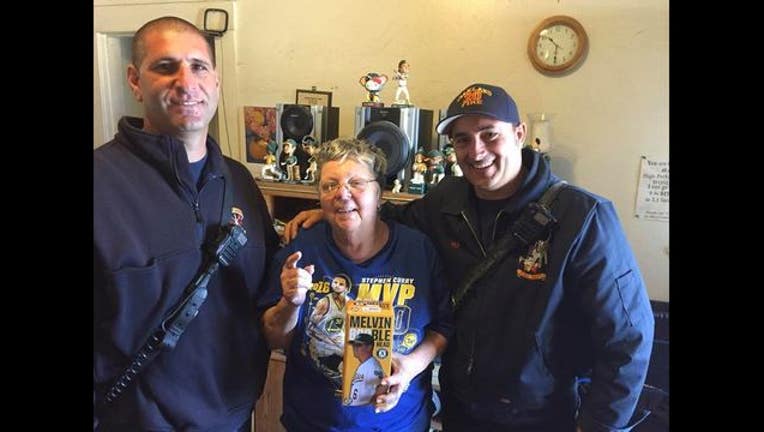 article
OAKLAND, Calif. (KTVU) - Two Oakland firefighters demonstrated what it means to go beyond the call of duty with a surprise visit and very special gift for an East Oakland resident.
Firefighters Nader Modawar and his colleague Adam Lauber recently showed up to a woman's house near the Oakland Fire Department's Station 20 with a bobblehead depicting A's manager Bob Melvin.
Lauber described the woman, identified only as Marylyn, as a "nice lady who lives in our district," and a known A's fanatic.
Firefighters say a medical emergency prevented her from attending the Athletics vs Detroit Tigers game on May 6, which was Bob Melvin Bobblehead Night.
"All she wanted was a Bob Melvin Bobblehead. Station 20 made it happen," it said in a post on the Oakland Firefighters Local 55's Facebook page.
Lauber told KTVU that he had attended the May 6th game and was happy to give Marylyn his bobblehead. 
So a few days later, he and Modawar showed up to the woman's home.
When she saw them arrive outside her house, she was surprised to see them and asked where they were going.
"Coming to see you! We've got something for you!" they responded and then presented Marylyn with their gift.
A photo of the visit shows a smile on Marylyn's face that says it all.
Lauber said it brings him and his colleagues gratification to reach out to the members of the community, to be able to help them, and make connections with them.
He said they don't do any of it to seek recognition or attention but want to help those around them because they feel committed to those they serve.
Lauber gave special praise to Modawar, saying he's been an inspiration to him, constantly going out of his way and beyond the duties of his job to help people and make them feel like someone cares.
"He's always looking out for people in the community... He'll do anything for anybody," Lauber said.
The firefighters' thoughtful act toward Marylyn did not end with the bobblehead gift.
Lauber said he and his colleagues have since looked into tapping into the fire department's "Random Acts" program to get tickets for Marylyn to watch her favorite baseball team play.
On the "Random Acts" website, the slogan reads:
Unexpected Kindness
Is the Most Powerful, Least Costly,
And Most Underrated Agent of Human Change.
Kindness That Catches Us By Surprise,
Brings Out the Best in Our Natures.
It appears these are words these two firefighters have taken to heart.